This post may contain affiliate links. Purchasing through them helps support this website.
Mushrooms sometimes engender the same passion politics and religion do. The mushroom nay-sayer's face will skew, their eyes narrow, and some version of "How can you eat that?" squishes out from their tightened, frightened vocal cords. They are not so secretly scrutinizing your other choices and beginning to not trust their own judgment: they didn't see you as a mushroom lover. What other nefarious surprises are you capable of?
Clearly, that's not me.
I think mushrooms are magic. (Because some actually are.) They harken back to a prehistoric time and they are full of mystery. The gills under the cap – a precursor to fish gills? What does the mushroom do with all that surface area? Why are there so many kinds of mushrooms? Why are some so big? Poisonous? And morel mushrooms … I was in my 40's before I tasted my first morel. I'll never forget it. My house smelled good for 2 days. So much potential. Such a charming package.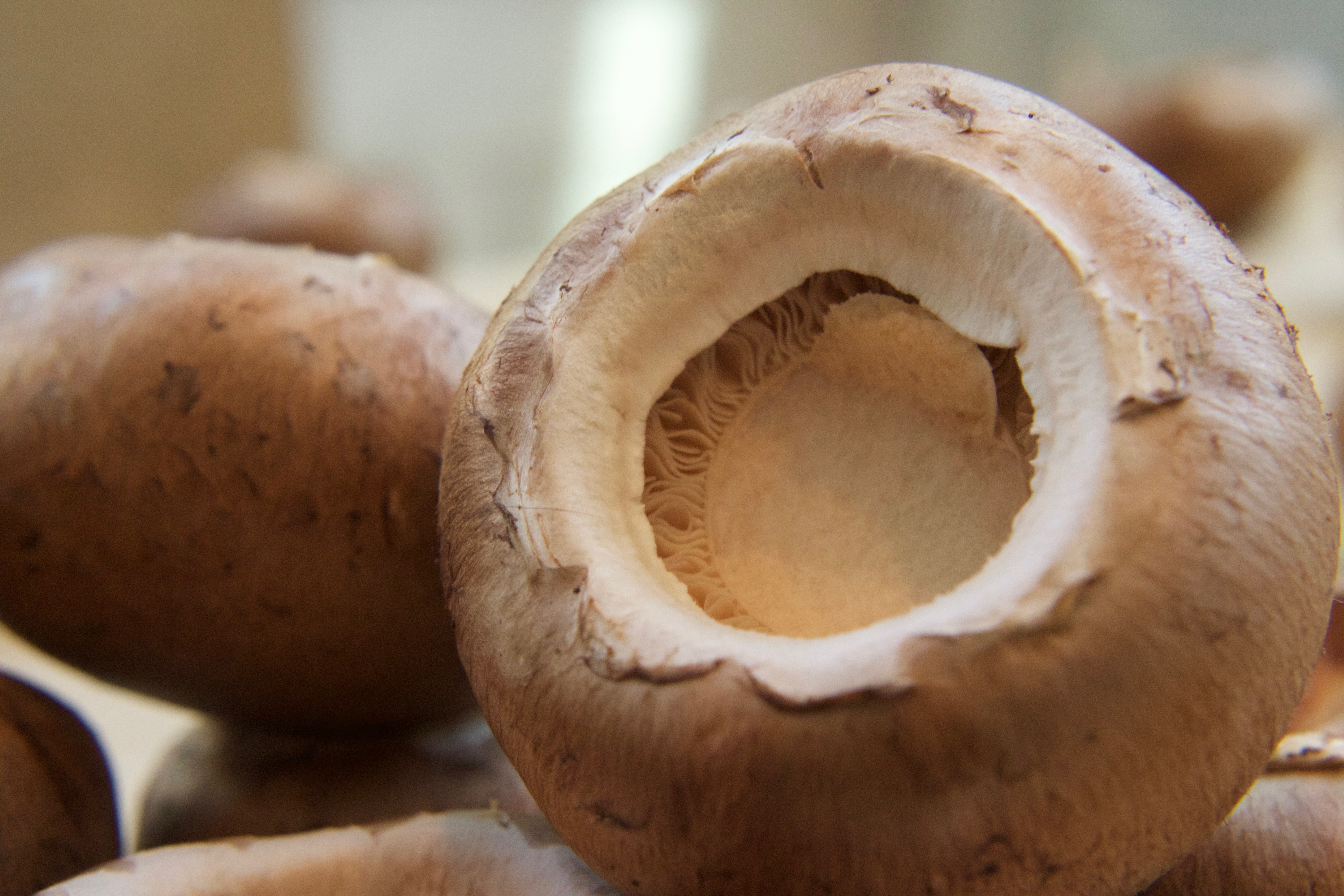 This Stuffed Mushroom recipe was created last week in my sister's kitchen. My nephew, Patterson, who was burning his mouth on them since they were straight out of the oven said:
"I don't even like mushrooms and I'm eating these!"
Patterson knows his way around a meal. And he speaks faster than any human I know. He was speaking and eating in time.
The mushrooms are really the "carrier molecule" for the topping.
It's hard to go wrong with fresh basil, parmesan cheese, butter, and breadcrumbs. Putting all that on a button mushroom makes a convenient bite-size delivery system.
So, let's get to it …
But before we do, one more mushroom confession.
I don't bother cleaning them anymore.
There is a sentence in James A. Michener's 1963 book Caravans about childhood immunity. He is describing the dirty water in the Afghan city of Kabul and says something like "The water was teeming with filth and bacteria. Such and such kid was playing in the gutter along the dirt road. If you made it past 5 in Kabul, you were immune to everything." I'm a believer in making your immune system work.
The scientist in me says we need more dirt and less disinfectant wipes in our lives. You're going to cook the mushrooms anyway. The most I do is brush off the obvious large chunks of earth with a dry paper towel. Been doing it that way for over 20 years. Washing mushrooms can make them soggy and it's a pain to clean them one by one. I don't know if it's helped anyone's immunity, but I do know no one has gotten ill after eating them from my kitchen. Plus, I've avoided the cleaning hassle and housing an extra gadget devoted to brushing off mushroom dirt.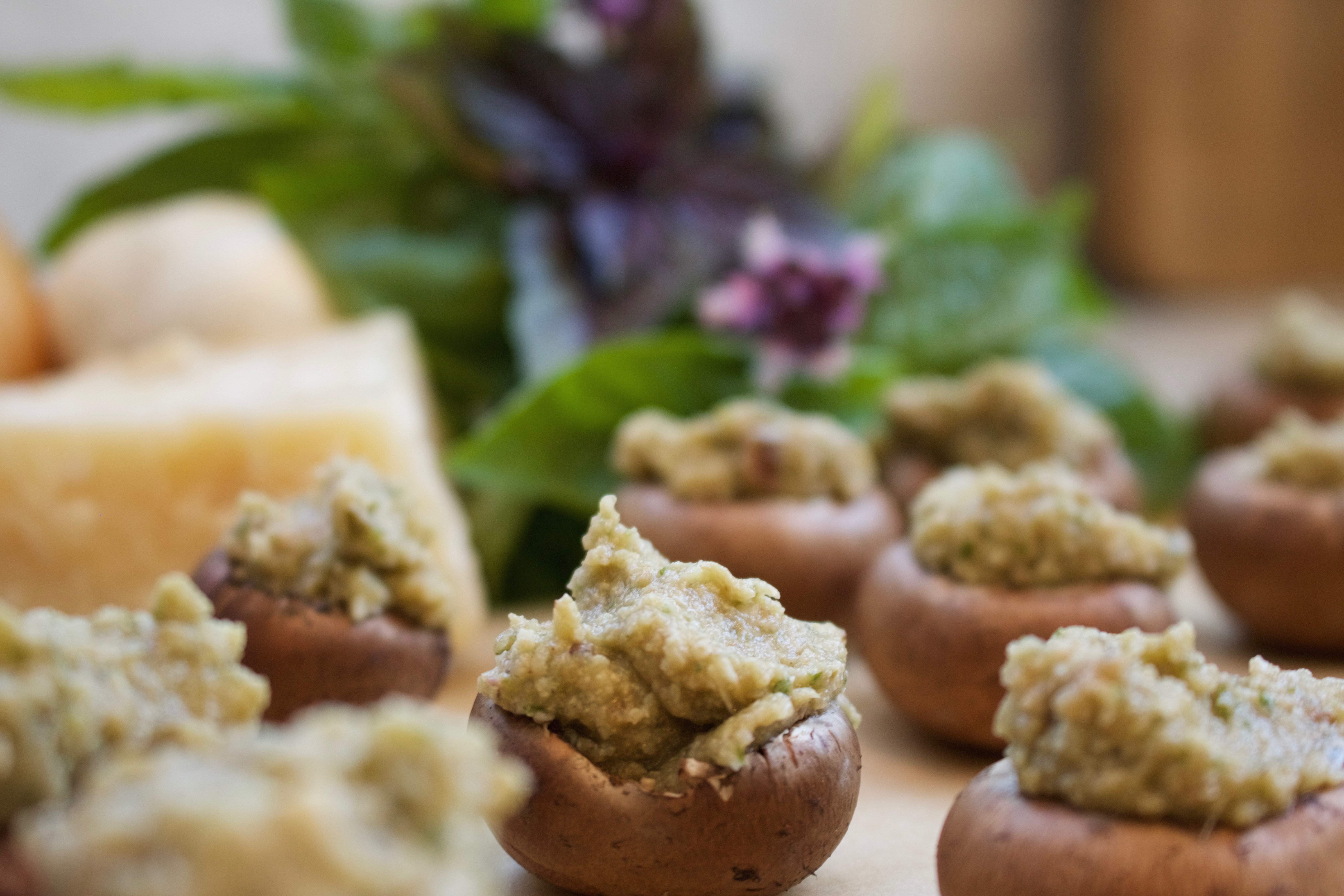 Fresh Basil and Parmesan Cheese Stuffed Mushroom Caps
Ingredients
16

oz

Mushrooms

remove the stems and save them for mincing, or throw them into your food processor

Stems of all the mushrooms

3/4

cup

fresh basil

about 20 leaves

1/2

cup

grated parmesan cheese

plus some to use as a garnish

1/4

cup

Italian bread crumbs

1/4

c

onion

finely chopped

2

T

butter

2

T

buttermilk

or any liquid - this is just to make it easier for your food processor

1

clove

garlic

minced or 1/2 tsp powdered garlic

1

date

or a little sugar

1/2

tsp

capers

completely optional

0 -1

tsp

kosher salt.

1/4

tsp

pepper
Instructions
Preheat oven to 350 and line a cookie sheet with parchment paper.

Gently rub the really dirty mushrooms with a dry paper towel to get off the obvious dirt, or clean as you normally do.

Remove the stems from all the mushrooms.

Put everything but the mushroom caps in a food processor and blast until it becomes a paste. Or mince everything "minceable" and combine with the rest of the ingredients.

Put about 1 full tsp of filling in each mushroom cap.

Roast at 350 for about 20 minutes or until the tops are slightly browned.

If needed, crank your oven up to broil, and crisp up the tops. Watch them. It won't take more than a few minutes.

Remove from oven and sprinkle more parmesan cheese and fresh basil on top.
Notes
There's salt in parmesan cheese, and there's salt in capers, so technically, you don't need more salt. If you scale back on the cheese and don't have or bother with the capers, use salt.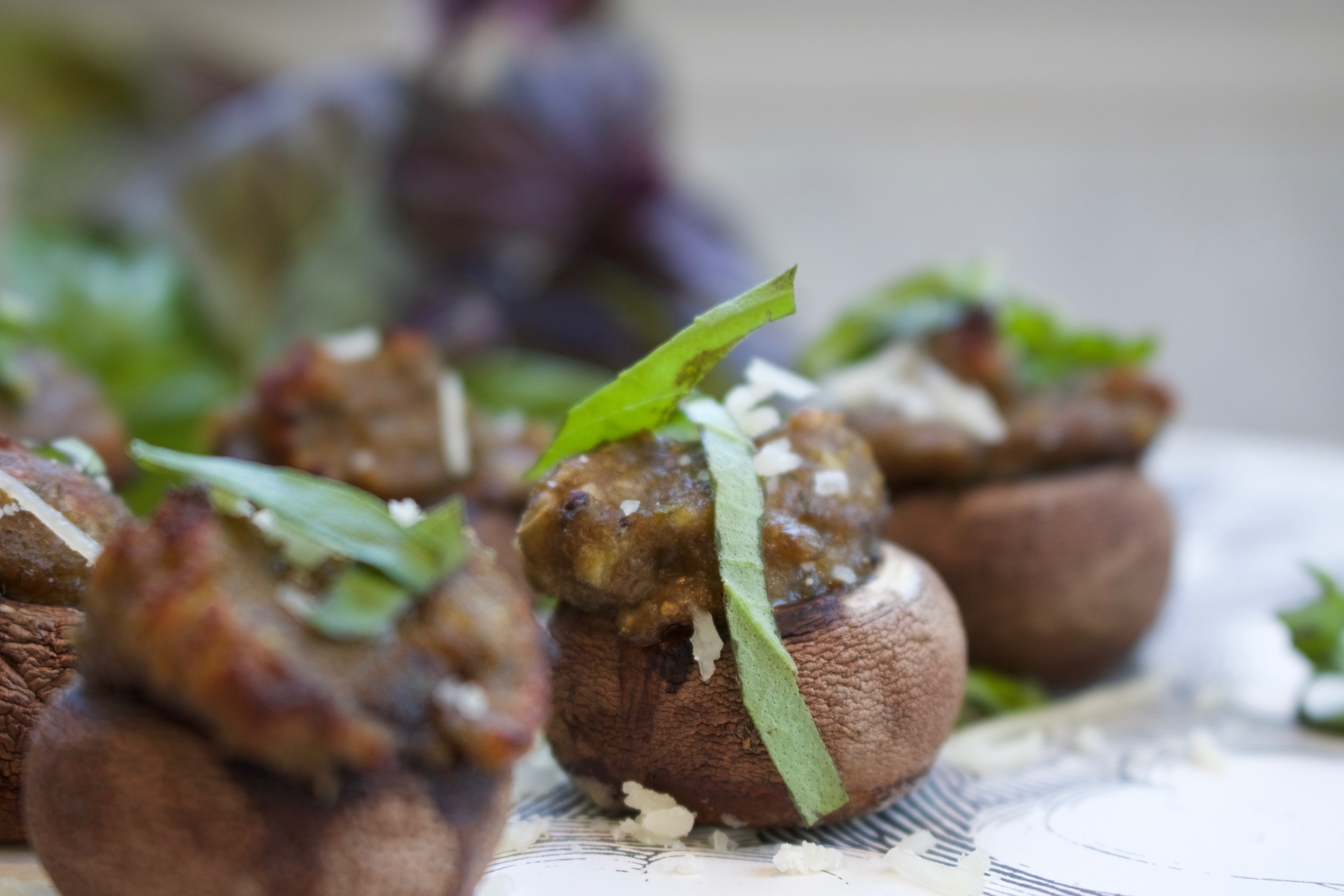 James Michener wrote Caravans in 1963, and it is a tiny paperback. (Surprising for a Michener book.) You can read it over a weekend or two. The compelling story is matched by the eerie way his work of fiction predicted/explained events in the Middle East, particularly 9/11.