This post contains affiliate links for baking accouterments. I either own said linked accouterment or I intend to buy it as soon as the old one dies. A kitchen scale
and an oven thermometer
will simplify your baking life well beyond their minimal cost.  Real pastry bags
 make piping easier.
There's a lot of mystery and drama surrounding macarons.
And honestly, it's with good reason. Crunchy, creamy, cakey, soft, sweet, gluten-freaking-free. It's like they're not even of this world …
A while back, a friend brought them to a dinner party and the way she said, "I made them, no … I mean it, I can make macarons …" Got my attention.
Because you know, if she can …
Anyway, fast forward to when I started seriously binging on the Great British Baking Show (9/2017) and my assessment was confirmed. This sublime, mysterious, delectable, captivating French cookie had never warranted its own episode. These highly skilled amateur British bakers were using macarons as a garnish, as fluff, as filler, and not the main event! Sooooo …..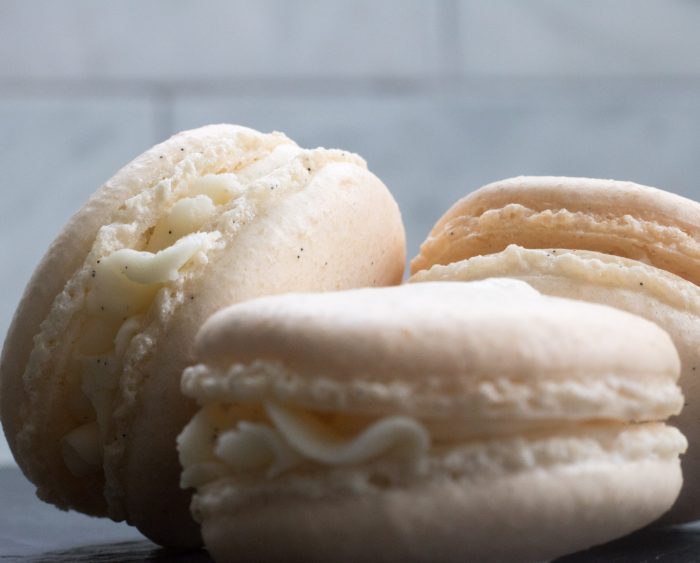 How hard could making macarons be?
Yes, exactly. Not that hard.
And another thing … America's dedication to volume measurements for dry ingredients is as inaccurate as you/I have always suspected. Get a scale
. You are making a breathtakingly delectable dessert; you are worthy of this small investment.
Baking is chemistry.
Chemistry depends on a certain amount of molecules being exposed to a certain amount of other molecules (proteins, sugars, enzymes, etc.) at a certain temperature. The chemistry of macarons is particularly dependent on these factors. If your oven temperature is unreliable, it will unnecessarily complicate things. You can't "350°F this for an hour, give or take" like a casserole. Get an oven thermometer
.
For the anatomy of a good macaron, click here. For a concise summary of what does and doesn't matter when making macarons, read this and for 50(!) different macaron flavor recipes click here.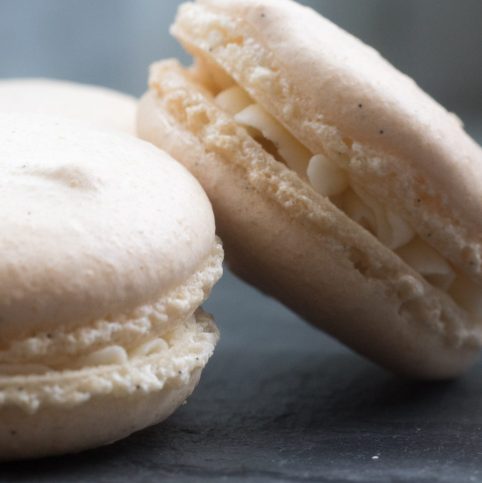 Vanilla Macarons with Vanilla Buttercream Icing
Prepare your equipment, ingredients, and kitchen - including knowing where you will slide the hot macarons off the baking sheet to cool. It's like painting a room: prep work counts.
Ingredients
For the Macaron Shells
115

g

twice-sifted finely ground almond flour*

230

g

powdered sugar

145

g

room temperature egg whites*

about 5 egg whites, separate them when cold, then do the other prep work

72

g

granulated sugar

1/2

tsp

Kosher salt

pinch

cream of tartar

scrapings

of one vanilla bean

or 1 - 2 tsp vanilla extract
Vanilla Buttercream Icing
1

stick

room temperature unsalted organic butter

use the good stuff, there's nothing to this recipe besides butter and sugar

~ 1

c

powdered sugar

scrapings

of one vanilla bean

or 1/2 - 1 tsp vanilla extract

1-2

tsp

any sort of milk

just to make the icing the consistency you want
Instructions
For the Equipment, Ingredient, and Kitchen Prep.
Line 2 rimless baking sheets with parchment paper. Find your scale, 2 -3 medium mixing bowls, 3 smaller bowls for separating the eggs, your mixer, and a wire-mesh strainer or sifter. Prepare 2 pastry bags for piping. One for the macaron batter and one for the icing. Don't cut holes in them until they are filled. More piping instruction here. Know where you will slide the parchment paper with the hot cookies onto your counter.

For the macaron pastry bag, use a plain fat tip or just cut a smallish (about the size of your pinky) hole in the bottom of the bag. Smaller is easier to pipe. For the icing, cut the hole so you get a tube of icing about the size of a #2 yellow pencil.

Using the small bowls, separate 5 eggs while they are cold and let them come to room temperature. This recipe won't use the yolks. Separate the first white into bowl 1. Separate the next white into bowl 2. Combine 2 into 1. Bowl 3 is for the yolks. You get the idea: you are just making sure you don't contaminate all the whites if you screw up an individual egg ... bad news, especially if there are only 5 eggs in the house.

Put the oven rack in middle position, put the oven thermometer inside the oven and preheat to 300 when the cookies are piped and resting. I cook these one sheet at a time - they just come out better the less you fuss with the oven so I no longer put in 2 sheets and rotate front to back, top and bottom.
For the Cookie Shell
Set a medium mixing bowl on the scale, zero it, and weigh 230 grams powdered sugar into it. Set aside.

Set another medium mixing bowl on the scale, zero it, and sift 115 grams almond flour into it using a wire mesh strainer.

Return the bowl with the powdered sugar to the scale and zero the scale. Re-sift the 115 grams almond flour into the powdered sugar. Almond flour has a tendency to coalesce into balls too big to pass through the wire mesh strainer. Discard the balls (because they will show up as bumps in the final cookie) and make up the couple gram difference with a little more, only-sifted-once almond flour. Stir to combine. Optional step: It's easier to mix the dry and wet ingredients in a large salad or pasta bowl, so put the almond flour and powdered sugar mixture in that bowl now.
For the Egg White Mixture
Put the egg whites in a scrupulously clean glass* bowl. Beat the egg whites, the pinch of cream of tartar and vanilla until soft peaks form. (I think this is easier using a medium bowl and a hand mixer.) Gradually add the granulated sugar and beat until stiff peaks form. The meringue won't turn glossy until the sugar is incorporated. It looks like this.
Combine the Meringue and the Dry Ingredients
Combine the wet and the dry in about 3 stages. I think it's easier to scoop from the wide shallow bowl, so I add the meringue to the flour mixture. You don't have to be careful about mixing. Go for a lava consistency - the batter should ooze down from the spatula and slowly self-incorporate. It takes 30 - 50 strokes until the lava forms. If you don't knock enough air out of the batter the shells will have a foot but be hollow up top. Stop before you get pancake/crepe batter.

Dab a little batter between all four corners of the parchment paper and the baking sheet. This stops the paper from moving, especially in ovens with fans. The cooked batter dissolves in water - clean up is easy.
Pipe them Out
The less you care about sticky hands the better. Stand the pastry bag in a container and fold the wide edge over. Cut a hole in the small end and put in the piping tip if you are using a tip. Otherwise, plop the batter in, squish it just to the end, then cut a hole*. There are piping templates galore but don't over complicate this. Pipe a bunch of about 1-inch size circles. If you trace circles on your parchment paper, flip it over so the lead is next to the baking sheet. Pipe them an inch apart and stagger the rows. Like this. Heh.

Roughly tap/gently slam the baking sheet straight down onto the counter to force air bubbles up to the top of the cookie. If you want to wet your index finger and smooth the tops, do it now.

Let them rest about 30 minutes. Helps with creating the smooth hard shell on top. Preheat your oven now if you do this rest.
Bake and Cool Them
My oven has a convection setting and I bake them at 300 with the fan on for 16 - 18 minutes, one tray at a time. When they're done, slide the parchment paper off the hot cookie tray and let them cool completely before trying to ice them.
Build the Macrons
When the shells have cooled completely, match them up size-wise and pipe a disc of icing on the flat part of one cookie, place another cookie flat side down on the icing and voilà! You have a macaron! Continue until they are all built.

Store them in an airtight container, use the frig if your icing requires it but let them come back to room temperature before eating. Macarons are better one or two days after they are made so this is a perfect do-ahead recipe.
Vanilla Buttercream Icing
Cream the butter until soft, smooth, and lighter in color.

Add the vanilla, liquid of choice, and powdered sugar in a few installments and mix until light and fluffy.
Notes
finely ground almond flour* Follow this link for an explanation of almond meal, almond flour, blanched, unblanched, etc. You can make your own almond flour simply by blitzing almonds in a food processor just short of turning them into almond butter. I use Bob's Red Mill Finely Ground Almond Meal/Flour from blanched almonds. It makes a smoother cookie and it's easier to weigh/sift since there are no almond skins and hence, fewer "almond balls" during the sifting process.
Egg whites* I could be crazy, but I think eggs separate more easily when they are cold, so now I do this step early in the process. I don't think it matters one bit whether or not the eggs are old. (Old eggs have less water which some people say makes better meringue.) If you are going to pay attention to your eggs at all, put that energy into using local organic ones. 
Glass bowl* Don't use plastic (it harbors oils) or aluminum (it releases flecks of metal) bowls. Both those can interfere with how well the protein molecules in the egg whites unfold.
Cut a hole*/piping tip* The garbage disposal ate my macaron piping tip, and that's when I learned it's easier to fill a bag and cut a hole. 
Need something more streamlined you can knock out for tonight? Try these brownie cookies. Looking for a vintage (read my mom's) brownie recipe? Bake these.