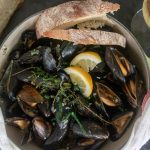 Print Recipe
Mussels with White Wine and Capers
Melt the butter, briefly sauté the minced shallots and garlic, throw in a few fresh herbs, add 1/2 cup white wine, bring to a boil, add the mussels, cover the pot and steam for 5 - 10 minutes. Squeeze on the juice of one lemon. Eat and freaking enjoy.
1 - 2

pounds

mussels

2

T

butter

1

medium

shallot, minced

1 -2

cloves

garlic minced

1/2

cup

white wine

1

T

capers, drained, rinsed, and chopped

some

fresh herbs such as chives, thyme, parsley, oregano

Whatever you have on hand

1

whole

lemon, juiced and zested

Optional
Rinse the mussels in cold water and pull off any debris. Discard any that don't close.

Melt the butter in a saucepan, when it is bubbling, add the shallots ande garlic and sauté about 2 minutes. Don't let the garlic burn. Just sauté until the shallots and garlic are translucent and fragrant.

Add 1/2 cup white wine and bring to a boil. If you have any fresh herbs, add them now.

Add the cleaned mussels, stir well, and cover. Steam 5 - 10 minutes, depending on how many mussels you have. Check them frequently. They are done when the shells are open and the mussels have changed color and texture. They will be orange around the edges and firm. Overcooked mussels are rubbery. Add the optional lemon juice and zest after they have cooked.

Discard any mussels that don't open during the steaming process.

Garnish with more fresh herbs, butter, and lemon juice if desired.