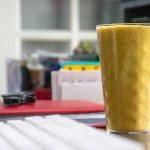 Print Recipe
Yellow Smoothie
Put about a cup of liquid in your blender, add flavorful yellow things, then layer on your nutritional add-ins such as chia seeds, then blitz until creamy.
1

c

milk of your choosing or water

Recipe pictured was made with macadamia nut milk

1

small

frozen banana

Use a knife to slice off the peel

1

small

very very ripe mango

Optional, I had one dying on my counter

1

T

chia seeds

1

T

sunflower seeds

For their anti-inflammatory properties

2

tsp

Golden Milk

This is a stand-alone product designed for use in warm milk - just throw in some turmeric and ginger to get the same anti-inflammatory benefits

1 - 2

T

Great Lakes Gelatin Collagen Hydrolysate

Dr. Rhonda Patrick says there are studies that show this brand actually ends up in your collagen, where you want it to go.
Put the liquid in your blender first, then the fruit, then the add-ins. Blitz until it's smooth. Blitzing time depends on the robustness of your blending device.