Yes. There's an affiliate link or two in this post, and as you know, if you click through to Amazon and buy … my earnings will surpass the $12.00 mark. 😀
Amazon Prime day has come and gone and this year I made up for never, ever playing.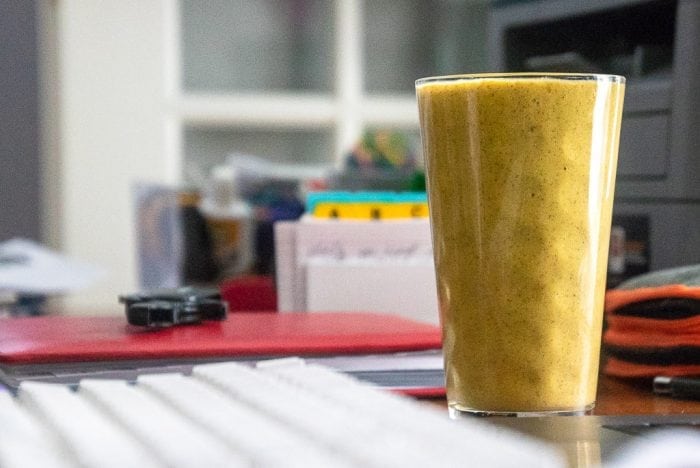 I had been waiting for my Montel Blender to die …
It. Just. Wouldn't. Like old, crusty, patients, who you know, at any minute, are going to succumb to the least physiologic trespass … and then they don't!
And they don't … and they still don't.
At some point, you have to accept it is not yet their time and quit holding vigil.
Despite Montel's blender's longevity, I felt the damn thing mocked me. Even eight years later, the fact that I purchased something, anything, even a thing that turned out to be a decent product, from an infomercial still makes me cringe.
Why don't I feel sheepish for spending too much money on a fancy-smanshy blender when I had a perfectly serviceable one?
Well, it has everything to do with control and decision making. I thought about getting a Vitamix for years. I did mind-numbing* research. I interviewed Vitamix owners. But most importantly, I seriously pondered the utterly ridiculous First World dilemma of spending over $400.00 on a blender.
A blender, for Chrissake.
But Montel?
Montel hijacked my brain and I hated myself it.
The crosshairs of never buying during Prime Day and my renewed interest in vegetarian fare finally intersected at the buy-now-dot. It was time.
Plus, Anthony Bourdain
 (page 16) had use for a good blender and so for me, it's kind of a silent nod to him.
Is the Vitamix
worth the money? Don't know yet, but it blends the shit out of Montel
.
*Mind-numbing research because clearly, Vitamix spends tons on their marketing department. Reading through their product lineup is like shopping at Target after they rearrange the shelves.
About the smoothie ingredients.
They were chosen for their anti-inflammatory properties. A brief listen to a podcast about recovery foods for runners listed everything but the collagen powder.
About the collagen powder … It's there because a Dr. Rhonda Patrick podcast quoted a study where this particular collagen
actually ended up in the collagen in the body. (Instead of you just pooping it out.) Does that mean it helps rebuild/remodel/preserve your own cartilage? Hard to know.
I figure the stuff is possibly helpful and probably not harmful.
I've had almost 30 years in the operating room: Every orthopod I've asked has said there is no fix for cartilage that has worn away, there's just a joint replacement in your future. Keep in mind, these are people who replace joints for a living. Keep also in mind, they have no shortage of patients.
Collagen powder comes from cows. Leave it out if you want a vegan/vegetarian smoothie.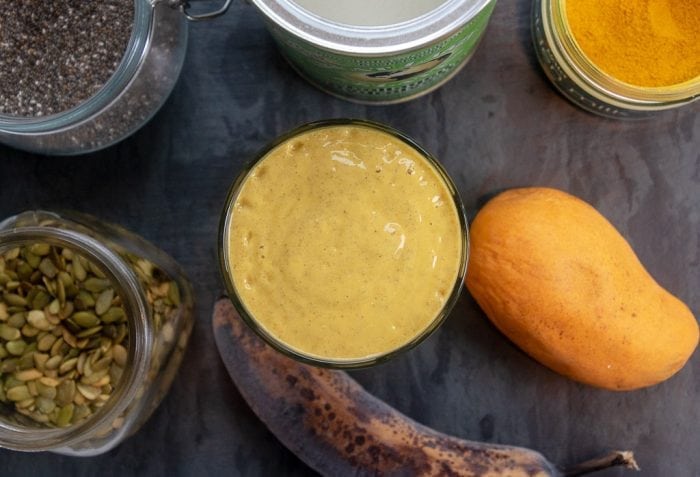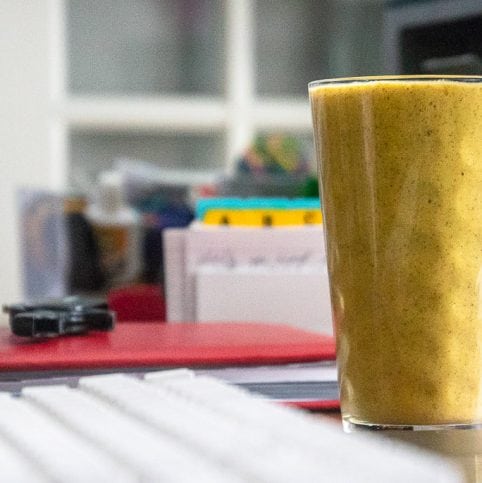 Yellow Smoothie
Put about a cup of liquid in your blender, add flavorful yellow things, then layer on your nutritional add-ins such as chia seeds, then blitz until creamy.
Ingredients
1

c

milk of your choosing or water

Recipe pictured was made with macadamia nut milk

1

small

frozen banana

Use a knife to slice off the peel

1

small

very very ripe mango

Optional, I had one dying on my counter

1

T

chia seeds

1

T

sunflower seeds

For their anti-inflammatory properties

2

tsp

Golden Milk

This is a stand-alone product designed for use in warm milk - just throw in some turmeric and ginger to get the same anti-inflammatory benefits

1 - 2

T

Great Lakes Gelatin Collagen Hydrolysate

Dr. Rhonda Patrick says there are studies that show this brand actually ends up in your collagen, where you want it to go.
Instructions
Put the liquid in your blender first, then the fruit, then the add-ins. Blitz until it's smooth. Blitzing time depends on the robustness of your blending device.
Golden Milk
Chia Seeds
Great Lakes Gelatin – Collagen Hydrolysate Kosher
Organic Sunflower Seeds