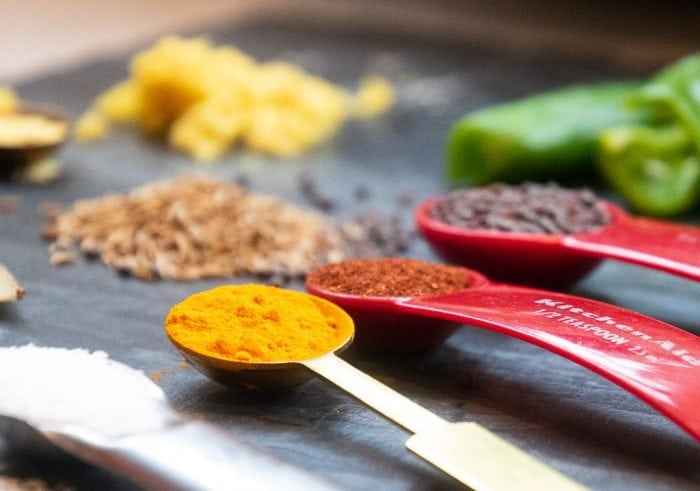 While in Punjab, India, where he ate nothing but vegetarian food the late Anthony Bourdain said
"If this was what vegetarianism meant in most of the places that practice it in the West, I'd be at least half as much less of a dick about the subject."
And that pretty much sums up this tomato chutney recipe. It is fine vegetarian fare.
This recipe is stolen from available online at Manjula's Kitchen. The credit belongs solely to her and I am so happy to have found it. If you have more summer tomatoes than you know what to do with, here's a new option that won't disappoint.
Manjula's video is instructive and charming. You can hear a young kid, who I presume is filming, cueing her to say the ingredients and to ask for likes and comments at the end. Her sink is full of dishes … I want to have dinner at her table.
Asafetida is likely the only spice you've never heard of, and it's optional. You probably have the rest of the spices in your kitchen already.
Manjula presents it as a side dish, but it's great with rice, beans, lentils or bread of any sort.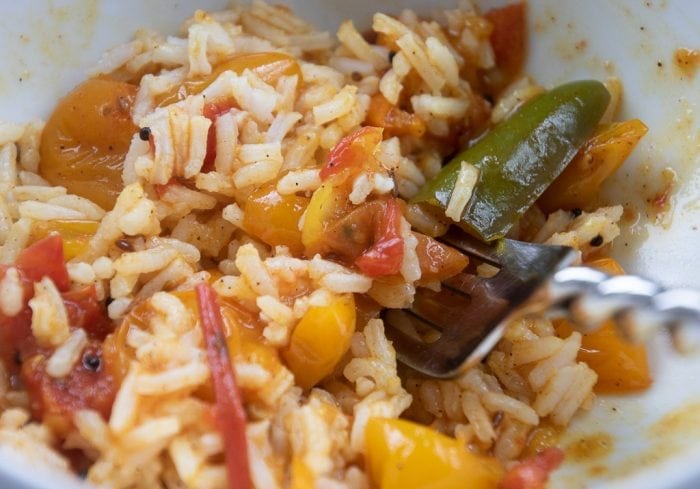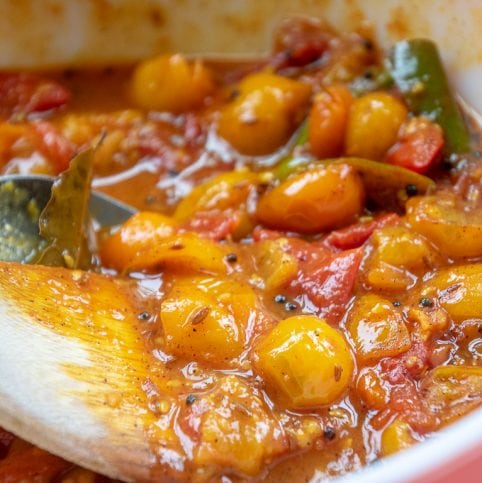 Tomato Chutney
Ingredients
6

medium

tomatoes, chopped

About 2 cups of whatever tomatoes you have. I had 2 medium red tomatoes and about 2 1/2 cups of yellow "cherry" tomatoes.

4

whole

green chilies, seeded and cut lengthwise

1

T

grated fresh ginger

2

T

oil

Pinch

of asafetida (hing)

Optional, add this first to the hot oil

2

whole

bay leaves

1

tsp

cumin seed

1

tsp

black mustard seed

Brown works, too.

1/2

tsp

paprika

1/2

tsp

turmeric

1

tsp

salt

1

tsp

cornstarch

2 - 3

T

sugar

Optional

2

T

chopped cilantro

Optional
Instructions
Heat oil in a medium saucepan until the oil is hot and just shimmering.

Add the pinch of asafetida if you are using, then add the 1 tsp cumin seed, 1 tsp black mustard seed, and let them pop for a second or two, then add the 2 bay leaves, the 1/2 tsp paprika, and 1/2 tsp turmeric.

Stir a few times then add the tomatoes, green chilies, and ginger.

Cover, let it come to a boil, then reduce heat to medium and let it cook for 5 - 10 minutes.

Add the cornstarch if you want the sauce to be a little thicker.

Add the sugar and cilantro if you are using.

Eat as is, serve with rice, lentils, bread, over a salad. Its use is only limited by your imagination.
Notes
I used one fresh jalapeño and 3 frozen small green chilies from last year's garden. No need to thaw frozen garden chilies. Just put them in a ziplock baggie, date it, and use them as needed. They are easy to cut and or grate when frozen.
Usually, you mix cornstarch with a little water (use 2 tsp water for this recipe) and you add that slurry to hot but not boiling food. You then bring the food up to boil and let the cornstarch do its thing. In her video, she just tosses in the powdered the cornstarch and stirs it around in the tomato chutney that is already boiling. I tried it and it worked just fine. No clumps of undissolved cornstarch. I don't know why it worked.