Jump to Recipe
Print Recipe
Salted almond joy bars taste as good as than they look!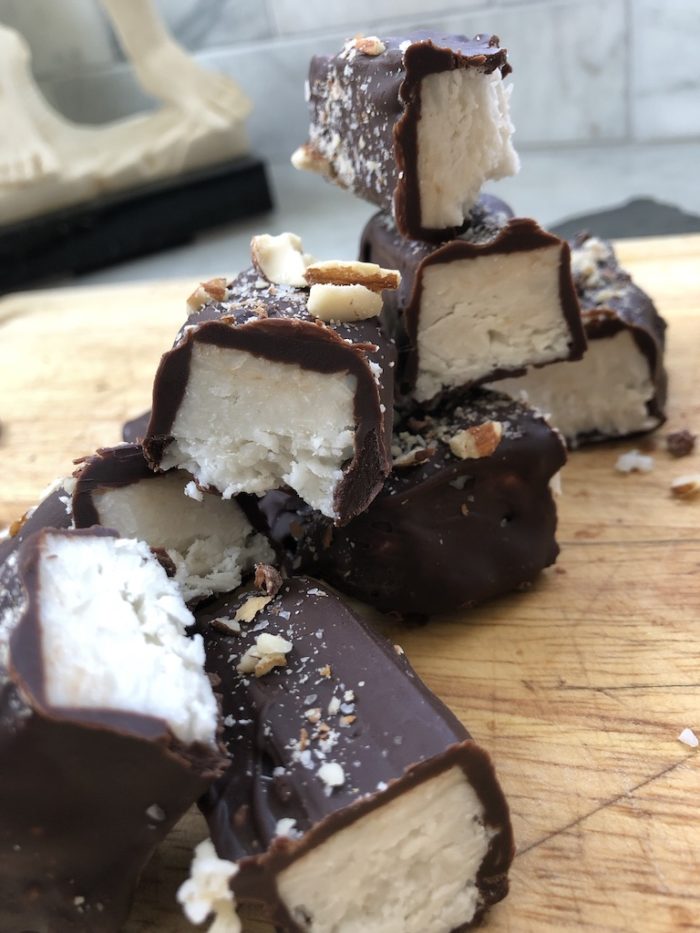 This is not a dessert for you if your diet contains a lot of processed carbs. For their size, these chocolaty, salty, "coconuty" beauties are loaded with calories, and most of them come from coconut oil.
Like everything in nutrition, there is division over whether or not coconut oil is good for you. Healthline says it is, and Dr. Greger of NutritionFacts.org says it isn't. Frankly, I'm a fan of Dr. Greger, so this makes me a little sad.
The data on the relationship between cholesterol and heart disease changes all the time. Some say high cholesterol isn't the demon we once thought.
I think we don't know what we don't know, and Americans know nothing about human nutrition in because much of what we think we know has been orchestrated by the medical-pharmaceutical complex and the unregulated supplement industry.
I'm more afraid of Lucky Charms, protein powders, Crisco, and vegetable oil than I am of coconut oil. 😀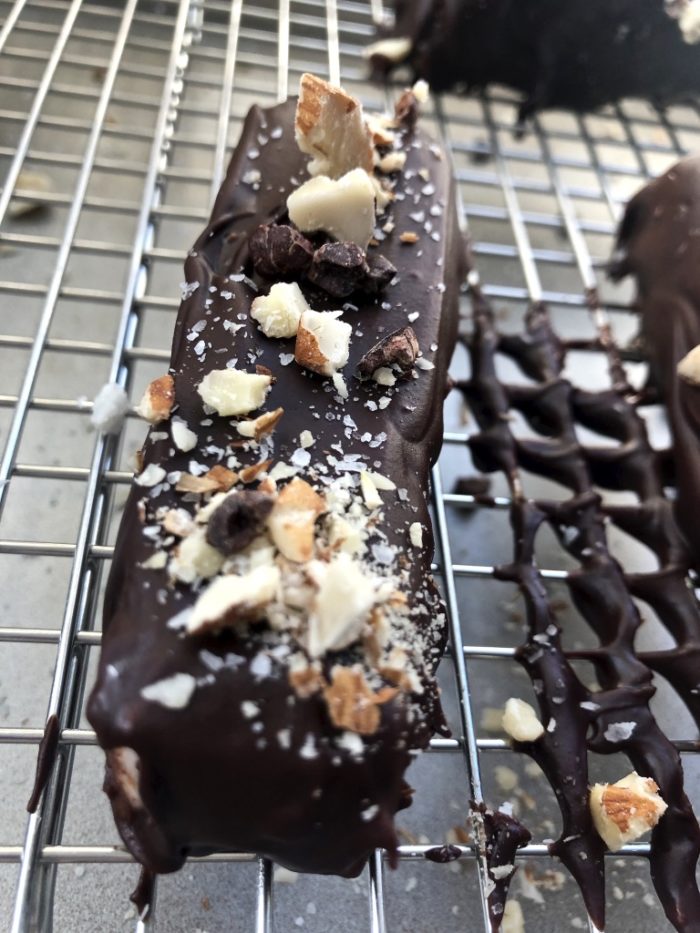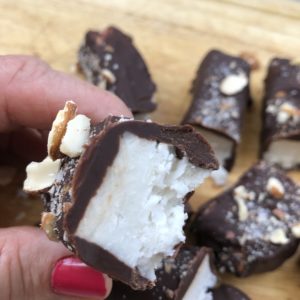 Salted Almond Joy Bars
Combine the ingredients for the bars in a bowl. Form it into a rectangle and freeze for 2 hours. Remove from the freezer, cut into the desired size, and dip in the chocolate glaze. Sprinkle with almonds and Kosher salt.
Ingredients
For the bars
1

c

shredded unsweetened coconut

If all you have are the flakes, throw them in the blender to shred.

1

T

Swerve

1

tsp

vanilla extract

1/3

c

coconut cream

Full fat, canned.

4

T

coconut oil

This amount can be reduced or maybe even omitted. It adds flavor, mouthfeel, and calories.
For the glaze
4

T

butter

1/2

c

Lily's dark chocolate chips

These are sweetened with stevia.
For Sprinkling on after the bars are glazed
1 – 3

T

chopped or slivered almonds

Optional. For sprinkling on after the bars are glazed.

1

tsp

Kosher salt

Optional. For sprinkling on after the bars are glazed.
Instructions
In a bowl, combine the shredded coconut, 1 T Swerve, 1 tsp vanilla extract, and 1/3 cup coconut cream. Mix well.

Form the mixture into a rectangle and freeze for 2 hours.

Once the rectangle is frozen, remove from the freezer and cut into 6 bars then cut those bars in half. Have the glaze ingredients ready to microwave and the garnishes ready.

Put the 4 T butter and 1/2 cup Lily's dark chocolate chips in a bowl that is wide enough for the bars to fit in. Microwave for about 30 seconds. The butter should be hot enough to melt the chips. Stir to combine. Don't over microwave. Use the heat from the butter before adding more time. The chocolate will lose it's shine if it gets too hot.

Dip the cold bars into the warm glaze and sprinkle with garnishes. Work quickly. The glaze will get cooler with each bar. The garnishes stick better if you add them immediately after dipping in the chocolate.
Here are the links for the ingredients I use. If you click through to Amazon and buy anything, BPC's gets a few cents.
Lily's dark chocolate chips. Swerve Sweetener. Organic Shredded, Unsweetened Coconut. Simply Organic Pure Vanilla Extract. Kosher Salt. Almonds.
This book is a good read if you are exploring keto and don't want to eat tons of animals.
Finally, Carl Elliot's book White Coat, Black Hat: Adventures on the Dark Side of Medicine is an unflinching look at the unholy relationship between big pharma and medicine. Knowledge is power. Read it and arm yourself. It's probably the most important thing about this post! LOL!