Jump to Recipe
Print Recipe
This Keto Buffalo cauliflower is amazing. It's good for you, and it's good for chickens.
I'm at a place where I can factor in more than hunger into my food choices. Making multiple chickens give me their wings so I can enjoy Buffalo sauce seems wrong on multiple levels.
And honestly, the cauliflower works. Plus, it doesn't get stuck in your teeth, it doesn't come with a weird rubbery texture, and it crisps up just fine.
And it stays crispy (at least on day one) when doused with Buffalo sauce.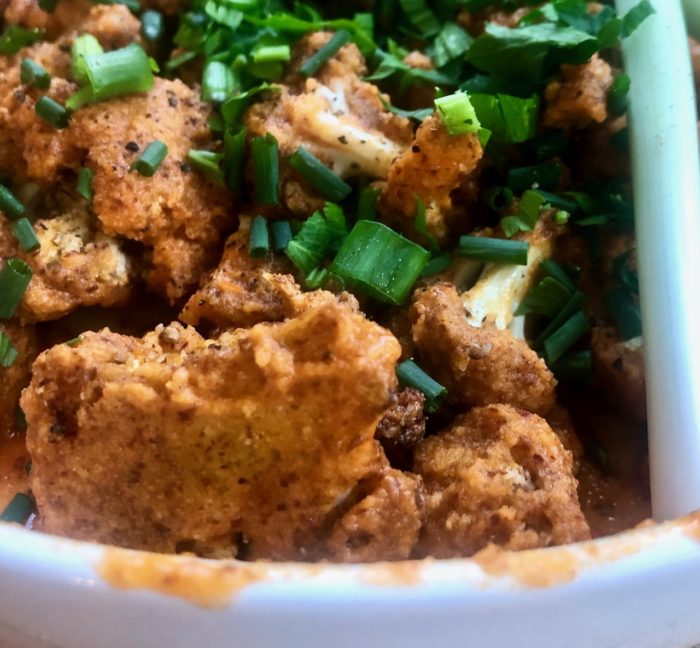 This Keto Buffalo Cauliflower is way better for you than inhumanely farmed chickens injected with hormones and antibiotics.
Be forewarned: that cauliflower link brings you to a nerdy dissertation on the value of cruciferous veggies. I find Rhonda Patrick's podcasts interesting … but she might be a little to in-the-weeds for some. If that's you, great. I'll listen and apply the information here.
For more reasons to eat any form of cauliflower, click this.
For a yummy, all veggie lunch put this cauliflower on a Keto Everything Bagel and top it with guacamole. For a lunch with clean protein, throw some arugula in a bowl and add leftover harissa shrimp and leftover Keto Buffalo cauliflower. Trust me: you won't be hungry for six hours. 😀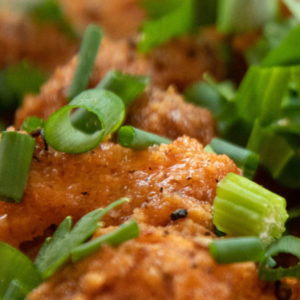 Buffalo Cauliflower
Cut the cauliflower, dip it in a beaten egg, dredge it in almond flour, then bake it. Once cooked, pour on the Buffalo sauce.
Equipment
baking sheet

parchment paper
Ingredients
1

Head

Cauliflower

Roughly cut into flowerettes

1 1/3

c

almond flour

Does not matter what kind or grind

1

tsp

garlic powder

1/2

tsp

Kosher salt

1

egg

beaten, for dipping the cauliflower in before breading it with the almond flour

1/2

c

Buffalo Sauce

1/4

c

butter

melted
Instructions
Adjust oven rack to middle position and preheat oven to 400 degree.

Line a baking sheet with parchment paper and set aside.

Cut the cauliflower into bite-sized pieces/break off the flowerettes and cut the big ones down to desired size.

Combine the 1 1/3 cup almond flour, 1 tsp garlic powder, and 1/2 tsp Kosher salt in a medium but wide bowl. Wide makes it easier to get each piece of cauliflower covered in almond flour.

Whisk the egg in a small bowl.

Put 1/2 of the cauliflower flowerettes in another medium bowl and pour 1/2 of the egg over. Stir to get every surface of the cauliflower wet. If it's not wet, the almond flour won't stick. Pour the rest of the cauliflower in the bowl and then the rest of the egg. Stir to combine. This half-and-half procedure decreases cauliflower breakage.

When all surfaces of the cauliflower are wet, drop a few at a time into the almond flour, garlic powder, and salt mixture and toss them around with a fork or your fingers to get all the surfaces covered. Put the floured flowerettes on the baking sheet. Repeat until all the flowerettes are "battered."

Bake at 400 for for 25 – 30 minutes.

While the cauliflower is baking, combine the 1/4 cup butter with the 1/2 cup Buffalo sauce and heat. The microwave is fine. Use your judgement on your microwave.

When the cauliflower is done, transfer it to a bowl and pour on the Buffalo/butter mixture. Gently stir to combine.

Serve with Ranch dressing, blue cheese, or just eat it. It's great tossed into salads or layered on a burger.
Notes
This cauliflower tastes great leftover, but you'll need to reheat it in the oven to get it crispy again,
I put leftovers on salads and it provides an assertive flavor that somehow translates into "I'm full." It is NOT crispy the next day on a salad that has been in the refrigerator.