Jump to Recipe
Print Recipe
You don't need the donut pans for these keto chocolate almond coconut donuts, but if you click through to Amazon and purchase the ones I recommend
, Amazon will shuttle some coin my way. The donut pans are fun. You should buy them. 😀
I found this recipe at Keto4karboholics. Check out her Instagram or blog for more recipes. Nothing I've made from her site has disappointed.
This keto chocolate almond coconut donut satisfies without the post-donut logy* feeling.
"Logy" = lacking vitality, sluggish, or lethargic. In our house it specifically applies to the lack of vitality one experiences after eating a high carb meal, or eating too or drinking too much of anything. It is to be avoided.
Keto Chocolate Almond Coconut Donuts don't have enough sugar to create the lōgg.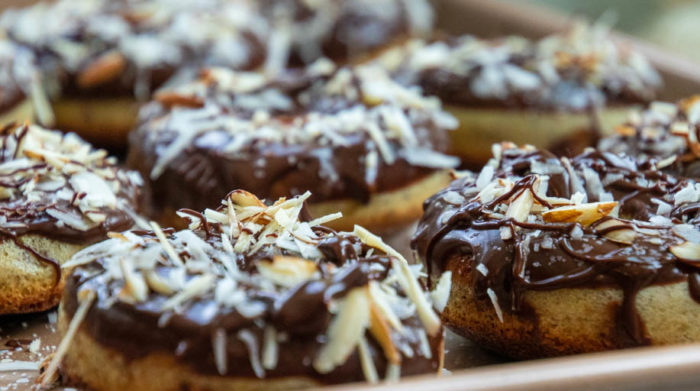 True story: One hundred years ago I was running a community-wide ACLS class. This was when instructors actually made up their own "mega-codes." I brought donuts for the students. When I offered a donut to the regular night nurse on my unit. (And yes, she was that night nurse.) She said: "I don't eat donuts." My quizzical expression forced an explanation.
"I lost 40 pounds several years ago and I gave up donuts. I've never eaten one since. I don't feel good when I eat them, so I just don't."
I understood completely. I knew pancakes and french toast made me feel bad, so I ate them very rarely. Donuts did the same thing. Why was I still eating them? I pretty much stopped. Right there in that ACLS class after one last plain sugar glazed donut. Until now.
Now I eat a keto chocolate almond coconut donut every now and then … So good with an iced coffee after a workout!
N.B. Keto chocolate almond coconut donuts get their sweet from erythritol
which is a sugar alcohol first discovered in 1848. It is commercially produced from glucose by fermentation with yeast. It is non-caloric, does not influence blood sugar, and does not cause tooth decay. Click through and get yours here
. I am over my skepticism of it. Same with Lily's Chocolate Chips.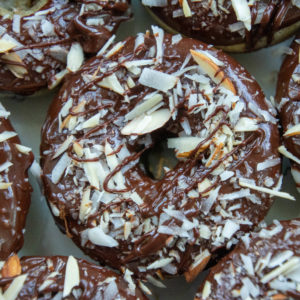 Keto Salted Chocolate Almond Coconut Donuts
Cream barely melted butter, heavy cream, flavorings, and erythritol till smooth. Add eggs. Beat. Add the dry stuff. Mix. Pour into a greased vessel. Bake. Make the glaze and decorate the tops with chocolate, sliced almonds, and thinly sliced unsweetened coconut flakes.
Equipment
Muffin tin or donut pan

Mixer
Ingredients
For the Donuts
1/3

c

butter

Just melted. If the butter is too hot when it is mixed with the cream the donuts end up flat.

2

T

heavy cream

Should be cold.

1/2

c

erythritol

4

whole

eggs

Should be cold.

1/2

tsp

vanilla extract

Or one whole vanilla bean, scraped.

1

tsp

almond extract

1

c

almond flour

It does not matter what kind – fine, whole, whatever you have will work.

1

tsp

baking powder
For the Glaze
2

T

butter

1/4

c

Chocolate Chips

Use the ones sweetened with erythritol.

1

tsp

vanilla extract

3

T

almonds, thinly sliced

1/4

c

unsweetened coconut flakes, thinly sliced

1

tsp

Kosher salt

Optional. Sprinkle on last.
Instructions
For the Donuts
Adjust oven rack to middle and preheat oven to 350.

Spray donut pan, muffin tins, or muffin tins with liners with olive oil cooking spray. It just works better for no-stick than Pam. Or use butter.

Melt the 1/3 cup butter (about 30 seconds in the microwave) in a medium bowl. Stir the butter to finish melting it instead of adding more time microwave time. Combine the rest of the wet ingredients and the erythritol in the medium bowl. (i.e The 2 T heavy cream, 1/2 cup erythritol, 4 cold eggs, vanilla bean (or extract) and almond extract.) Mix on medium-high speed until everything is well combined and the batter is smooth.

Add the almond flour and baking soda. Mix again. Pour or spoon the batter into the desired vessel. I get 9 donuts from this recipe and each donut uses about 1/3 cup of the batter.

Bake 15 – 18 minutes at 350.

Remove from oven and let cool. Then remove from donut forms.

When the donuts are still a little warm to touch, make the glaze.
For the Glaze
Slice the almonds and unsweetened coconut so they are ready to be sprinkled on the warm chocolate glaze.

In a small shallow bowl, melt 2 T butter. Start with 30 seconds. Stir to combine the hot butter and somewhat melted chocolate. See if the heat from the original 30-second blast will melt the rest of the chocolate before choosing to microwave again. (Chocolate that gets too hot will not have a pretty shine. There is no way to undo the damage once chocolate gets too hot.) Once melted, stir in the 1 tsp vanilla extract.

Dip the top of the donut/muffin in the warm glaze. Sprinkle with sliced almonds and unsweetened coconut. Sprinkle with Kosher salt if desired.

Store in the refrigerator and microwave 10 – 15 seconds to warm them up before eating.

Using a spoon, scrape up any remaining chocolate and drizzle it over the donuts. Flick the spoon quickly from side to side to get horizontal chocolate lines.
Other keto recipes on BPCs are Buffalo Keto Cauliflower and Keto Everything Bagels.
Make it easy on yourself and get your supplies here. Lily's Chocolate Chips Almond flour Erythritol Donut pan Vanilla Bean
You know I know keto isn't about making fake sweets and fake bread. Keto and low carb are about vegetables, good fats, and real food from Mother Earth. This book
is a nice explanation of how to do it right: whole plant foods and good fats. It's not high protein. It's nutritious plants and good fats.