The law requires me to disclose: if you click through to Amazon and buy something, they will throw some minuscule amount of coinage my way.
Oven-baked English Muffins
Bread is a lovely thing, and English muffins are a beautiful niche bread thing. These homemade ones are soft and comforting. They give you the bread experience without the mysterious hassles of the bread learning curve. You can start them with your morning coffee, and by the time your people are awake, the oven-baked English muffins will be cool enough to eat.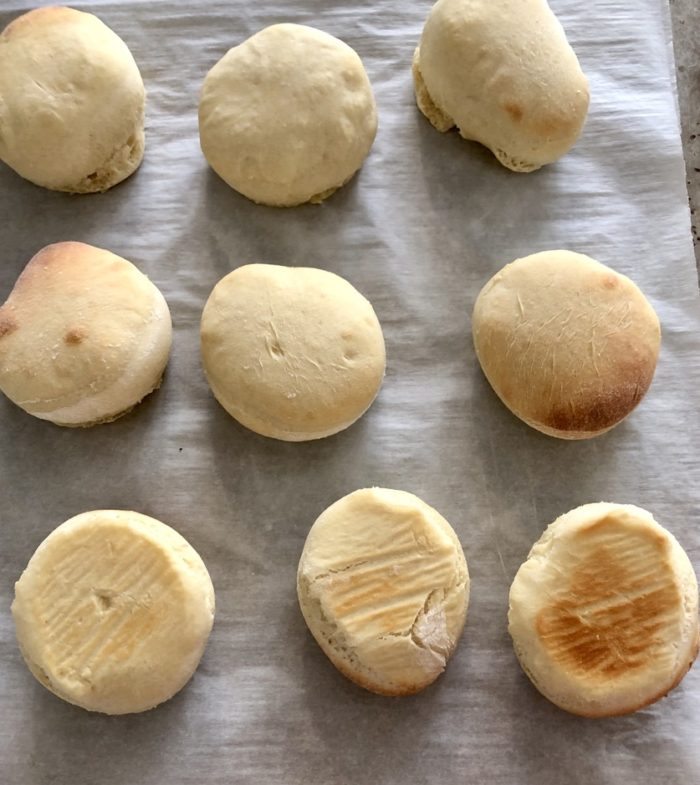 This English muffin recipe comes from Fifteen Spatulas, which is a food and travel blog for curious foodies. Check it out, it's a well-organized and easy to search site with tons of recipes.
I've tried other English muffin recipes – like those that go on a griddle –
This oven-baked recipe is a softer, more inviting bite of bread.
There are people in my house who believe they suffer not from gluten intolerance, but gluten deficiency. 😀 They require daily doses of gluten, and according to these gluten experts, these English muffins are chameleons because they are:
"English muffins for breakfast, but turn into dinner rolls at dinner."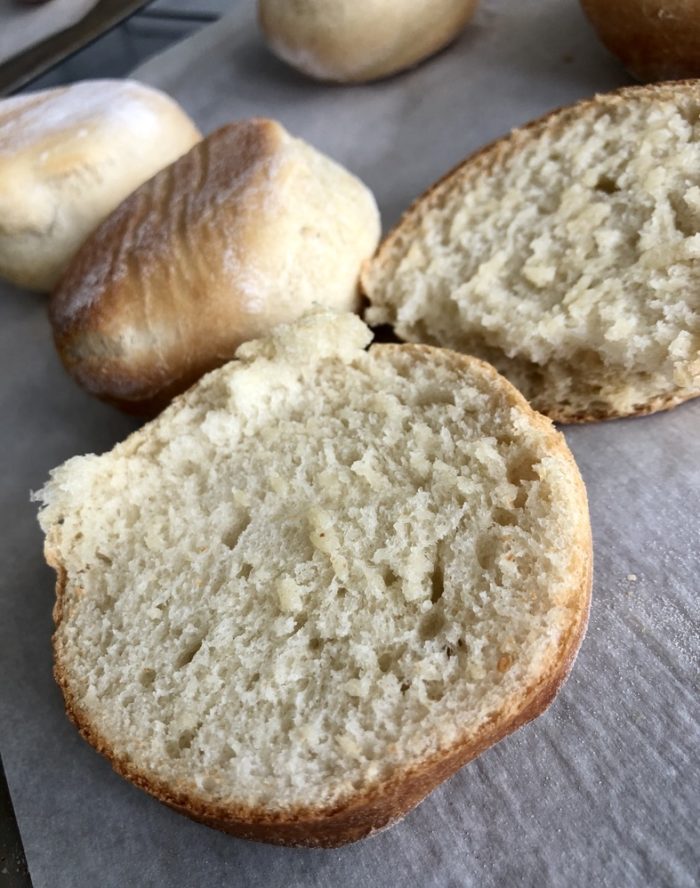 For a more traditional English muffin experience, try this overnight recipe from the kitchn.
The oven-baked English muffins freeze well and defrost quickly – a minute or so on the auto-reheat setting. Freeze what you don't eat in a day or two, and store them in the refrigerator.
For a sweet treat, try them with lemon curd or blueberry sauce.
Tomato chutney is a surprisingly satisfying, savory-sweet, and versatile topping.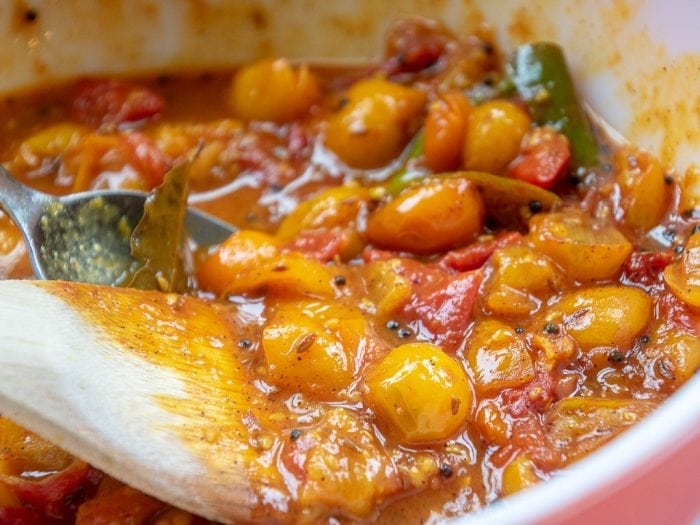 I ate this batch with cream cheese and fresh microgreens
and chives.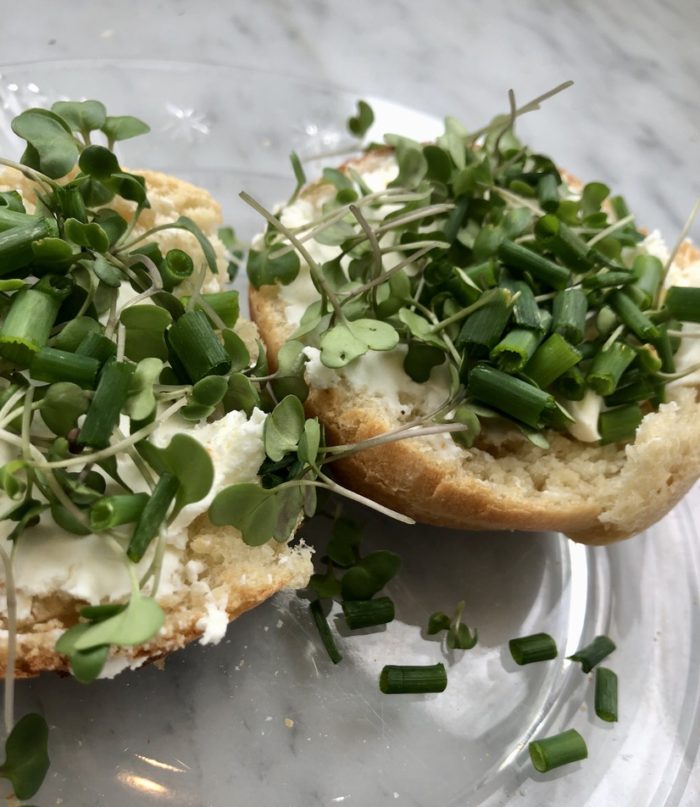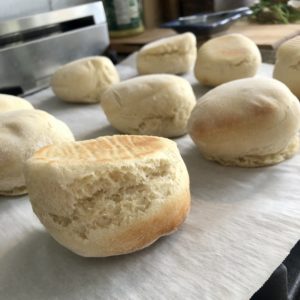 Easy Homemade English Muffins
Make sure you have 20 minutes to make the dough, an hour to let it rise, and another 30 or so to roll out the dough, cut the muffins, and bake them. And it's that simple: make the dough, let it rise, bake it. They are worth planning your morning around.
Ingredients
1.5

cups

warm water

.25

oz

packet active dry yeast (2.25 tsp)

1

tsp

sugar

4.5

cups

AP flour (about 600 grams)

1

lg

egg

1/4

cup

honey

1

tsp

Kosher salt
Instructions
Make the dough and rest it
Get out your stand mixer and attach the dough hook. Proof the yeast in the bowl by adding the 1.5 cups warm water, the yeast packet (2.25 tsp), and 1 tsp sugar.

Stir gently and let the mixture sit for 5 - 10 minutes. If the yeast is good, there will be foam and bubbles before 10 minutes.

Add the rest of the ingredients to the bowl. (The 4.5 cups all-purpose flour, the egg, the 1/4 cup honey, and 1 tsp Kosher salt.)

Stir to combine so the flour does not fly out of the bowl when you turn the mixer on. Knead the dough on low speed for 10 minutes. The dough will be sticky, stretchy, and smooth.

Cover the bowl and let it double in size. I take the bowl off the stand mixer, sit it in the middle of a large bath towel, then wrap the towel up and over the bowl. I learned this method from a charming Italian grandma's homemade pizza dough video. https://www.youtube.com/watch?v=OjXWVSbWBV4
After the rest, shape and bake the English muffins
Place one oven rack in the center position, one below that, and preheat the oven to 400 F. Prepare two baking sheets with parchment paper.

Throw some flour on the bench, punch the dough down, and turn the dough out onto your workstation.

Roll it to 1/2 inch thick. The dough is springy. Roll it. Don't pull it. Cut into 3 inch circles with a cutter or large glass. Push down and slightly twist.

Re-roll the dough scraps as needed until there is none left. You'll probably get 24 English muffins.

Put 12 discs on each parchment-lined baking sheet.

Bake at 400 F for 7 minutes. At the 7-minute mark flip each English muffin over. Then rotate the baking sheets front to back and switch the baking sheets from top to bottom and bottom to top. Bake another 7 minutes.
Notes
These freeze well. Two English muffins can be defrosted in the microwave using the programmed auto-reheat setting for about 60 seconds. 
They can get way fluffier than store-bought English muffins.
If you want to cook them using a griddle, they will still take 7 minutes per side. 
If you don't have one yet, get a kitchen scale
like this one. Something flat you can place a bowl on and weigh in multiple units is the most useful. Other products I use to make these include the following.
KitchenAid mixer with glass bowl and tilt-head design
Baking sheets
Parchment Paper