Sure – you can buy basil pesto everywhere, but you know it's better when it comes from your own kitchen … even more better if you pluck the basil from your own plants.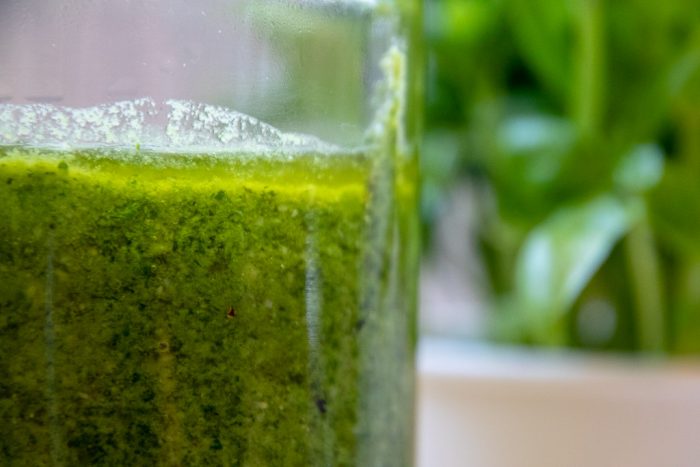 Like any sauce or basil pesto recipe, the amounts are just guidelines.
Use what you have, experiment with ratios, leave things out, put things in. Pesto-saucery is the very essence of a great tasting thing you can't mess up.
… Unless your pine nuts have that weird bitter finish – which I find they often do, especially if they come in a bag from a store where "specialty" items don't move very fast. I rarely buy pine nuts anymore because they often taste rancid/old.
Of course, decent olive oil is a must in a recipe like this where the olive oil is more than an ingredient carrier or there for the comforting "mouth feel" fats provide. This is the time to buy good stuff and use it.
Basil Pesto = Summer in a Sauce
Fresh basil, olive oil, nuts, and freshly grated parmesan cheese = a classic summer sauce. Suitable for dipping, dressing salads, noodles, burgers, eggs ... the possibilities are endless.
Ingredients
2

c

packed fresh basil leaves

1 - 2

c

loosely packed fresh baby spinach leaves

Optional - used to extend the basil and increase the nutritional content.

1/2

c

olive oil

1/2

c

toasted nuts

traditionally, pine nuts are used. Walnuts are a great substitute.

1/2

c

freshly grated parmesan cheese

2 - 3

cloves

minced garlic

1

whole

lemon, juiced

optional

2

tsp

lemon zest

optional

1/2

tsp

sugar

optional

1/2 - 1

tsp

Kosher salt

1/8

tsp

freshly ground pepper

or to taste
Instructions
Toast the nuts in a dry skillet 2 - 3 minutes, just until you can smell them. Let cool.

Put everything else in your food processor and blitz until it is as creamy as your processor is going to get it.

Let the pesto rest in the refrigerator 30 minutes before using.
What's better than homemade fresh basil pesto? I'll tell you: it's fresh basil pesto and freaking bread – add some tomatoes and it's a salad.
How's that for great flavor, big-time nutrition, and comfort food? Yeah. Click here for the salad recipe.
Feeling extra special about the homemade aspect? Grow your own tomatoes and make your own bread. Click here for the bread recipe.