Mom's Homemade Spaghetti and Meatballs
My mom, who was a great homemaker and wonderful, delightfully funny woman, was actually not that great of an everyday cook. (She is the inspiration for the blog's name.) But her spaghetti and meatball recipe is fantastic. An Italian, first generation immigrant neighbor in Pittsburgh (circa 1950) shared her family's traditional spaghetti meatballs recipe with my mom and that's how we got our own family classic.
It's not a complicated recipe and there are no fancy ingredients.
"Its beauty is in its simplicity." Is how my mom said her friend described it. And it's true. Just a few simple, but very important ingredients make a really great tasting and satisfying meal.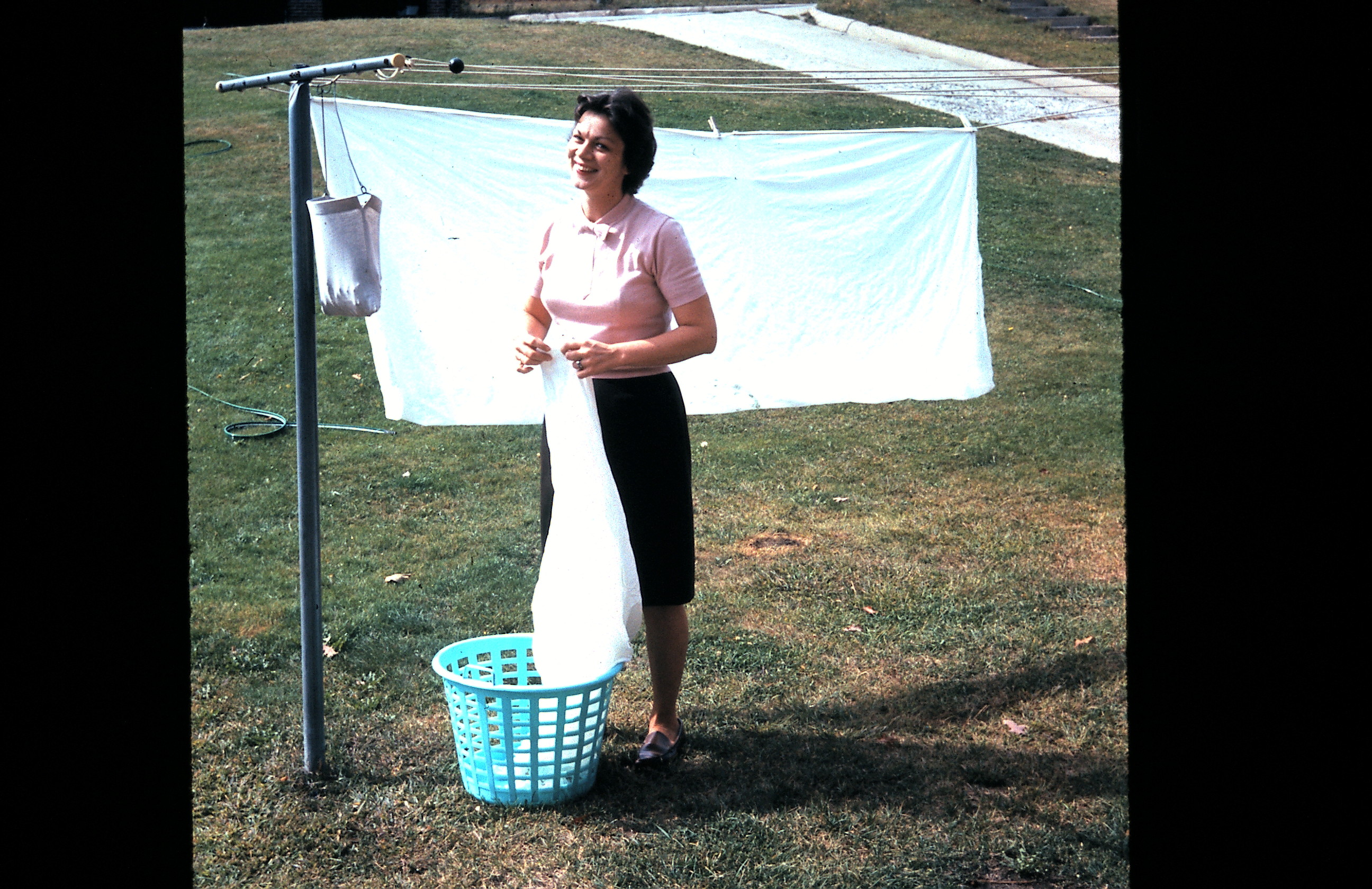 The aroma of this traditional spaghetti and meatball recipe is the very definition of a cozy family evening. Since I'm normally at work during the day, I learned early on how to adapt it to a slow cooker. Serve it with garlic bread and a salad … heaven!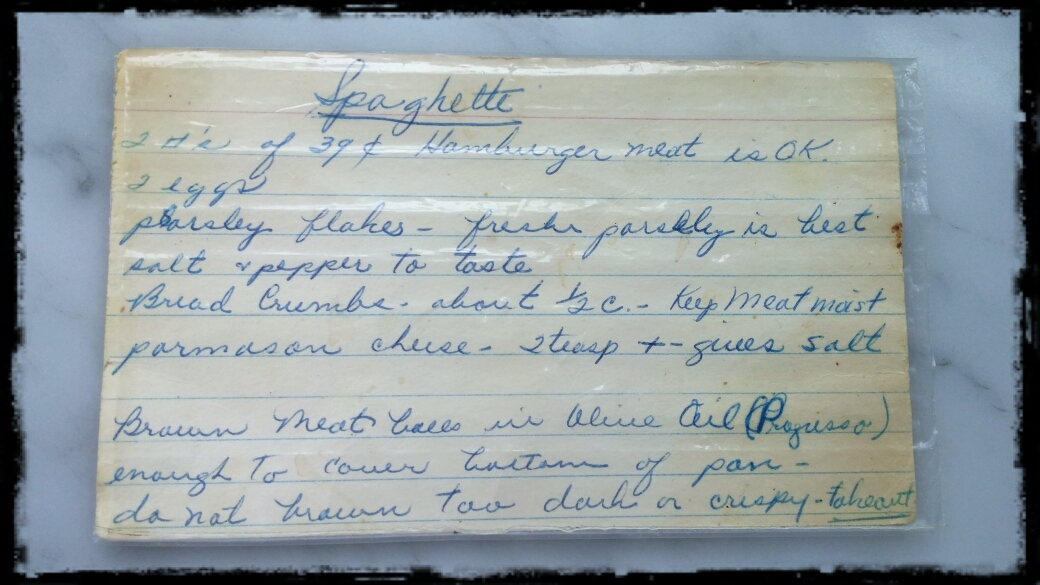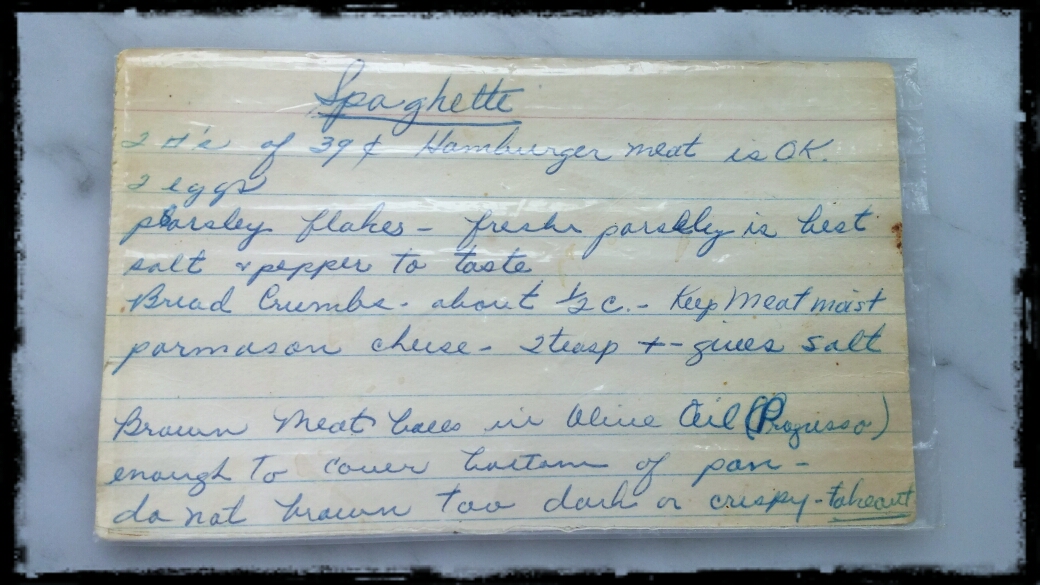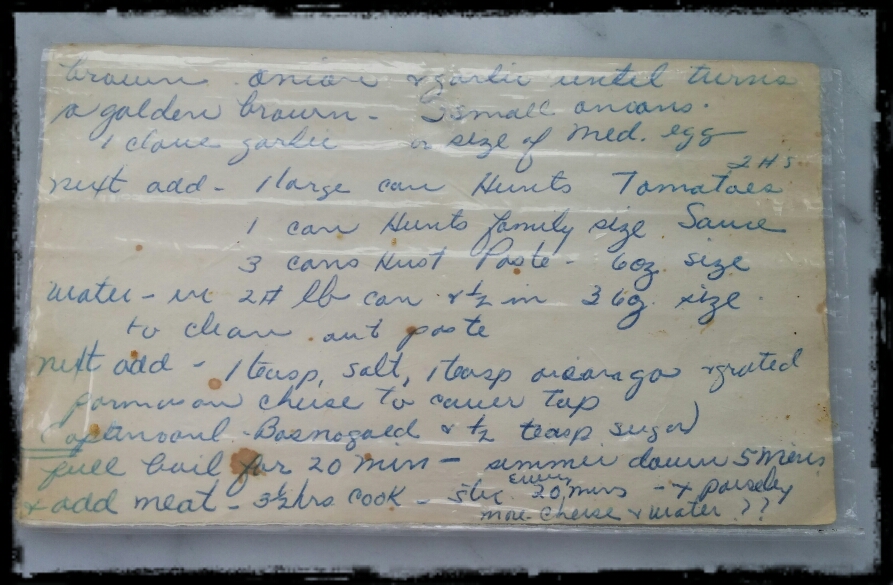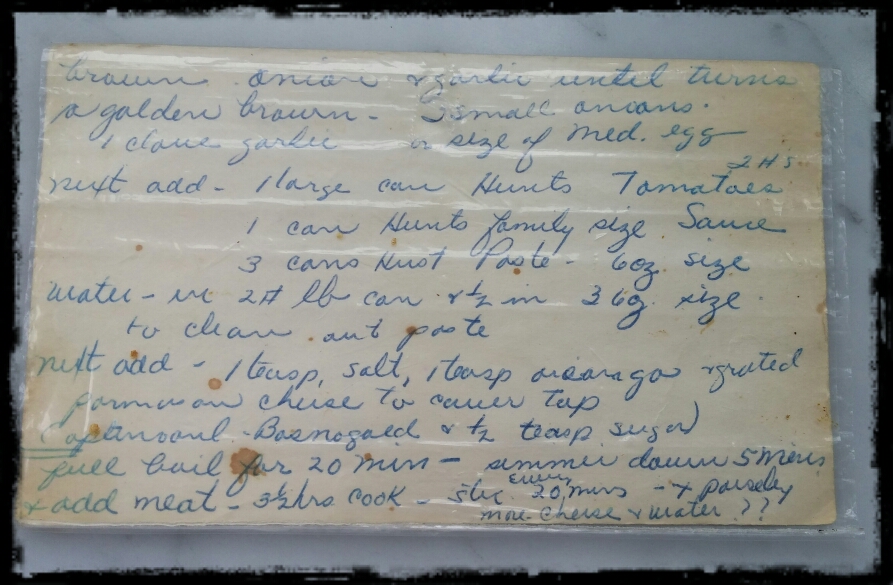 "It's beauty is in its simplicity"
This simplicity means you can adjust the recipe in so many ways.  Use more or fewer cans of tomato sauce or diced instead of stewed tomatoes, cheap powdered parmesan cheese from the plastic shaker or expensive shaved parmesan cheese, garlic powder or real diced garlic, TVP  (textured vegetable protein) for "meat crumbles" or the delicious meatballs that go with the original recipe. You can let it simmer all day on the stove, throw it together (sans meatballs) and serve immediately or make it in a slow cooker. It's forgiving, adaptable, and delicious.
You will be able to manipulate everything
According to  your timetable, your pantry ingredients, and your cooking method.  You can use the sauce for lasagna instead of spaghetti, it freezes well and it keeps a good long time in the frig.
Mom's Spaghetti and Meatballs
For the traditional method: Chop onions, garlic, make the meatballs. Saute the meatballs in a heavy bottomed dutch oven and remove. Saute the onion and garlic and scrape the bottom of the pan to get off all the brown bits. Remove onions and garlic and drain off remaining grease. Put everything back in the pan - the meatballs, the veggies, all the canned tomato products, parmesan cheese, spices. Cook at a full boil for 20 minutes then simmer at least 3 hours.
Ingredients
3

6 oz

cans tomato paste

2

14 oz

cans stewed tomatoes

2

14 oz

cans tomato sauce

1/2

c

water

1/2

c

grated parmesan cheese

1 - 2

T

dried oregano

1 - 2

whole bay leaves

1 - 4

T

olive oil

use to saute onions, garlic and meatballs, and one giant swirl over the top of the sauce

1

small

diced onion

1 - 2

cloves

garlic, minced

salt and pepper to taste
For The Meatballs
2

pounds

hamburger meat

2

eggs

1/2

c

Italian breadcrumbs

1/3

c

parmesan cheese

2

T

dried parsley

1

T

dried oregano

1

T

garlic powder

1

T

onion powder

10

grinds

of your black pepper grinder

about 1/2 tsp
Instructions
1. Preheat oven to 350 and line 2 cookie sheets with tinfoil if you are going to finish cooking the meatballs in the oven (recommended) instead of in the sauce.

2. Mix all the meatball ingredients together and form into golf ball sized meatballs.

3. Put at least 1 T olive oil in the bottom of your large dutch oven and brown the meatballs on at least 2 sides in batches. Don't crowd the pan or the balls will steam instead of brown.

4. while the meatballs are cooking in your dutch oven, chop the onion, mince the garlic, prepare your bowl to drain the grease, and open the canned goods

5. Remove browned balls to cookie sheets and finish cooking in the oven for 30 -40 minutes


6. Saute the onion in the leftover hamburger grease/olive oil mixture until translucent (don't brown the onions).

7. Add the garlic to the onions, do not burn it

8. Turn off the heat on the onions and garlic, set a colander or fine mesh strainer over a bowl (you can use the bowl you mixed the meatballs in) and drain the grease from the onions and garlic

9. Scrape all brown bits off the bottom of the dutch oven, but leave them in the pot to flavor the sauce.

10. Return the greasy onions and garlic to the dutch oven.

11. Add remaining sauce ingredients to the pot.

12. Bring everything to a hard boil for 20 minutes, scraping the bottom of the pan frequently to prevent the sauce from sticking and burning.

13. Take the meatballs out of the oven and put them directly in the sauce. It doesn't matter if the meatballs are part of the 20-minute hard boil stage as long as they are cooked through when they get out of the oven.

14. Reduce heat and simmer for 3 - 4 hours

15. Prepare Pasta or zoodles

16. Spoon sauce and a few meatballs over pasta, garnish with parmesan cheese, fresh parsley or basil.
Notes
Nutrition Data is for Meatball recipe only and is based on 2 meatballs/person.
If you don't have stewed tomatoes, used diced. Throw in some fresh ones if you have them. Using pre-spiced or flavored tomato products is OK, but if that is all you use you will get that "packaged" flavor instead of the simple elegance of this recipe.  Tomato paste is critical for the rich flavor of this sauce. If you increase any canned products, start by increasing the tomato paste. Then increase the parmesan cheese. It's hard to overdo the cheese.
You can throw everything into a slow-cooker in the morning and it will be fine even if you get home 10 hours later. 
 If you don't want to make the meatballs, you can just toss in a pound or two of ground hamburger. I regularly make the sauce in a crock pot without meat. (Sometimes I use Boca brand soy "burger" crumbles or TVP.  My people are completely fooled by this and think they are eating ground beef.) If I'm home all day, I"ll go the extra mile and make the meatballs.
Tomato products have a lot of salt and so does parmesan cheese.  You do not need to add much salt to this recipe and if you can find unsalted tomato products use them and salt to taste.
If time is short, just throw in some onion powder  and garlic powder instead of chopping/mincing and sauteeing the real stuff.
This recipe freezes well with or without the meatballs. I have a sister who makes only the meatballs, freezes them, then adds them to bottled (?!) sauce and pretends to have "cooked all day."
You can add any other veggies to the sauce.  Red peppers and mushrooms work well. The sauce is great over cooked broccoli, cauliflower, and of course, zucchini or spaghetti squash noodles. Broccoli and cauliflower are best cooked separately because they impart an off-putting flavor to the sauce.
You can add some dried oregano, garlic powder, onion powder, or even pizza spice to the meatballs for a spicier ball.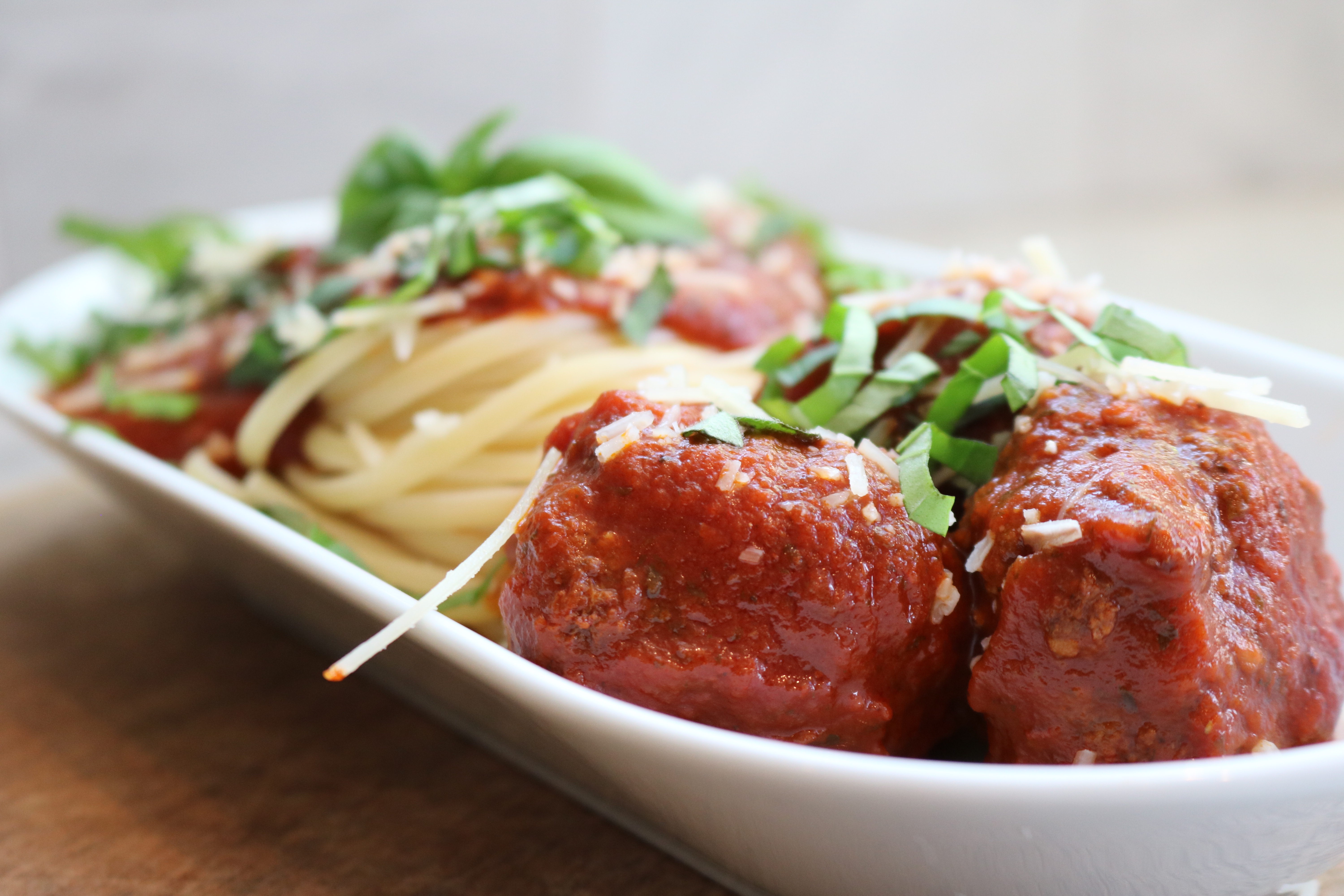 Spaghetti and Meatballs: Better The Next Day
Like many recipes of this sort, it improves with age. If I make this on a day off, I use a heavy bottomed Dutch oven
  and let it simmer on and off all day long. The repeated temperature changes seem to meld the flavors more quickly, giving it that next-day-depth-of-flavor. I happened on this discovery while living in a house that had a stove that just could not simmer.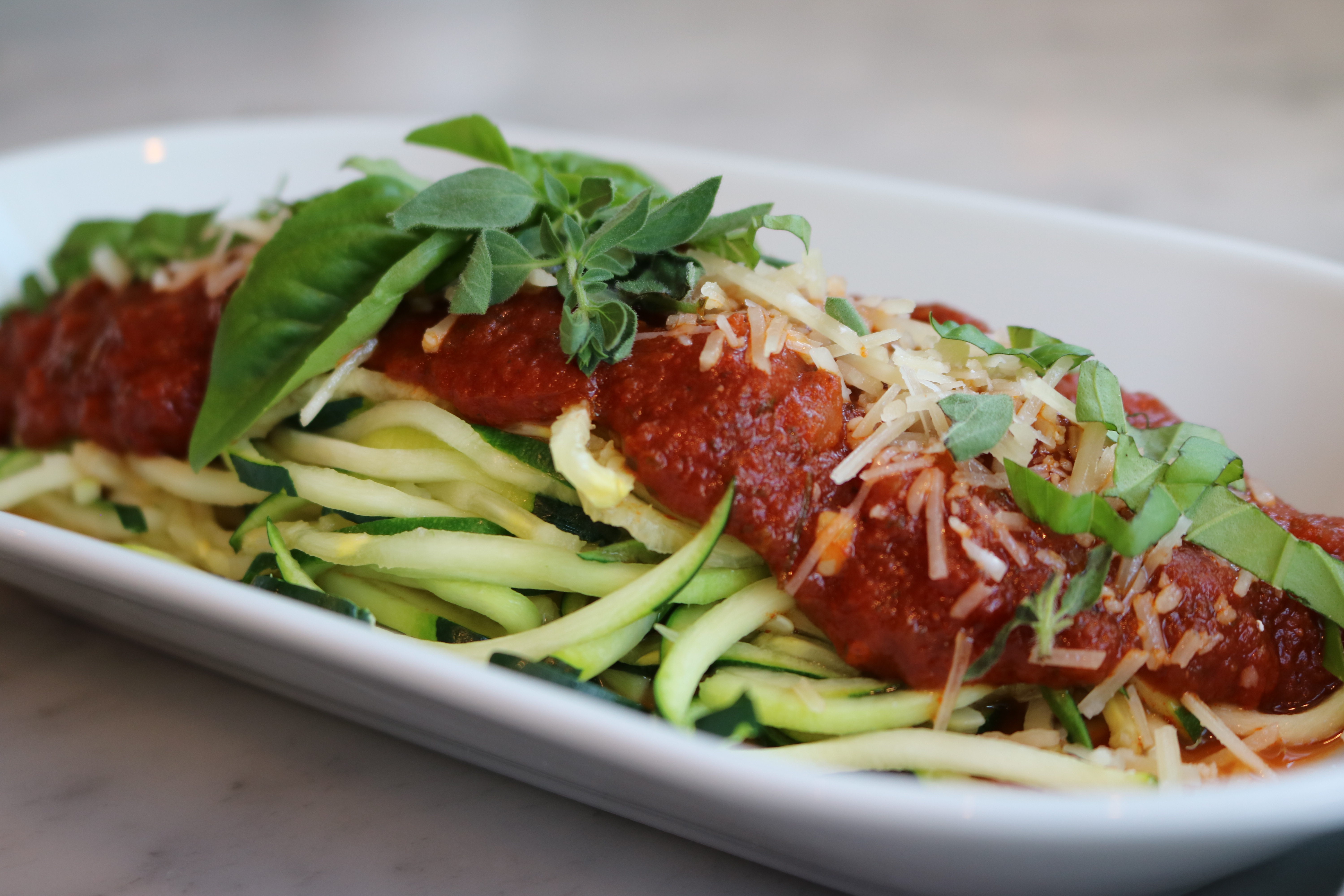 To make the zucchini noodles, use this
. I bought it in 2014 and regularly spiralize zucchini. It works!