This post contains affiliate links and if you purchase through them, my Amazon earnings might top the $12.62 I've made so far. Blessings to you.
It's possible that kale's moment has passed. This is not a concern for me. At all.
I actually like kale now.
And I've always loved anything pesto so it seemed reasonable to use up that bag of not-yet-dead kale and get something yummy to spread on my latest obsession: vegetarian sandwiches.
This recipe for kale pesto has nutritional yeast in it. Nutritional yeast is something I'm currently experimenting with. Bottom line: it's pretty tasty, easy to use, and works particularly well as a parmesan cheese replacement. I will certainly buy another container. It's the yellow powder in the photo below.
To be clear: Parmesan cheese is an absolute favorite of mine. In fact, you might call it a trigger food. I always have it and have been known to polish off a wedge in a single sitting. No need for crackers or grapes. Just the cheese. So, for me to think nutritional yeast works is a thing. I am not blowing smoke up your skirt. If you can't face driving to a grocery store, buy it here
.
The other weird/new thing this recipe has is Herbamare original
. This is a spice blend I get from Amazon. It checks all the boxes for organic, gluten-free, and no MSG. I started playing with Herbamare because I wanted to make ranch dressing at home without, well, the ranch spice packet … haven't quite figured that one out yet.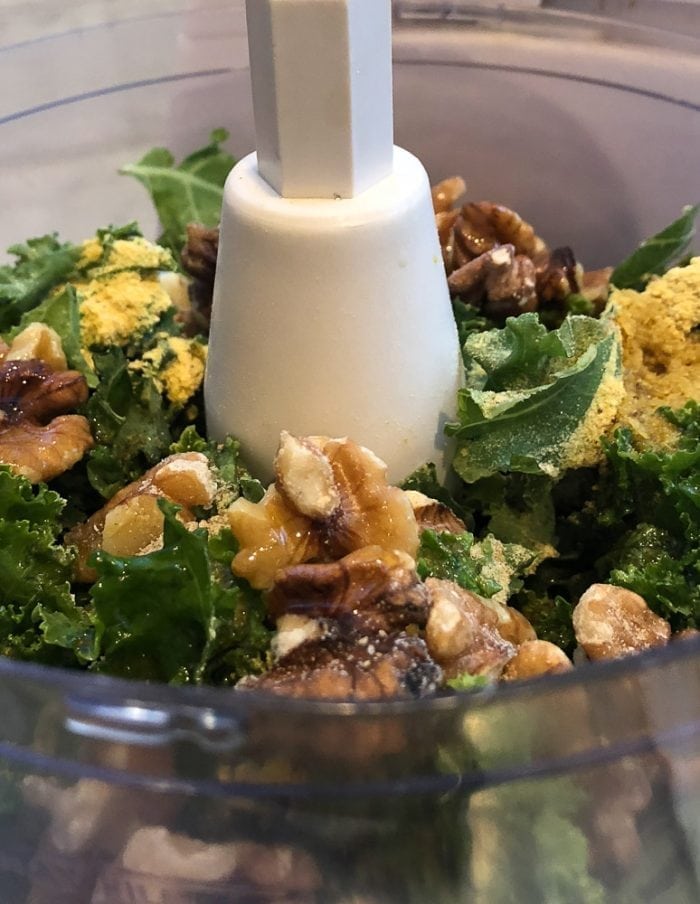 Kale Pesto/Sandwich Spread
Put everything in the food processor and blitz till smooth.
Ingredients
3

handfuls

chopped kale

from a bag or container, or the equivalent of leaves, hand chopped

1/4 - 1/2

cup

walnuts

or nuts of choice

1

clove

fresh garlic, peeled and smashed

3

T

nutritional yeast

1/4 - 1/2

c

olive oil

1/2

tsp

Herbamare Original

1/4 - 1/2

tsp

Kosher salt

1/4 - 1/2

tsp

freshly hand ground black pepper

because Anthony Bourdain says to grind the pepper by hand and he's right. It's somehow sweeter and cleaner tasting
Instructions
Load up your food processor with everything at once and blitz until it's smooth and spreadable.

It's pesto - the amounts and the ingredients are guidelines.