I know mussels aren't for everyone, but I freaking love them.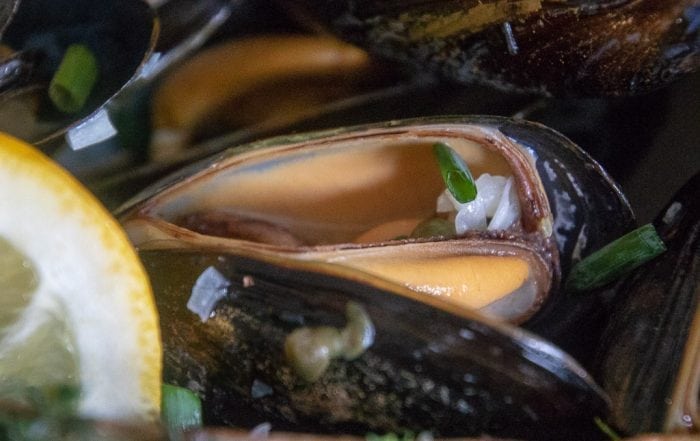 Some of you see slimy and icky – I see a tiny, delicate, secret package of nutrition, gift wrapped in its own elegant shell – Its magical goodness available only to those with imagination and courage enough to see the beauty in the contrasting colors and textures.
And the magical goodness is substantial.
Mussels are:
Low in calories.
High in protein.
They cook quickly.
The sound of the shells knocking against a pot one of my favorites. It's the sound of potential, of pleasure, of good things coming your way. If gloaming had a noise, that would be it.
Mussels are gorgeous. The contrast between the soft, orange-yellow cooked flesh and the black, unyielding shell is straight up food porn.
They're cheap and available – even in the landlocked midwest.
It's possible I have not yet convinced you.
Maybe you're like my pescatarian(!) sister who says
"Eating an entire organism, GI tract and all just grosses me out."
This is a hard point to argue.
Anthony Bourdain cautions against ordering mussels in a restaurant, but I've never suffered any ill effects. And I am deep into my 50's … I've ordered mussels a time or two, on both coasts, in the Midwest, at all times of the year … you get the idea.
They have never made me sick. I honestly can't say the same thing for chicken or even burritos …
If you're in, if you're brave enough to try, this is a simple, classic recipe. The amounts and proportions are guidelines. If you like butter, double it, if you don't have shallots, use green onions. But don't cover the mussels in liquid. Steaming beats boiling them any day.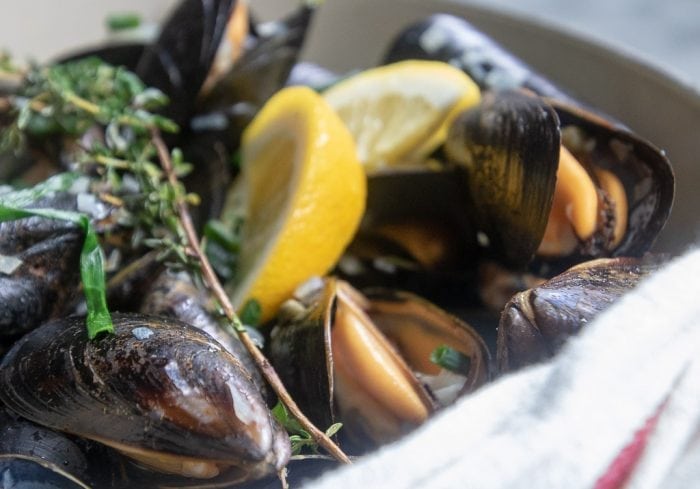 As for buying mussels, look for a fish counter that is clean and does not smell. Then look for mussels that are shiny, black, and closed. I've never gotten a crummy batch of mussels from Whole Foods.
The Spruce Eats and Nosh on it will tell you all you ever wanted to learn about mussels.
Here's my tidbit of advice: cook and eat them the same day you buy them, and make this meal an event.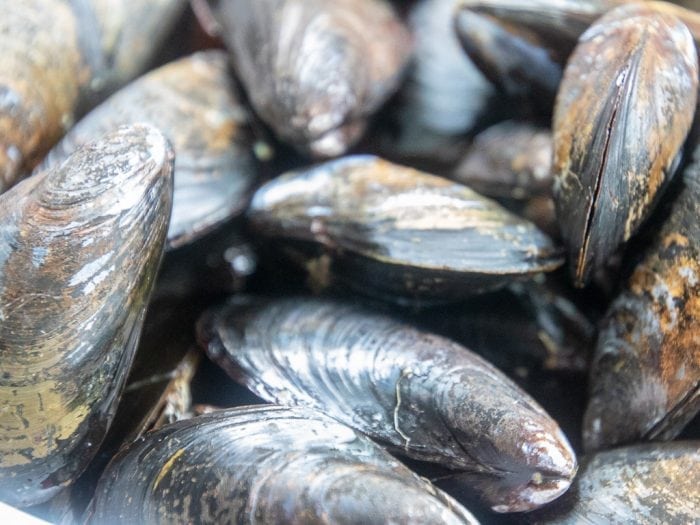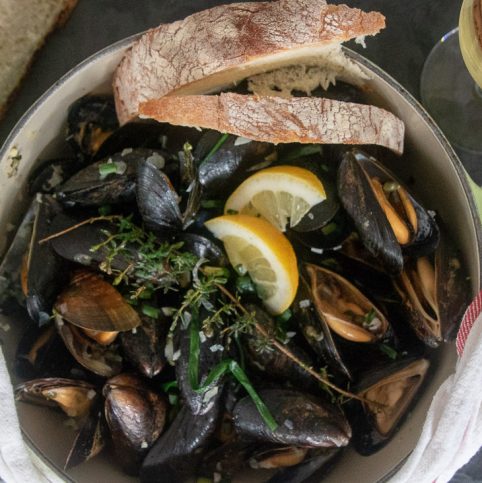 Mussels with White Wine and Capers
Melt the butter, briefly sauté the minced shallots and garlic, throw in a few fresh herbs, add 1/2 cup white wine, bring to a boil, add the mussels, cover the pot and steam for 5 - 10 minutes. Squeeze on the juice of one lemon. Eat and freaking enjoy.
Ingredients
1 - 2

pounds

mussels

2

T

butter

1

medium

shallot, minced

1 -2

cloves

garlic minced

1/2

cup

white wine

1

T

capers, drained, rinsed, and chopped

some

fresh herbs such as chives, thyme, parsley, oregano

Whatever you have on hand

1

whole

lemon, juiced and zested

Optional
Instructions
Rinse the mussels in cold water and pull off any debris. Discard any that don't close.

Melt the butter in a saucepan, when it is bubbling, add the shallots ande garlic and sauté about 2 minutes. Don't let the garlic burn. Just sauté until the shallots and garlic are translucent and fragrant.

Add 1/2 cup white wine and bring to a boil. If you have any fresh herbs, add them now.

Add the cleaned mussels, stir well, and cover. Steam 5 - 10 minutes, depending on how many mussels you have. Check them frequently. They are done when the shells are open and the mussels have changed color and texture. They will be orange around the edges and firm. Overcooked mussels are rubbery. Add the optional lemon juice and zest after they have cooked.

Discard any mussels that don't open during the steaming process.

Garnish with more fresh herbs, butter, and lemon juice if desired.