This recipe is from Cook's Illustrated. This post may contain affiliate links. Purchasing through them helps support this website.
Green Pea Soup
This pretty soup is bursting with low-calorie goodness. The meat-lovers in your tribe will still be looking for a "real meal", but people who understand the value of eating plants will be all-in. There's no question Americans should get more of their calories from plants. We all know it, few of us do it.
If you want more motivation/information about why it's important to replace meat and processed food calories with plant calories, click any of the links below.
You're not going to lose weight or get a better night's sleep after just one bowl of green pea soup. But, if you consistently upgrade your diet to include mostly plants, you will. This easy soup can help.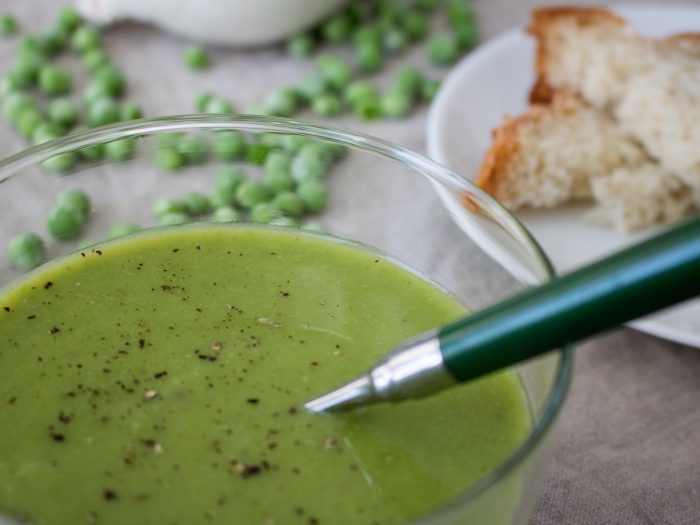 See the bread in the upper right-hand corner of the photo? It's a no-knead recipe you can find here.
Green Pea Soup
Slice an onion, soften it in olive oil. Add the rest of the ingredients. Puree.
Ingredients
1

tsp

olive oil

1

large

onion

sliced, about 1 1/2 cups

2 1/2

cups

chicken broth

use low sodium if you can find it. The nutrition label uses regular sodium Pacific brand Chicken Bone Broth, substitute vegetable broth or water to make it vegetarian

3/4

tsp

dried tarragon

1/2

tsp

salt

freshly ground black pepper

1

10 oz

bag frozen peas

about 2 1/4 cups

yogurt or sour cream for garnish
Instructions
Heat the olive oil in a medium/large pot over moderately low heat.

Add the onion and cook until softened, about 5 minutes. Stir as needed to prevent browning the onion.

Add the broth, tarragon, salt, a few grinds of black pepper and bring to a boil.

Add the frozen peas and cook just until the peas are defrosted. The peas will be cooked before it starts to boil again.

Puree until smooth. I use an immersion blender. If you don't have one, puree it in batches in your regular blender.
Notes
Garnish with just about anything: plain yogurt, sour cream, half and half, croutons, black pepper, chopped chives, olive oil, bacon, or leftover ham. Can be eaten hot or cold. Serve with a salad, bread, and a baked potato for a filling plant-based meal.
For an in-depth look at the complex and surprising array of good things found in peas, click here.
And for an affordable and sturdy immersion blender, click here
.