This post may contain affiliate links. Purchasing through these links helps support this website.
Sweet Corn Chowder
This sweet corn chowder is from Ann and Jane Esselstyn's book
, the Prevent and Reverse Heart Disease Cookbook."  – I know, not a title that makes you want to dig right into your food.
The Esselstyns are vegetarians. The patriarch of the family, Caldwell B. Esselstyne, Jr., M.D., grew up the son of an Angus Beef farmer, but his work and research convinced him that eating only plants simply made the most sense. He has the data
to support the "prevent and reverse heart disease claim." Take a look at one of his research papers here.
Plant-based Nutrition Is Healthy
Dr. Esselstyn reads as an honest, forthright, earnest physician who simply wants people to be healthy. If you have 14 minutes and 23 seconds to spare, decide for yourself by watching his 2011 TED talk here. If you are still suspicious he's just trying to cash in on the 60 Billion (!?!) Americans spend on diet and weight loss, then maybe his impressive background will help.
1956 Olympic gold medalist
Yale undergrad
Bronz Star recipient – Vietnam Army Surgeon
M.D. from Case Western Reserve University School of Medicine
And …  at over 80, he is still booking speaking engagements
He looks trimmer and fitter than many of the 50 and 60 years old patients I anesthetize every day
He became a vegetarian (4/20/1984) before being a vegetarian was cool or "required" more than actual plants.
I'm not talking you into becoming a vegetarian – I'm providing information and motivation for you to eat a little healthier. Maybe it will help you stick to your diet goals. Maybe just expose you to an alternative way of thinking. I hope it will convince you to add more plants and remove some junk from your diet.
Even if you fall into my husband's camp (Life might not be worth living if you don't eat meat and cheese), you will still enjoy the soup. He does. 😉
Soup needs bread. Find an easy no-knead recipe here.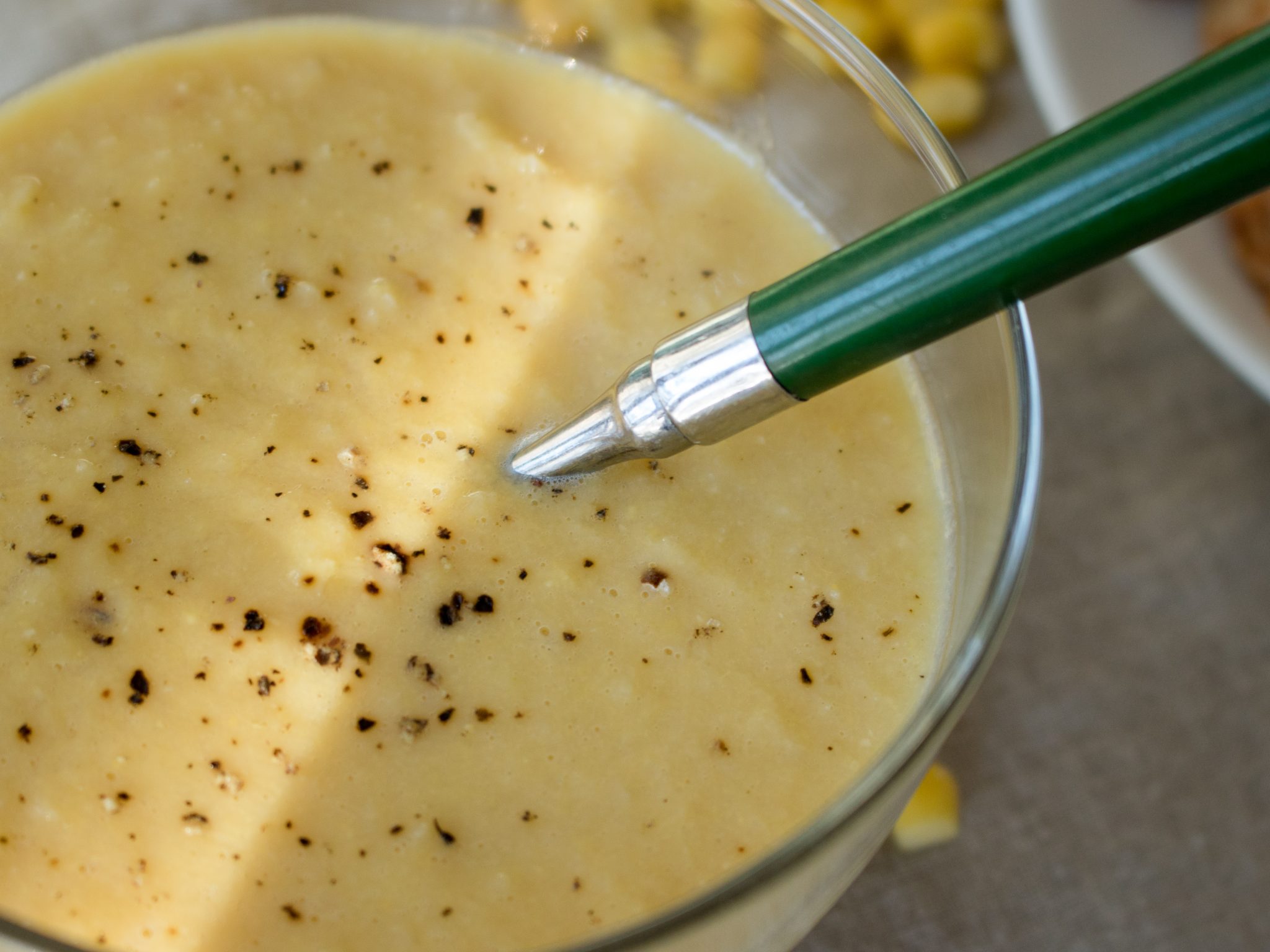 Sweet Corn Chowder
Cook shallot and celery in broth. Add corn. Puree.
Ingredients
1/2

cup

chopped shallot

1/2

cup

chopped celery

2

cups

vegetable broth

use a low-sodium brand like Pacific if you can find it

1

16 oz

bag frozen sweet corn, thawed, or kernels from 5 - 6 ears fresh corn

1

T

white balsamic vinegar

optional

1/2

tsp

freshly ground black pepper
Instructions
Chop the shallot and celery. Cook them until soft in the vegetable broth. (About 10 minutes.) Add the corn and heat through. Puree with an immersion blender or in a food processor until smooth.
For an affordable and sturdy immersion blender, click here
.