Simple, easy, packed with molecules your body needs, and versatile. This snappy little recipe does it all.
Spinach is a mainstay of good nutrition … I can't believe I just wrote that because I can't believe I eat the stuff now. As a kid … I didn't like it and I can't remember it ever showing up on the dinner table. Now I look for ways to sneak it into foods.
If all the good things in spinach aren't enough for you, consider this: there's a random study that found taking an extract of spinach made subjects feel full longer. You know where I'm headed: Skip the supplement, eat the real plant. Lots of it – and discover you can feel full with mostly veggies.
It's easy to eat more spinach.
Raw in salads and on sandwiches and wraps.
Raw in a blended green juice drink (throw in an apple or something fruity to make it palatable.
Combined with eggs – scrambled/ omelet.
Wilted in just about any soup/stew/broth. Let the heat from whatever you are cooking wilt the spinach so it retains its gorgeous green color and nutrients.
Buy that big spinach container and make it a goal to consume it all before the mushy, smelly thing happens.
It's also weird how I also love mushrooms in all shapes and forms now but as a kid, I hated them. When my mom would "ruin" her spaghetti with them, I swear, it poisoned the whole thing.  Now, like the spinach, I try to find ways to use mushrooms, and seared with wilted spinach is one of the best. From there you can do anything – top a white or sweet baked potato, use with a scrambled egg, upgrade your frozen pizza, make a wrap, top a burger.
Everything's better with greenery and fungi.  😀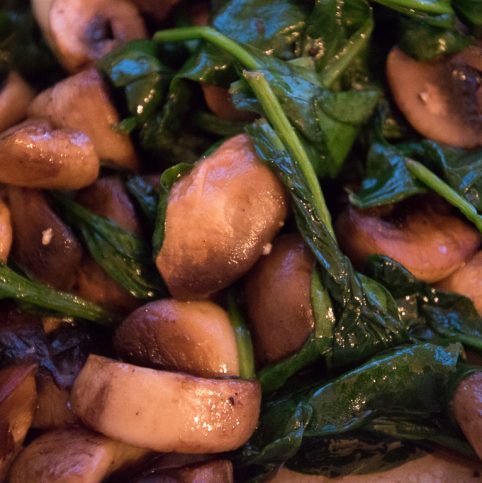 Pan Seared Mushrooms with Wilted Spinach
Get a pan hot, throw in some oil, throw in the mushrooms, let them sit long enough to brown before you stir them, throw in some spinach. Done.
Ingredients
8 - 16

oz

sliced or quartered mushrooms of choice

2

T

oil of choice, butter, Ghee, coconut,

2 - 3

fat

garlic cloves, peeled and smashed

you will remove them at the end

2 -3

sprigs

fresh thyme

2

big

handfuls of fresh spinach

Kosher salt and pepper to taste

1/2

fresh lemon

squeeze the juice over the mushrooms and spinach as the last step before serving

2

T

finely chopped red onion

for garnish
Instructions
Use a large skillet so the mushrooms have a good chance of covering the bottom of the pan in a single layer.

Heat your pan (2 - 5) minutes. Put the oil in the pan and let it get hot but not smoking.

Add the mushrooms in a single layer and leave them alone for about 4 - 5 minutes.

Once that side is seared, stir and add the garlic and thyme. Cook another 2 minutes.

Add 2 big handfuls of fresh spinach. Salt and pepper liberally. Turn off the heat and let the spinach wilt.

Squeeze the juice of half a lemon over the dish. Serve.

Use as is for a side dish or as a condiment/topping/filling for burgers, baked potatoes, sandwiches, wraps, omelets,