This post may contain affiliate links, purchasing through them helps support this website.
Homemade Cream Of Mushroom Soup
We were having soup day at work and I wanted to bring something that could be easily prepared ahead, traveled well, filled your belly, and of course, tasted amazing.
I was afraid all those qualifiers (travels well, make ahead) would automatically disqualify "healthy" as an option, so it was a pleasant surprise when I plugged the ingredients into a calorie counter and looked up the nutrient value of mushrooms. Not only is the soup not that bad calorie-wise, the mushrooms are so packed with nutrition, it's almost a health food.
That was surprise number one. Surprise number two was what I found in my midwestern grocery store …
I am certain I let out a tiny audible gasp when I saw it. What was this creature? From whence did it hail? How had I never seen one before? It was a true "Be Still, My Heart" food moment.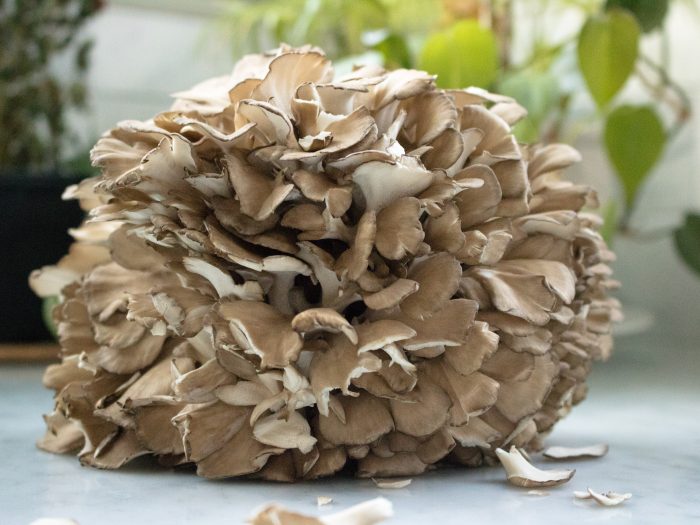 This alien fungus is about the size of a medium cauliflower. Inside there is a sturdy stem (just like a cauliflower) and the leafy things are firm yet break easily. It is a fascinating woodland treasure with a clean, fresh, softly earthy scent. I could not wait to start playing around with it.
Unknowingly, I had stumbled upon the perfect mushroom for soup.
Cauliflower mushroom is the ultimate soup mushroom. It's essentially a cross between an al dente egg noodle and a mushroom. It has a mild flavor a lot like a morel mushroom that happens to go very well with red meats. (Hank Shaw at the hunter • angler • gardener • cook • blog.)
To learn more, read this.
A Mushroom This Gorgeous Deserves Special Treatment
Meaning fresh herbs, real, whole fat everything, and a prayerful nod of gratitude to Mother Nature/The Universe/God/The Maker of edible Mysterious Masterpieces and those who get them safely into the grocery stores.
About The "Real, Whole Fat Everything" …
If you guys only knew the conversation in my head while shopping for this soup. "I can't use real cream, I have a healthy-ish blog." "No one is going to pour an entire cup of cream into something that's not dessert." "But that mushroom deserves it … Looooook at it!"
I used the highest fat cream there is – Heavy whipping cream. It was a good decision.
For a detailed discussion of the differences among all the creams see this. If vegan is your thing, use vegetable stock and almond or coconut milk. I like soup with bread, and this easy bread recipe lets you knock out 2 loaves, quickly and without kneading.
Cream of Mushroom Soup
Ingredients
2

cups

beef broth

Use low sodium or homemade if you have it.

1

cup

dried mushrooms

Available in the Asian section of your market, or Amazon.

1

can

beef consomme'

1

cup

water

1

cup

heavy whipping cream

1

pound

assorted fresh mushrooms, portobello, cauliflower, white - experiment!

These will be finely chopped/food processored.

1

lemon

Squeeze on the mushrooms that are finely chopped. Don't omit this step.

3

cups

assorted, roughly chopped fresh mushrooms

These will be sauteed and put into the soup at the end.

2

cloves

garlic, minced

2

T

minced shallots

2

T

butter

1

bay leaf

1 - 2

sprigs

fresh thyme

3

T

water

Use with cornstarch to thicken the soup.

1

T

cornstarch

5 - 6

bacon strips

For garnish and use the grease to saute' the 3 cups assorted roughly chopped mushrooms.

2 - 3

scallions

For garnish.
Instructions
Heat 2 cups beef broth until boiling and pour over the dried mushrooms. Let the mushrooms soak until they are rehydrated and plump, about 10 minutes. If the mushrooms float, place a small bowl or plate on top of them to keep them submerged.

Finely chop about a pound of assorted mushrooms and sprinkle with the juice of one lemon. Or, chop them in a food processor and sprinkle with lemon juice. These mushrooms will be small bits floating in the soup liquid to thicken and flavor the soup.

Put 2 T butter in a medium-large dutch oven, melt over medium heat and saute' the garlic, 2 T shallots, and 1 pound of finely chopped mushrooms, until they are just cooked and the mushrooms start to release their liquid. Stir regularly so nothing sticks or burns.

While the mushrooms, shallots, and garlic are cooking, take out the rehydrated mushrooms, and finely chop the caps. Discard the stems and any caps that are not soft. Add the finely chopped rehydrated mushrooms to the dutch oven and saute' briefly with the other mushrooms and the shallots.

After the shallots and mushrooms are cooked, add the following to the Dutch oven: 1 1/2 cups of the beef broth used to rehydrate the mushrooms, 1 can beef consomme', 1 cup heavy whipping cream, 1 cup water, 1 bay leaf, 1 - 2 sprigs of thyme, and squeeze in any remaining lemon juice.

Bring to a boil, then reduce heat and simmer about 20 minutes.

While the soup is simmering, cook the bacon, then use a little bacon grease to saute' the 3 cups roughly chopped assorted mushrooms. These larger pieces will give you something to "bite into" and provide a nice contrast with the creamy base. Add the sauteed mushrooms to the soup.

Mix 3 T water and 1 T cornstarch, stir until the cornstarch is dissolved. Then, when the soup IS NOT boiling, add the cornstarch slurry to the soup. Stir continuously and increase the heat to bring the soup to a boil. The cornstarch will thicken the soup, and the amount of thickening happens right after it boils. If you want a thicker soup, make a second slurry of cornstarch and water, and add it incrementally. Stir continuously and bring to a boil after each addition.

Garnish with bacon and chopped scallions.
Notes
Like most soups and stews, this is good the first day, and better the next day.
Use unsalted beef broth if you can find it and then salt to taste at the end of cooking. There's an astonishing amount of salt in regular beef broth. 
Serve with salad and bread. 
I used dried mushrooms like these
.
For more soup recipes click here and here.