This post contains one affiliate link for the spice sumac. If you've never heard of it or used it, now's the time. If you buy it thru the link here, it will help support this site.
Pumpkin Hummus
You all know I love hummus. This is my fourth hummus recipe. I am on a mission to get you to see hummus as more than a dip.
Hummus is an everything food.
It's a side dish, a sauce, spread, a condiment, or the foundation for a "bowl." One of my favorite bowls includes a heaping pile of hummus on one side, some roasted spicy sweet potatoes on the other, and an over-easy egg on top. Other favorites include smearing hummus on/in burgers, wraps, and quesadillas, or stirred into rice. For proof I'm not the only person who thinks hummus is more than a dip, here's a list of 25 ways to eat it. Some people (myself included) think it's a meal.
If you want to stick to using it as a dip, try scooping with non-traditional implements such as pear or apple slices. You don't need to complicate your hummus intake with a bunch of empty chip calories. Good quality naan or pita bread? … Another story entirely. 😉
Hummus is a forgiving entity.
You can flavor it any way you'd like. If you want only a hint of pumpkin to feel like you are celebrating Fall, keep it to about a half a can and definitely serve it with pear slices. If pumpkin is your thing, knock yourself out and use the whole can – you will probably want to increase the cumin, too. Pumpkin is a good source of vitamin A  – nutritionally speaking, it's worth adding.
I add a just a pinch of sumac to hummus. You can easily order some to play with here
. It's lemony, bright, acidic, and you can do way more with it than put it in hummus.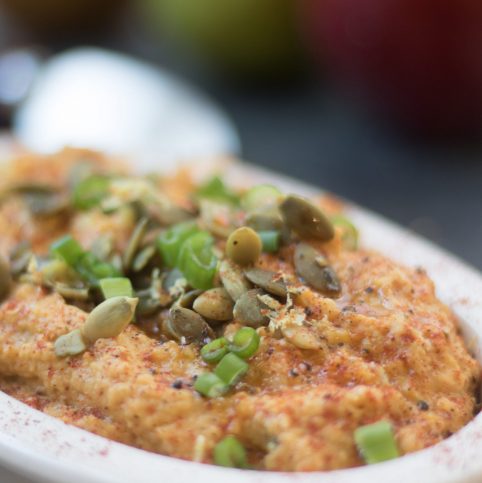 Pumpkin Hummus
Dump it in your food processor, blitz, chill, eat.
Ingredients
juice

of one large

lemon

+ the zest for garnish

2

T

tahini

1

tsp

Kosher salt

1

15 oz can

garbanzo beans

rinsed and drained

1 - 2

T

olive oil

+ more for garnish

1/2

of a 15 oz can

pumpkin pureé

1

heaping tsp

ground cumin

1/2

tsp

cayenne pepper

1/4

tsp

sumac

optional, but it does improve the flavor

1 - 2

T

pumpkin seeds

for garnish

sprinkle of

smoked paprika

for garnish

1 - 3

cloves

fresh garlic

+/- on the garlic. It's a traditional ingredient, but the hummus is fine without it.
Instructions
Add the juice of one lemon, the 2 T tahini, 1 tsp salt, the can of drained and rinsed garbanzo beans and 1 T olive oil to your food processor. Blitz until the beans are smooth.

Add the 1/2 can pumpkin, a heaping tsp of cumin, 1/2 tsp cayenne pepper, and 1/4 tsp sumac to the food processor and blitz again until smooth.

If you have time, let it sit for an hour or so the flavors meld.

If you are using it as a dip, garnish before serving (in this order so it looks pretty) with olive oil, pumpkin seeds, lemon zest, smoked paprika, ground pepper, Kosher salt, and a little chopped green onion, cilantro, or parsley.
Notes
Traditional hummus has fresh garlic in it. If you want the garlic flavor, use 2 - 3 fresh cloves.
Use any dipping vehicle you like, but this Fall Hummus is particularly good with fresh pears.
Homemade Roasted Red Pepper Hummus