This post contains affiliate links. Purchasing through them helps support this site.
I've been on a hummus kick – again. But there's a good reason: we got an upgrade in our cafeteria at work and the hummus bar is spectacular.
However, anyone who works in a hospital, which I do, knows: you do not want to squander one second of your 30-minute lunch break standing in line. Even if the hummus is worth it.
And The Hummus Is Worth It
I wanted it without being yoked to a cafeteria trip.
Hummus has a lot going for it. Besides the earthy, fresh taste, there's the chameleon-like potential. It can be rustic or refined, can be used a million ways, (here's a link for 25 of them), and it's perfectly capable of being the "substance" part of a meal. To me, it's the Middle Eastern equivalent of refried beans. Yes, I do eat it as its own thing with a spoon.
Nutritionally, hummus is a powerhouse. There is no shortage of online resources touting its benefits. Medicaldaily.com, LiveScience, whfoods.com, and even the lifehack people agree there are plenty of reasons to consume it daily.
I went through several permutations of this recipe – mostly because I couldn't get the garlic right: there was a harsh, astringent aftertaste. Turns out, you have to give fresh garlic about 30 minutes to mellow before deciding there's too much. (Thank you to my Lebanese Beach Week Friend, Miss Margaret for that tidbit.) And if you want traditional hummus flavor (which I did for this recipe) you have to make peace with the calorie hit tahini brings. (Maybe forgo the empty calorie pita chips and just eat the hummus.)
For a hummus recipe without tahini, click here.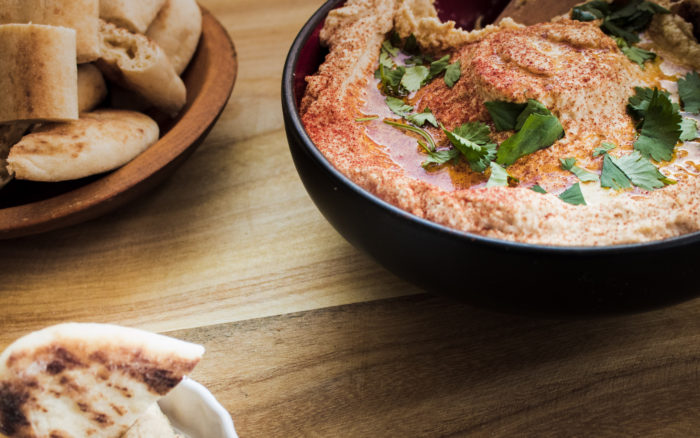 Traditional Garbanzo Bean (Chickpea) Hummus
Ingredients
4

c

cooked garbanzo beans (a.k.a chickpeas)

My Lebanese friend only uses Progresso brand

2

lemons

juiced

2

FAT

garlic cloves or 4 - 6 skinny ones

2/3

c

tahini

1 1/2

tsp

Kosher salt

6 - 8

T

ice cold water

2 - 3

T

olive oil

for garnish

1 - 2

tsp

paprika

for garnish
Instructions
Place the garbanzo beans, garlic, and lemon juice in a food processor and blitz until it turns into a thick paste.

With the machine running, add the tahini and salt. Then add the cold water one T at a time until you get a creamy paste with a smooth texture.

Transfer it to a serving bowl, cover, and refrigerate for at least 30 minutes. Garnish with olive oil and paprika.
Notes
Fresh garlic can have an astringent, harsh aftertaste. Let the hummus rest 30 minutes before tasting and deciding there is too much garlic.
This makes a lot of hummus - the recipe can easily be halved. The important part is to blitz however many beans you have, add some garlic and tahini, and use cold water to get the creamy texture. (You don't need to add extra olive oil to make it thinner.)
I used a one-pound bag of organic garbanzo beans and cooked them in a pressure cooker. (Put one pound unsoaked, dry beans in a pressure cooker, add 7 - 8 cups of water - enough to make sure the beans are covered by 2 - 3 inches of water and select "beans, 25 minutes.") The one-pound bag will yield about 7 cups cooked beans. 
If you want a more flavorful hummus, try adding cumin, paprika, sumac*, or cayenne pepper.
*Sumac is a lemony, red colored spice. I found it in World Spice Merchants in Seattle. Of course, it's also available at Amazon
This is the pressure cooker
 I use.