Make Your Own Hummus
I went through a serious hummus phase. I was eating it by the spoonful – like it was the Mediterranean equivalent of refried beans. Not only was it expensive, but after every episode  binge I woke up with puffy hands and feet. The expense I understood, but the puffiness was confusing. Hummus is supposed to be healthy. (It wasn't the chips, I was eating it with veggies, or, you know …  a spoon.) Anyway, I decided to make my own and see what happened.
What Happened Was I Hit Upon A Winner …
I discovered hummus was incredibly easy to make, tasted better than store-bought, and it didn't make me puffy. Homemade is lower in calories because no one is going to put in as much oil as someone who wants to sell you hummus is going to.  It's vegan, beans are high in protein, and it tastes great. What's not to like? If you want to know more about hummus, read this.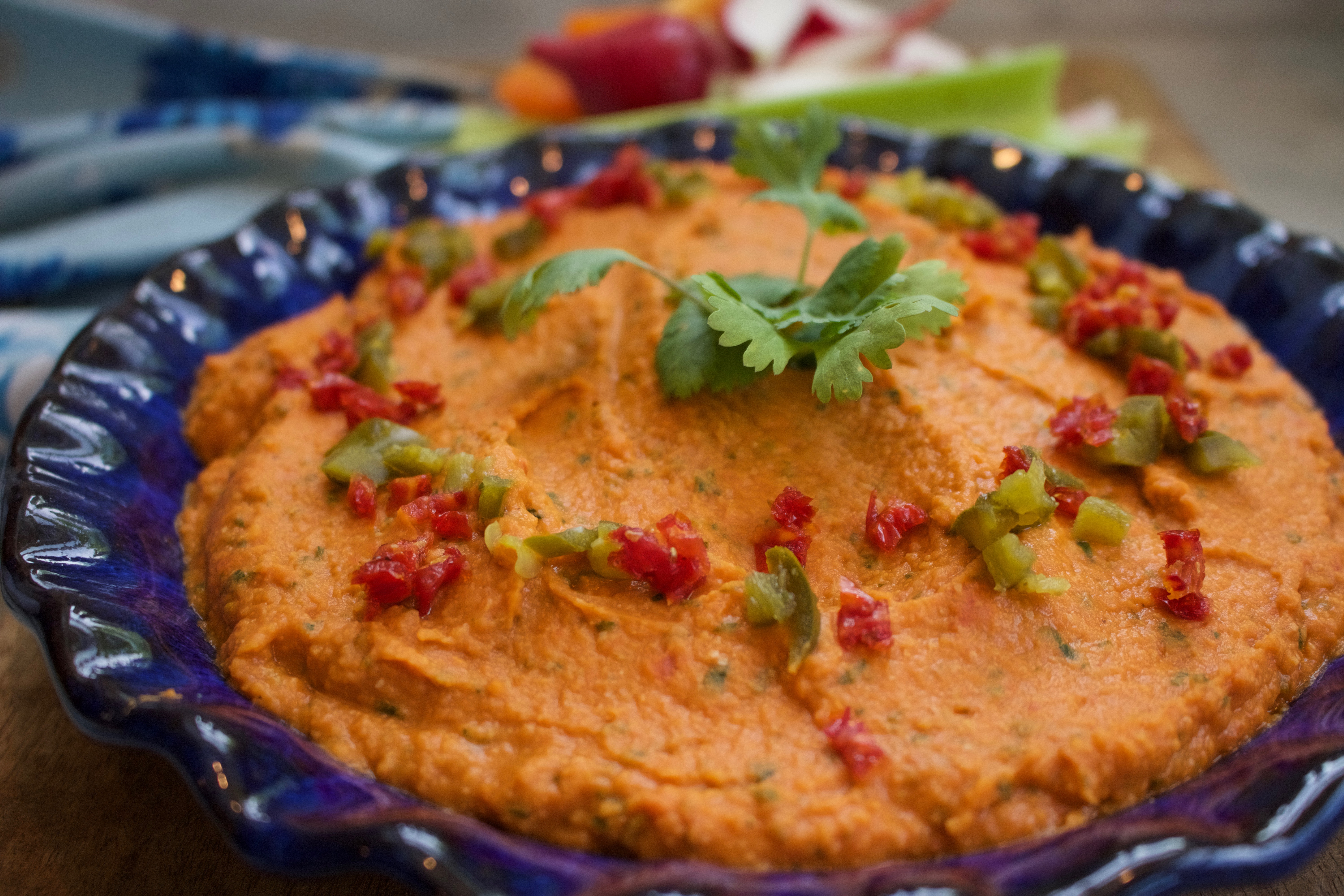 Hummus goes with just about anything
Seriously. I eat it as a side dish, and as a condiment on just about anything. Fish, eggs, veggies, chicken, and occasionally with chips.
What was that sauce with the chicken? It was really good!
I sometimes make lunch for a few friends at work. One day they got chicken breasts topped with this hummus. The chicken was fine, it was the humus that won their hearts.
Traditional hummus is made with chickpeas and tahini and has a softer, less robust flavor than this recipe. Tahini always separates into a solid bottom layer and an oil layer. It's a bear to combine once it does that, so I don't bother with it anymore, but if you want to use it in the recipe, use roughly a 1/3rd of a cup.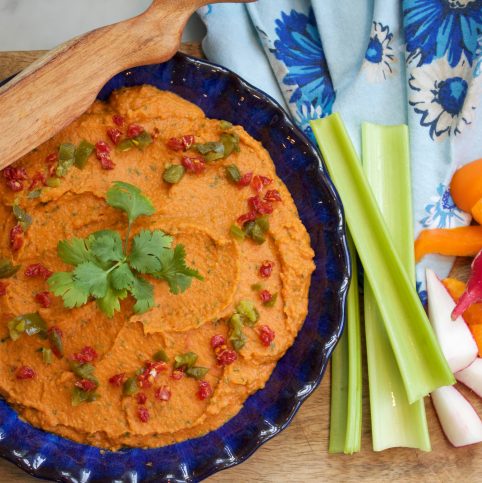 Roasted Red Pepper Hummus
Throw it all in a food processor and blast until smooth.
Ingredients
2

cans

Garbanzo or Cannellini beas

rinsed and drained

2 - 3

large

roasted red peppers from a jar

2

sun-dried tomatoes from a "packed in oil" jar

1.5

T

pickled jalapenos

1

handful

fresh cilantro

1

T

oil from the "packed in oil" sun-dried tomatoes

1

clove

garlic

1

tsp

cumin

1/2

tsp

Kosher salt

juice

of one

lemon
Instructions
Put everything in a food processor and blast until smooth.
Notes
You can vary this recipe for what you have on hand. The sun-dried tomatoes are entirely optional. There's only one tsp of cumin listed, but if you are a cumin fan, double it. If your beans are unsalted you might need to add more salt. Most recipes call for 2 or 3 cloves of raw garlic - add more if you are a raw garlic fan. Go ahead and add either olive oil or tahini if you want a creamier texture.