This post may contain affiliate links, purchasing through them helps support this site.
Sweet Corn, Tangy Lime, and Lots of Cilantro …
Like most things I cook, the starting point for this recipe is what's in the kitchen. This time of year I have lots of fresh produce from my gardening peeps. What to do with fresh, organic, just-picked-yesterday corn? Well, I looked up "Copycat Chipotle Corn Salsa" and found Google just brimming with results. Seems everyone has the need to eat Chipotle without the hassle of actually going to Chipotle. Buzzfeed has you covered for the entire Chipotle salsa menu
There are no surprises in the salsa: the usual suspects (lime, cilantro, jalapeño, red onion) work their magic – this time in a corn base. The measurements are completely adjustable. There can never be too much cilantro or lime for my tastes. As far as the corn goes, you don't need to cook it. If that freaks you out, by all means, expose it to some heat. (But I'm not the only one who eats uncooked corn. See here and here.)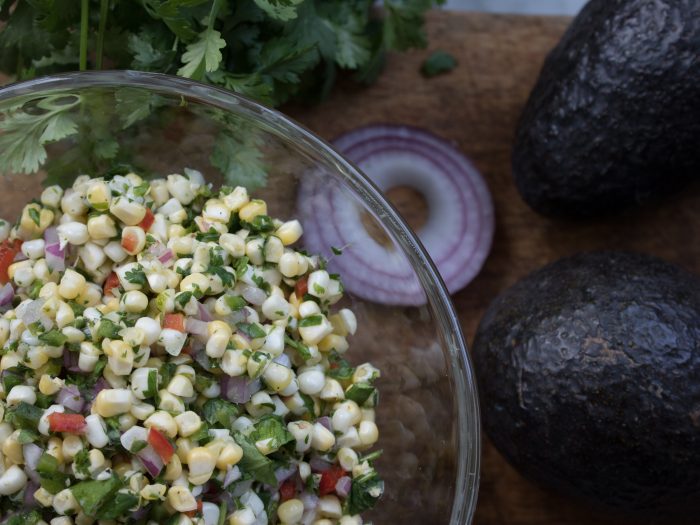 The Uses are Endless …
No need to limit this to Mexican-inspired meals. Eat it as a side dish, a salad, use it to top fish, baked potatoes, rice, pork, burgers, any sort of wrap, fill an avocado with it, or just mix it with some black beans and chow down.
Corn Salsa
Ingredients
4

ears

fresh corn

1/2

red onion, finely chopped

1

jalapeño, minced

juice

of one whole

lime

zest

of one whole

lime

1/2

cup

chopped cilantro

1/2

red pepper, finely chopped
Instructions
Cut the corn off the cobs. Chop everything that needs to be chopped, juice the lime, zest the lime. Mix it all together in a medium bowl and let sit in the refrigerator about 30 minutes for the flavors to meld.
I have a thing for salsa … (confession – I call it salsa, but to me, it's always a side dish.) Try these other recipes. Mango Salsa. Corn salad with roasted red peppers. And as long as we have cilantro and lime in the house, why not make cilantro lime rice?