Affiliate links at the bottom. You know the drill, Amazon puts something along the lines of .00001% in my account if you click through and buy. But in all seriousness, if there's a secret ingredient to this recipe, it's lime zest. So if you don't have a zester … 😀
Guacamole is an eyeball recipe if ever there was one. And it's simple. Really. The single most important step is choosing the avocados. You want them at their peak of ripeness – that elusive middle ground between no brown spots and not too hard.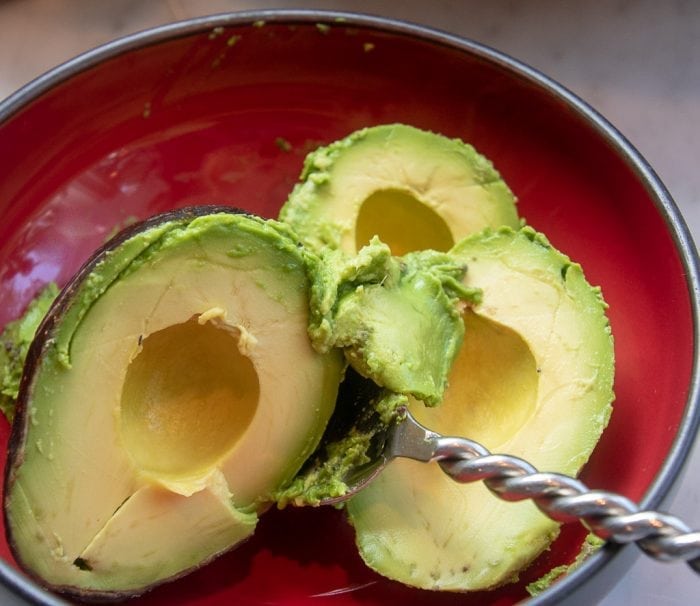 Brown spots you can scrape out and work around, but there's no fix for avocados that are "young". Honestly, if you open an avocado and find it firm, and pale green, thank the universe for teaching you what not to do and move on. Your guac will never have the rich, buttery, nutty flavor of mature avocados.
Like other berries, avocados used to have a season, but humans interested in profits figured out a way to make money off these lovely little mother-earth gifts year-round.
There's also a new process/company that will make your avocados remain at peak ripeness twice as long.
Yes: it's a little creepy. Maybe think of it like when people figured out salt was good for preserving food??
It's possible that the only avocados you come across are Hass Avocados, this has everything to do with timing and marketing. But, we can be thankful that someone did pursue bringing the avocado to our tables. It's a nutritional powerhouse that Guatemalans will tell you sustained them during periods of famine.
Good guacamole is a treat.
I encourage you only make it when avocados should be in season, and that depends on the type of avocado. In the Midwest, it seems avocados are plentiful, cheap, and ripe in late summer. You shouldn't expect primo guacamole in January if you live in a place where there's snow on the ground. But we do: Americans want good avocados year round.
We can't turn back globalization, but we can try to minimize the cost of our food choices. And sadly, our love of avocados could have serious negative environmental and social consequences.
So, go ahead and enjoy a perfect bowl of guacamole, but like everything else: enjoy responsibly. Don't let avocados go bad on your counter and at a minimum, thank your lucky stars that you can have them 24/7/365.
Remember, guacamole isn't just for chips, wraps, and toast!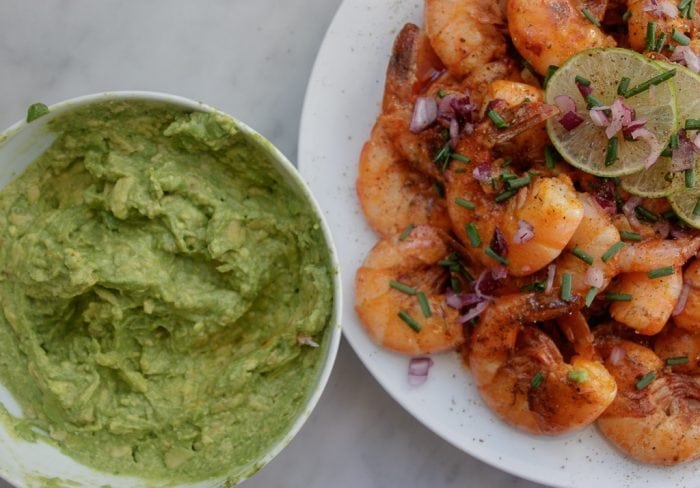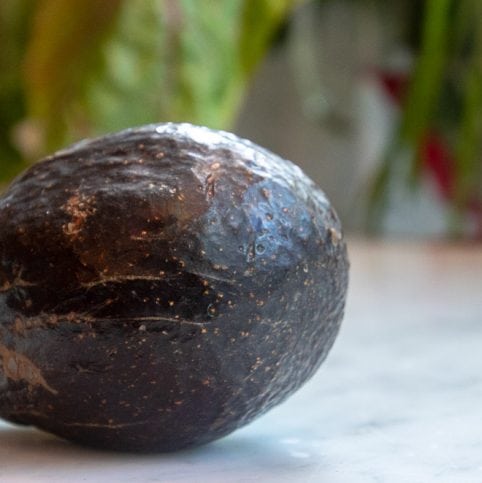 Best Ever Guacamole
Only use perfectly ripe avocados. Put the flesh in a bowl, add lime, garlic, and more Kosher salt than you think you need. Mash that stuff up. Done.
Ingredients
3

Fat, Ripe

Avocados

2

Fat

garlic cloves, minced

1

whole

Lime - juice and zest

1

Generous tsp

Kosher salt
Instructions
Peel and seed the avocados. Scoop out the flesh and put it in a shallow bowl. Low and shallow just makes it easier to mash up.

Add the minced garlic, the juice and zest of one lime, and the salt. Mash everything together with either a fork or a small pestle. I use a 1-1/2 inch diameter wooden one I found in an antique store. It works better and faster than a fork.

Transfer the guac to the serving bowl of your choice and cover with plastic wrap until use. Make sure the plastic wrap touches the top of the guac. This will prevent oxidation (ugly brown color) from forming. Letting the flavors meld 30 - 60 minutes is a good idea.

Garnish your guacamole with whatever you want.
Notes
I used to go crazy with add-ins/garnishes with my guac. Now, I think the best guacamole is just avocado and lime. If you don't have a fresh lime, you can get away with using bottled lime juice, but you'll never get the tangy kick lime zest adds. 
Lots of people make their guacamole without garlic, and sometimes I am one of them. If you have a perfect avocado it is almost criminal to do too much to it besides adding a little salt. 
Garnishing guacamole might make it look and photograph better, but it doesn't necessarily make it taste better. Some people think we first eat with our eyes, so here are a few garnishing/flavor add-in ideas: Freshly cracked black pepper, chopped cilantro, chopped tomatoes, chopped red onions, ground cumin, coriander seeds, chili powder, more lime zest, even avocado oil (like hummus has olive oil dribbled on top.), chopped jalapeno, chopped green chilies, shredded cheese ... the list is endless.
You'll need a Zester
 and a Manual Citrus Press Juicer
.