Mango Salsa: Sweet, Healthy, Easy
I love a good mango. I love everything about them. Their heavy, pregnant shape, their sweet smell, sturdy skin, the smooth way a knife slices off the peel. Even the funny fuzzy innard part close to the seed marvels me. When summer comes to the Midwest and the mangos are as ripe and fresh as we ever get, it's time to pretend I'm back in California or Hawaii where good mangos are available year-round.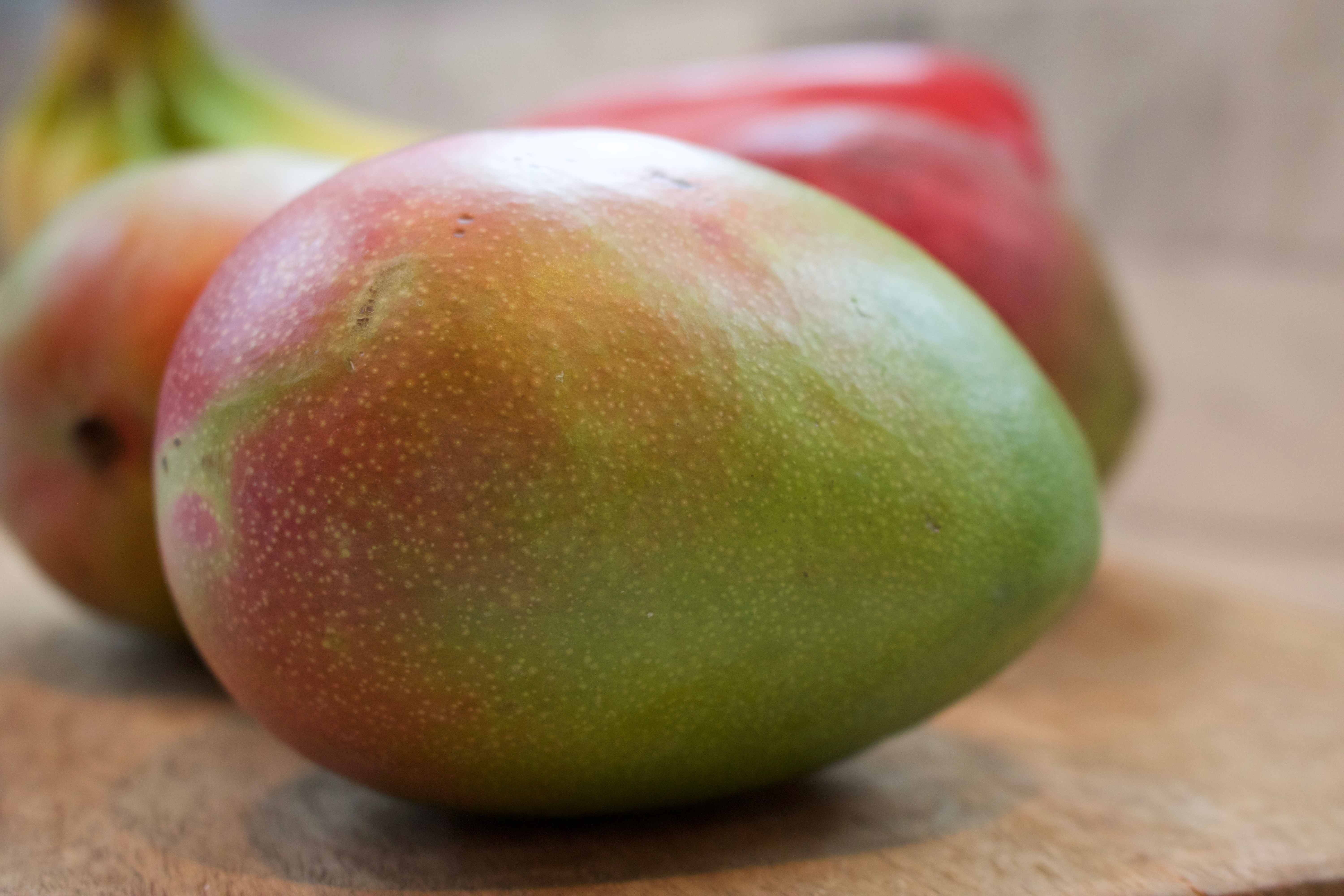 Mangos, Cilantro, and Limes: Always A Winning Combination
This salsa is an adaptation of a recipe in the Body for Life program by Bill Phillips. (1)  They serve it as a topping for pork tenderloin. I thought the salsa was better than the pork, so I started making it as a dip. Then I passed it off as a side dish. You can use it so many ways – as a garnish for black beans, fish, tacos, eggs, rice. If you are a vegetarian, it's the basis for a meal. Add some rice and a tortilla.
The salsa is actually quite good when cooked. I discovered that by accident when I reheated some leftovers for lunch at work. No one wanted to know anything about the pork, but I got so many questions on the mango topping.
No, not the pork, I want to know what's on the pork!
True story.
But Let's Make Salsa.
There are several ways to slice a mango. Some people slice along the long axis on both sides of the seed then scoop out the flesh like you do an avocado. Another way is to slice along the long axis then cube the flesh and push on the skin, turning it from concave to convex. Whatever.
I just peel it then slice off chunks. However, you do it, make peace with the fact that mangos are juicy. It will be a slippery wet mess. If it's not, your mango isn't ripe.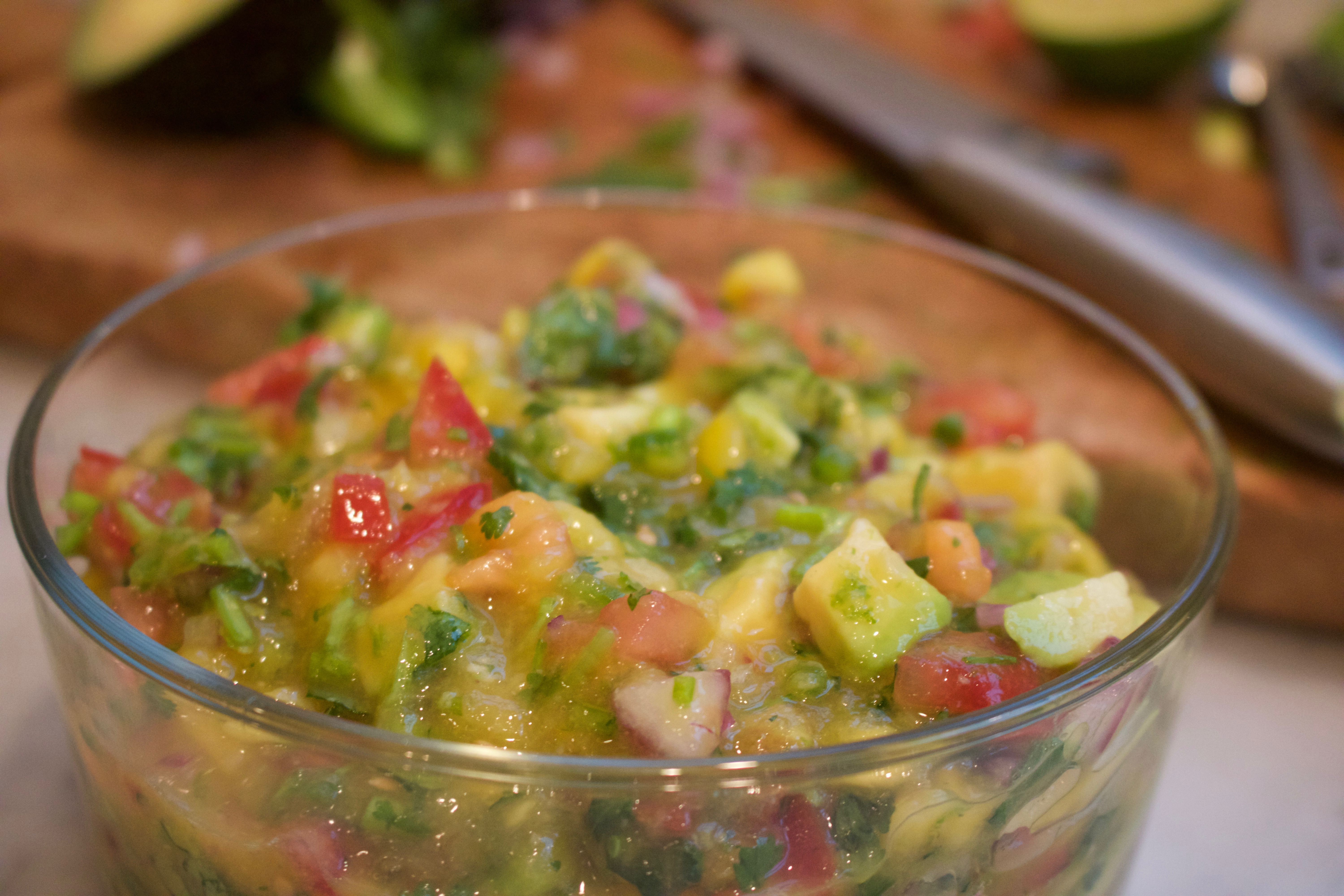 Mango Salsa
Chop everything, let it sit in the refrigerator for about 30 minutes for the flavors to meld. Limes and cilantro are critical. Don't try to substitute lemons.
Ingredients
2

whole

mangos

chopped

1

medium

tomato

chopped

3/4

avocado

chopped, save the rest for garnish

1 1/2

T

jalapeno

minced

1/2

red pepper

chopped

1/3

c

red onion

minced

Juice and zest of

1 - 2

limes

1/2

bunch

cilantro

stems and leaves chopped, save a little for garnish

1/2

tsp

salt
Instructions
Chop, mince, squeeze, zest and combine everything into a bowl. Let it marinate at least 30 minutes before serving. Garnish with avocado slices and chopped cilantro.
Notes
You can increase or decrease the amount of any of the veggies depending on how spicy you want it. Don't be afraid of the jalapeno, you need a little - it will be flat without it. Bottled lime juice is preferable to using lemons - it's just a completely different dip without the lime. Throw in a little ground pepper and/or a tsp. or two of cumin for a smokier, earthier flavor.
Bill Phillips (2003). Eating for Life (1st ed.) Golden, CO: High Point Media, LLC.