This post contains affiliate links, buying through them helps support this site.
Don't Let Summer Tomatoes Languish On Your Counter
I am in tomato heaven. People in all aspects of my life have robust tomato plants eager to please, which means a steady supply of gorgeous, organic, local, lovely orbs. (Why my single plant has not produced anything yet remains a mystery …)
A homegrown tomato is better than any tomato you'll find in a grocery store. Letting them slowly expire on your kitchen counter seems very wrong indeed. When you've had your fill of other summer staples like salsa and cucumber/tomato salad, try this pretty tart.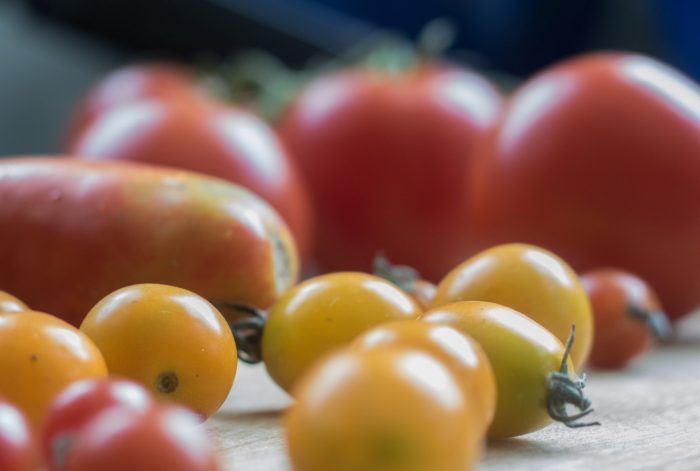 Move Beyond Tomato and Cucumber Salad
I had a thing of phyllo that needed to be used, there was thick-cut really good bacon just sitting there in the frig, and all these tomatoes …
Time to create.
It might not make sense to you, but I used a vegan cream cheese for the base. Yes, I know: I topped the vegan cream cheese with bacon. Here's the deal: leave the bacon out if it offends, and use regular cream cheese if that's what you have on hand.
There is a company called Kite Hill and they make really good vegan cream cheese. I'm not sure it's significantly better for you than the other one, but it has slightly fewer calories, no saturated fat, and it's helping me "Eat real food, mostly plants, not too much." (Michael Pollan)
Phyllo and cream cheese might not qualify as "real food." But I'm easing into better food choices all the time, and in this instance, I'm counting on the antioxidants in the tomatoes to clean up the mess of the processed phyllo and cream cheese … 😉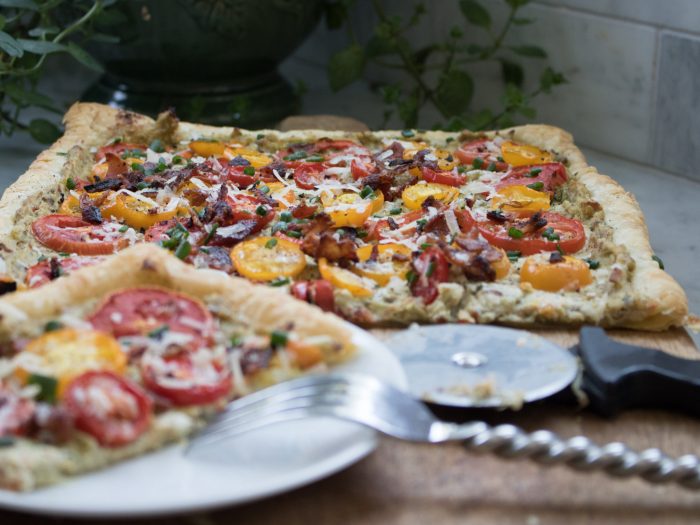 The Cream Cheese Base Can Stand Alone As A Dip or Spread
It's hard to make any sort of cream cheese taste bad when you are doctoring it up with bacon and dates. I can certainly see this cream cheese recipe formed into a log or ball, rolled in nuts, refrigerated, and used as a dip/appetizer, or just spread on really good bread.
If you leave out the bacon and use the vegan cream cheese, voila! Vegen appetizer sweetened with dates. Total win! 🙂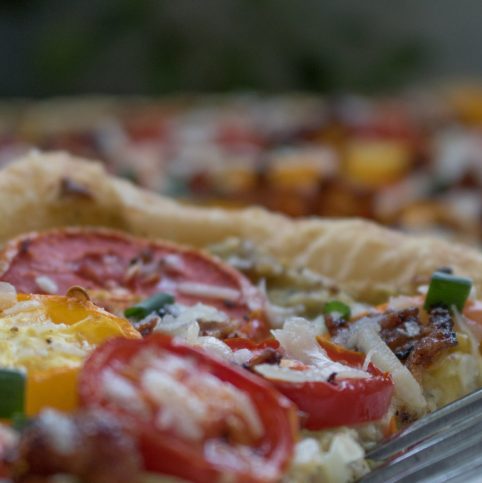 Tomato Puff Pastry Tart
While the puff pastry thaws, cook 4 slices of bacon (if using), prepare the cream cheese base (which can act as a dip), slice the tomatoes and them place on paper towels to drain. Roll out the pastry dough, score the rim, poke the bottom, build the tart layer and cook.
Ingredients
For The Puff Pastry
1

whole sheet

puff pastry, thawed
The Cream Cheese Spread
1 -

8 oz container

Chive Cream Cheese

I used Kite Hill Vegan Chive Cream Cheese

4

slices cooked

bacon

completely optional - 2 slices go into the cream cheese and 2 slices get crumbled on top for garnish

1

medium

banana pepper

3

T

chopped fresh chives

or 1 - 2 tsp dried

5

pitted

dates

for sweetness
The Tomato Topping
2-3

c, sliced

various fresh tomatoes - enough to cover a single cookie sheet

1 - 2

T

shredded parmesan cheese

for garnish, optional
Instructions
Thaw the puff pastry according to package directions. It takes about 40 minutes.

Adjust oven rack to middle position and preheat oven according to package directions. Usually 400.

Slice the tomatoes and leave them on paper towels or a dish towel so some of their juice is absorbed.

Cook 4 slices of bacon if using.

Put the chive cream cheese, 2 slices of cooked bacon, banana pepper, 2 T fresh chives, and pitted dates into a food processor and blitz till smooth and well combined. The rest of the chives and other 2 slices of bacon will be used for garnish.

Flour the counter, gently unfold the thawed dough, and roll it out so it will cover most of your cookie sheet.

About 3/4 inch from the edge, score the thawed phyllo dough with a sharp knife - don't cut through the pastry. The scoring will allow the edges to puff up and make a rim. If you cut through the pastry, the rim will separate from the bottom during cooking. Poke the tines of a fork through the bottom of the dough inside the scored edges. This will prevent the bottom from puffing up.
Assemble The Tart
Spread the cream cheese on the bottom inside the scored edges. You can make this layer as thin or thick as you want. Arrange the sliced tomatoes on top of the cream cheese.

Bake at 400 for ~ 25 minutes.

Crumble the other 2 slices of bacon and sprinkle over the top. Sprinkle with more chopped chives, some shredded parmesan cheese, and a few grinds of fresh pepper if desired.
You probably have fresh basil on hand right now, too. This basil pesto caprese bread salad recipe will help you use it up.
If you like tarts, you might like this mushroom and caramelized onion recipe, and if you want to do something sweet with phyllo, check out this recipe that highlights fresh summer strawberries.
Shop this recipe:
Rimless Cookie Sheet
.   food processor
.