This pink smoothie post has affiliate links; purchasing through them helps support BPC.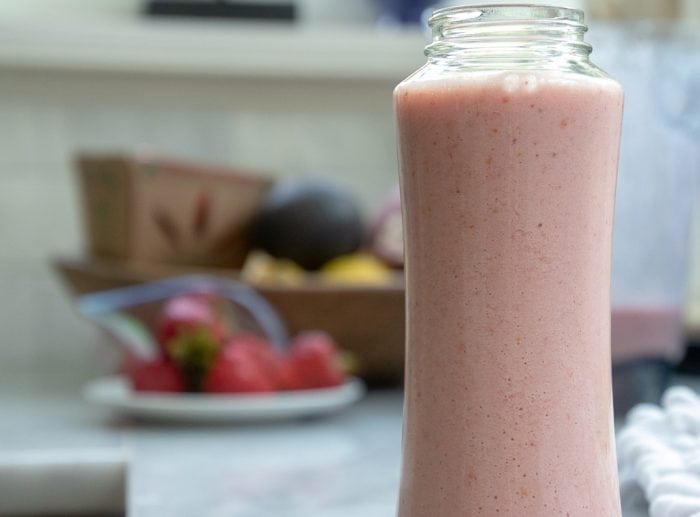 Pink Smoothie
I'm working my way through ROY G BIV this summer via smoothies. This was supposed to be red … pink is close enough, and it leaves room to create a red one later. 😀
(ROY G BIV = red, orange, yellow …. you remember)
The watermelon in this smoothie adds sweetness and somehow boosts the strawberry flavor. The yogurt adds body. You can leave the yogurt out, but it will be more of a drink than a smoothie.
Berries of all sorts are on Dr. Gegor's list of Daily Dozen. If you are interested in what appears to be a reasonably straightforward, I-have-no-supplements-just-books-to-sell-you viewpoint on wellness, do check out his website, NutritionFacts.org.
I love his voice and speech pattern. Yes, it's weird. The way he speaks, and the fact that I like it.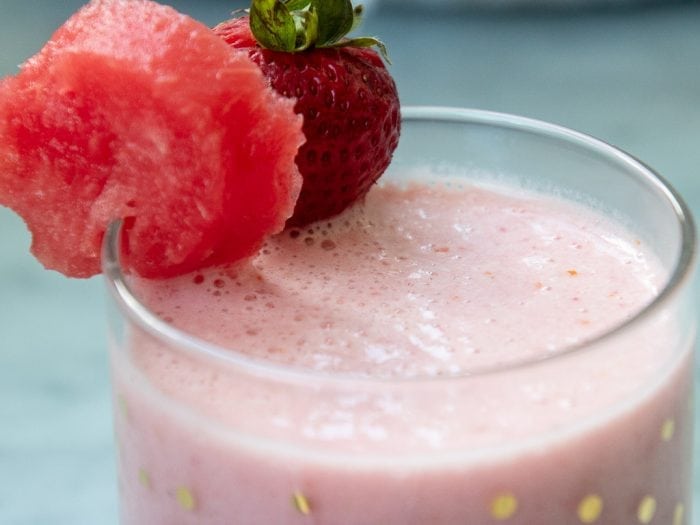 About the collagen powder … It's there because a Dr. Rhonda Patrick podcast quoted a study where this particular collagen
 ended up in the collagen in the body. (Instead of you just pooping it out.) Does that mean it helps rebuild/remodel/preserve your cartilage? Hard to know.
I figure the stuff is possibly helpful and probably not harmful.
If you're ready to spend an obscene amount of money on a blender, meaning a Vitamix, here's the one
I picked during Amazon Prime Day this year.
Red Smoothie
You know the drill. Put in the liquid, put in the fruit, put in the add-ins. Blitz.
Ingredients
1

c

water or milk of your choosing

1/2

c

Vanilla whole fat yogurt

Optional, but it's more of a thin drink and less of a smoothie without the yogurt.

1

c

fresh, sweet, peak of the season strawberries hulled and cut in half or fourths

Frozen are perfectly acceptable, and probably preferable to crummy fresh ones.

1

c

watermelon chunks

It's bland and not very sweet without the watermelon

1/2

c

cherry tomatoes, cut in half

You can't taste the tomato flavor, they are there for their color.

2

T

collagen powder

Optional

1

T

Honey

Optional
Instructions
Put the liquid in first, then the fruit, then the add-ins.