Cauliflower, kale, and turmeric are still having a moment in American Food trends. And all with good reason.
All cruciferous veggies (cauliflower, cabbage, garden cress, bok choy, broccoli, broccoli sprouts, and Brussels sprouts) are packed with busy, very important molecules. But don't take my word or your mother's word for it, take Dr. Google and Dr. Rhonda Patrick's word for it.
I admit to listening to this podcast by fast-talking biochemist researcher Dr. Rhonda Patrick more than once. It's a deep-in-the-weeds information-packed discussion about emerging research on compounds in cruciferous veggies. The bottom line is Dr. Patrick is very excited about cruciferous veggies and will have you mentally plotting ways to get more of them into your diet.
If you need more nerdy stuff, Science Daily has this to say about our friends the cruciferous veggies.
Kale's 15 minutes of fame is over.
But how wonderful is it that Kale even had its 15 minutes? Kale has a lot going for it and throwing a handful in this soup is frankly, one of the simplest ways to consume it. It's a no-brainer. If kale freaks you out, leave it out of the soup. If you're in the you literally are, molecule for molecule, what you eat camp, put in as much kale as you can tolerate.
Is Wild Rice a seed or a grain?
Honestly, I'm 20 minutes into a Google search and still don't really know. But, it seems the people who are against white rice are OK with black rice.
I think wild rice is the seed of a grass and that grass would be classified as a grain. But since wild rice is the whole seed and not processed, meaning outer layer (bran) is still intact, it's good for you. It takes longer to cook and sort of puffs/breaks open when done. It will not lose it's bouncy, chewy texture which adds a satisfying mouthfeel because it makes the soup chewable. That's important for those of you who don't feel full unless you get to chew. Nutritionally speaking, wild rice has a number of pluses like more fiber and protein than white or brown rice.
Sometimes they hide black rice in grocery stores. It comes in small boxes on a not eye level shelf. It's pricier than white rice, but a little goes a long way. Seriously, a half cup does this whole soup.
There's tons of research, information, and turmeric supplements out there. But really; just use the spice and use it often. It's freaking gorgeous and has a warm, earthy flavor. It can turn everything yellow, which is why you add it after using the immersion blender in this recipe.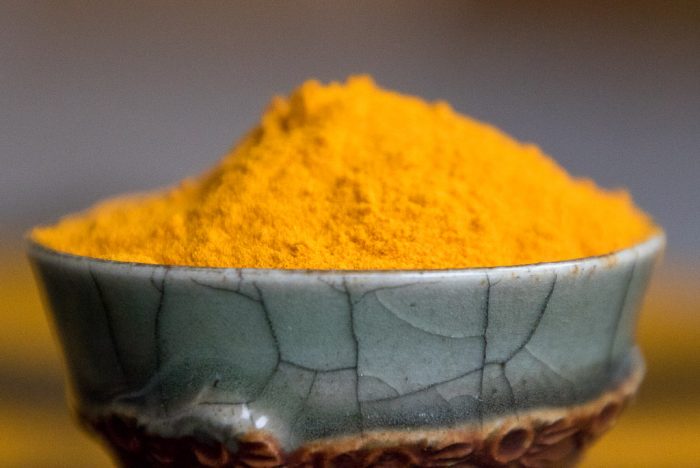 One more thing.
I am not saying eating this nutritional powerhouse of a soup is going to undo the damage from eating my Big Fat Cinnamon rolls. (If there even is damage, because cinnamon, is really good for you, too. LOL!)
I am saying eat way more veggies than you do anything else and get the good stuff from plants by eating actual plants. Not plants that have been somehow squeezed into a shelf-stable thing in a bottle.
As for the flavor of the soup, it's good. If you are afraid of turmeric and kale here's a little encouragement: my chicken-strip-and-fries only grown son likes the recipe.
Part of the pleasure of cooking is using good equipment.
I love my Le Creuset pot
and look for recipes where I can use it. I love the heft, the way foods sear, they way the cast iron retains heat and the way it cleans up. I even love the way the handles get hot. It's a more … immersive experience.
About the heavy part …
I think that loosely translates into being able to lift your own suitcase into the overhead compartment. Whaaaa?
Trust me on this: I am in the fall of my life. If you don't find a way to keep doing normal things you will slowly end up arranging your life to avoid doing things that should be normal. So if you don't have a heavy pot, at least get to the gym often enough to be able to lift a heavy pot.
Just in case you decide to buy one. 😀
I've had a Braun immersion blender
for years.
This post contains affiliate links and purchasing through them helps support BurntPorkChops. It's not that I want to quit my day job … but if this blog ever takes off …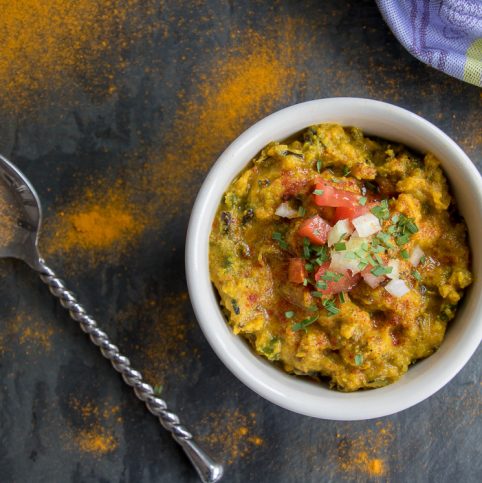 Roasted Cauliflower Soup with Wild Rice, Kale and Turmeric
While the cauliflower is roasting prepare/chop the rest of the veggies. Sauté the chopped veggies, add the roasted cauliflower and broth, blend, add spices and wild rice. Cook about an hour, add the kale. You have soup and/or tortilla filling for days.
Ingredients
1

small head

cauliflower

outer leaves and stem removed, cut into similarly-sized flowerettes

1

small

leek

white part only, thinly sliced

2

celery sticks

1

small

onion

red is fine

1 - 2

tsp

Kosher salt

divided for the soup and to sprinkle on the cauliflower when roasting it

1/2

tsp

black pepper

4

cups

vegetable broth

1/4

c

dry cooking sherry

2

tsp

turmeric

1

tsp

coriander

1/4

tsp

cayenne pepper

more or less to taste

2 - 3

handfuls

kale

stems removed and roughly chopped

4 +

T

olive oil

to coat the cauliflower for roasting and to sauté the veggies in
Instructions
Roast the Cauliflower
Preheat oven to 400 and line a baking sheet with parchment paper. Remove outer leaves from cauliflower and cut out the inner stem. Chop the cauliflower into similarly-sized flowerettes. Coat the cauliflower with olive oil and sprinkle liberally with salt. It's easier to do this in a bowl, but just slopping it around on the baking sheet works too.

Roast the cauliflower about 20 - 25 minutes until you can smell it and the flowerettes have a little golden brown around the edges. Turn them over at the halfway mark to get all the edges browned if you have OCD.
The Other Veggies
While the cauliflower is roasting, prepare the rest of the ingredients. Cut the leek in half where it starts to turn green. Discard the green part. Slice the white part of the leek lengthwise and inspect the layers for dirt. Rinse it in cold water if needed. Thinly slice (1/4th inch) the leek halves across the layers into "half-discs."

Roughly slice the celery sticks, roughly chop the onion, and smash/mince the 2 garlic cloves.

Roughly chop 2 - 3 handfuls of kale and pick the leaves off any big stems. Discard the stems. Set aside. The kale goes in during the last 10 minutes of cooking.

Set a medium-large soup pot over medium heat and heat for 3 - 5 minutes. Set your phone timer. Heating the pan before adding the oil and veggies is what gives the veggies a nice sear. Don't let the oil start to smoke - that's too hot.

When the pan is hot, add the sliced leeks, chopped celery, chopped onion, and minced garlic. Sprinkle with 1/2 tsp each, Kosher salt and pepper. Sauté 8 minutes until the veggies are translucent and just starting to get brown around the edges.
Build the Soup
Add the roasted cauliflower and 4 cups vegetable broth. Break out your immersion blender and pureé until smooth.

Add 1/4 cup dry sherry, 2 tsp turmeric, 1 tsp coriander and 1/2 cup wild rice. Bring it just to a boil, then loosely cover the pot and simmer about 60 minutes, until the rice starts to pop open.

When the rice is done, add 1/4 tsp cayenne pepper and another 1/2 tsp Kosher salt. Add the chopped kale and simmer another 10 minutes until the kale is wilted/cooked.

Serve with a salad and bread of choice.
Notes
This is a thick soup. You can adjust the consistency with more or less vegetable broth/water. Like many meals-in-a-pot, the flavor develops over time and it gets better and better. 
Try smearing it on a tortilla with some cheddar or Mexican Oaxaca cheese (or both) and spicy salsa - makes a delightful fusion meal.