This lentil with Indian Spices (Punjabi Dal) recipe is in keeping with my current headed-to-Bophal, India-on-a-Medical Missions Foundation-trip, and headed-toward-becoming-a-vegetarian dietary upgrade.
Richa has a compelling story. She was a software developer who had a meningioma and a craniotomy in 2006. She still has various health issues, yet has managed to become a substantial presence in the food world. I had previously stumbled upon and purchased her book, Vegan Richa's Indian Kitchen: Traditional and Creative Recipes for the Home Cook
 in a spice store in Seattle. (My daughter lives in Seattle and every time I visit we make a stop in World Spice Merchants.)
As a foodie, my screensaver TV is anything food.
TopChef, The Great British Baking Show, The Big Family Cooking Show, Chopped, Bizarre Foods, Parts Unknown, and various lesser known shows one hunts down on Netflix. Here's an interesting observation:  it seems the contestants who understand Indian food usually do very well.
See also: Chetna's Blog and Nadiya Hussain's rise to foodie fame. If you are a real food nerd and have Netflix, check out the series Raja Rasoi Aur Anya Kahaniyaan which explores the history and flavors of regional Indian cuisine.
But don't take my word for it, Anthony Bourdain sums up Indian vegetarian food perfectly in this clip.
I can not improve upon his witty assessment and wish I had his job.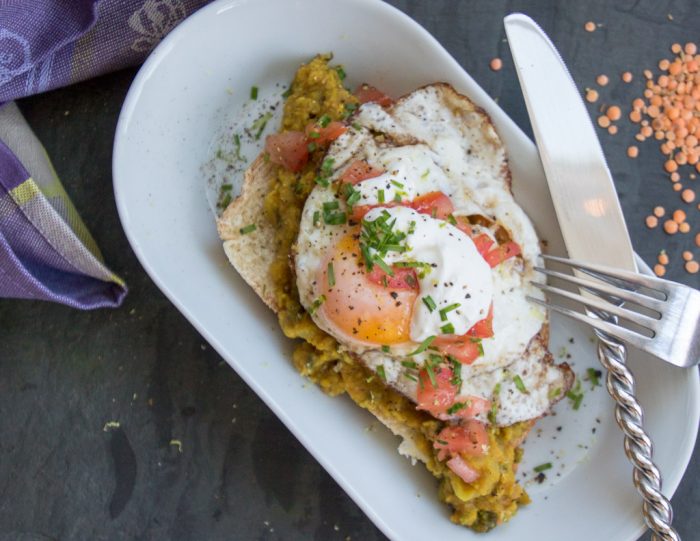 Punjabi Dal Fry or Lentils with Indian Spices
Ingredients
The Lentils
1

c

red lentils

3 - 3 1/2

c

water

1

inch

ginger, minced

or 1/2 tsp dried ginger

1/2

tsp

turmeric

3/4

tsp

Kosher salt

or to taste
The Spice /Oil Mix, listed in the order of cooking
tsp

oil

1/2

tsp

cumin seeds

1/2

tsp

mustard seeds

optional

1 - 2

whole

bay leaves

2

whole

cloves

1

pinch

asafetida hing

optional, it's an Indian Spice not often found in the Midwestern kitchen. I got mine in a spice shop in Seattle.

2

whole

green chilies

chopped or sliced. I used 2 small frozen (from last summer's garden) serrano chilis

2

cloves

garlic

minced

1/2

onion

finely chopped

1/2 - 1

tsp

garam masala

1/4 - 1/2

tsp

cayenne pepper

1/2

tsp

dry mango powder amchu

or lime juice of half a lime.

1

T

butter
Optional Add-ins/garnishes
1/2

c

chopped cilantro

1 - 2

handfuls

kale or spinach

1/2

c

chopped tomato
Instructions
Combine the water, ginger, turmeric, salt, and lentils in a saucepan and cook over medium heat for 20 - 25 minutes.

While the lentils are cooking, measure the spices for the spice mix and chop the veggies.

Heat a medium skillet over medium-high heat for 3 - 5 minutes, then add oil. When the oil is hot, add the cumin and mustard seeds and heat until they start to change color. (Under a minute) Then add the bay leaves and clove and cook until you can smell them.

If you are using asafetida add it next, if not, go straight to the chiles, onion, and garlic. Cook until the veggies are translucent.

Add the spice/oil mix and veggies to the simmering lentils.

Add the dry mango powder amchu or lime juice, garam masala, cayenne pepper and the butter.

If you are using any add-ins, put them in now. Kale will need about 10 minutes to cook, spinach needs just a minute or two.
Notes
Serve this hot as a soup or with rice and veggies. Or, mix it half and half with my roasted cauliflower soup for a whole new soup. As always, any veggie based thing this thick is good folded into a tortilla or layered on bread and topped with an egg.
Nutritionally speaking, this plant-based, flavorsome, dish is a winner. Lentils are rich in fiber, minerals, vitamin B, and protein. Personally, I think the minerals and fiber part is more important than the protein part. For instance, there is a 3-year study going on now where researchers are using lentils to combat widespread (maybe 57 million people affected) arsenic poisoning from well water in Bangladesh. It's the selenium in lentils that un-does the arsenic damage.
I'm not drawing any conclusions here, I'm simply pointing out that there is way more to food than just taste and enjoyment. The food you eat does in fact, literally become you. Take good care of yourself.
This post contains a link to a vegetarian cookbook
. If you buy the book on a clickthrough from BurntPorkChops, Amazon will give me a pittance. Earnings to date: $12.43. 😀