This post contains affiliate links. If you buy a Le Creuset dutch oven (and you won't be disappointed if you do) Amazon will deposit a few cents in BurntPorkChops pocket. The universe and a good friend smiled on me one Christmas season – I had access to a Le Creuset store that was closing. I have both the 7.25 and the 9-quart dutch round dutch ovens. 😀 If you don't have a fat separator, try this one. (You'll use the fat separator every Thanksgiving.)
I first came across this recipe years ago from Cook's Illustrated. Shout out to them, but I've made it so often, I feel like it's mine now. There are multiple iterations of the original out there, which is a testament to just how good this recipe is. It is seriously amazing what happens inside the Dutch oven with so few ingredients. See other versions here, here and here.
It's a cozy winter dish and makes your house smell heavenly. Serve it with bread and a salad. (You'll need a salad dressing recipe.)
Plus, it's a great reason to bring out (or buy) a heavy Le Creuset dutch oven
.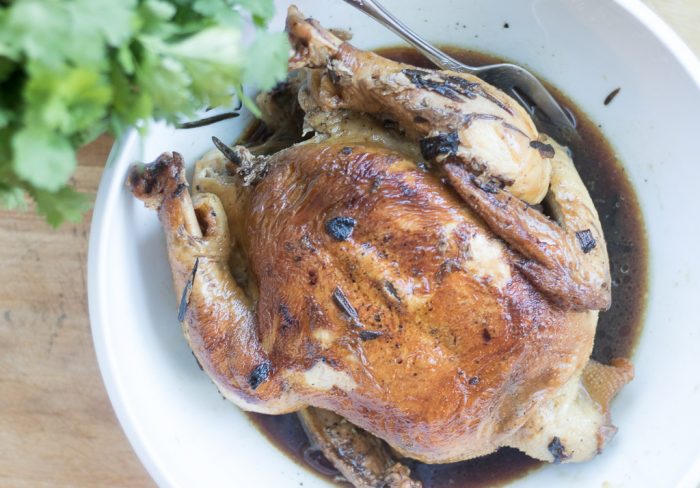 Cooking with cast iron requires a little know-how. The iron heats up quickly and retains the heat, so even if you turn off the burner, you won't get an immediate lowering of the temperature. It's easy to burn things – go at it gently.
Don't be afraid to use enough oil to get a good sear – you'll end up removing the grease when it comes time to make the gravy. Plus, your brain is made up largely of fat – you need real fat in your diet.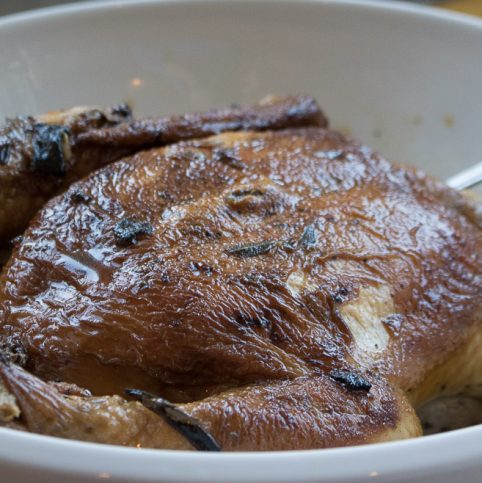 French Chicken in a Pot
Sear the chicken in a large Dutch oven with a tight-fitting lid then slow-cook it in the oven.
Ingredients
1

whole

chicken

4 1/2 - 5 pounds

1 - 3

tsp

Kosher salt

pepper

3 - 4

T

fat - some combination of butter, olive oil, duck fat, ghee and a touch of bacon grease

about 1/4 cup total

1

small

onion

roughly chopped

1 - 2

small

celery ribs

roughly chopped

1 - 2

small

carrots

roughly chopped

4 - 8

small

garlic cloves

peeled and smashed

2

bay leaves

1

sprig

fresh rosemary

1

sprig

fresh thyme
Instructions
Adjust oven rack to lowest position, remove the middle rack if needed and preheat to 250.

Rinse your chicken and pat him all the way dry. Liberally season both sides with salt and pepper.

Heat oil in a large Dutch oven over medium heat. Add the chicken breast side UP and brown - about 5 minutes. Turn the chicken over by slipping a large spatula under him and grabbing the top of him with your hand. Add the veggies and garlic. Brown the breast side - about 7 minutes. Unlike all the other versions of this recipe, I cook him breast side DOWN because I think it lets the juices from the dark meat add flavor and tenderness to the drier white meat. Plus, it gives the breast skin a great color.

Add the fresh herbs. Remove from heat. Cover with tinfoil then put on the lid.

Put the tinfoiled and lidded pot in the oven and cook 1 1/2 - 2 1/2 hours (depending on the size of the bird.) It's done when the breast is 160 degrees and the thighs are 175 degrees.

Remove the chicken to a carving board, cover with a large sheet of tinfoil and let it rest 20 minutes.

Strain the juices into a fat separator measuring cup. Pour off the fat. You'll have about 3/4 - 1 cup jus. Add 1/4 tsp lemon juice for each 1/4 cup jus.
Notes
For an informal approach, let the chicken rest in a large, shallow (pasta serving) bowl and pour the jus over the chicken. Carve/break off legs and wings from the bowl. Spoon juices over the meat.
The leftovers from this make a great chicken salad.