Jump to Recipe!
Cooking a whole fish is not for the feint of heart. Americans are pretty far removed from the origins, or "back story," of their food. Since we usually see fish nicely shrink-wrapped in unit-dose packages, we forget there was once a whole fish involved. Someone else has done the work of catching, cleaning, freezing, shipping, and displaying it. For a great many of us, it's understandably off-putting, if not downright creepy, to have a whole fish looking at you. I want to help you see how beautiful whole fish cookery is.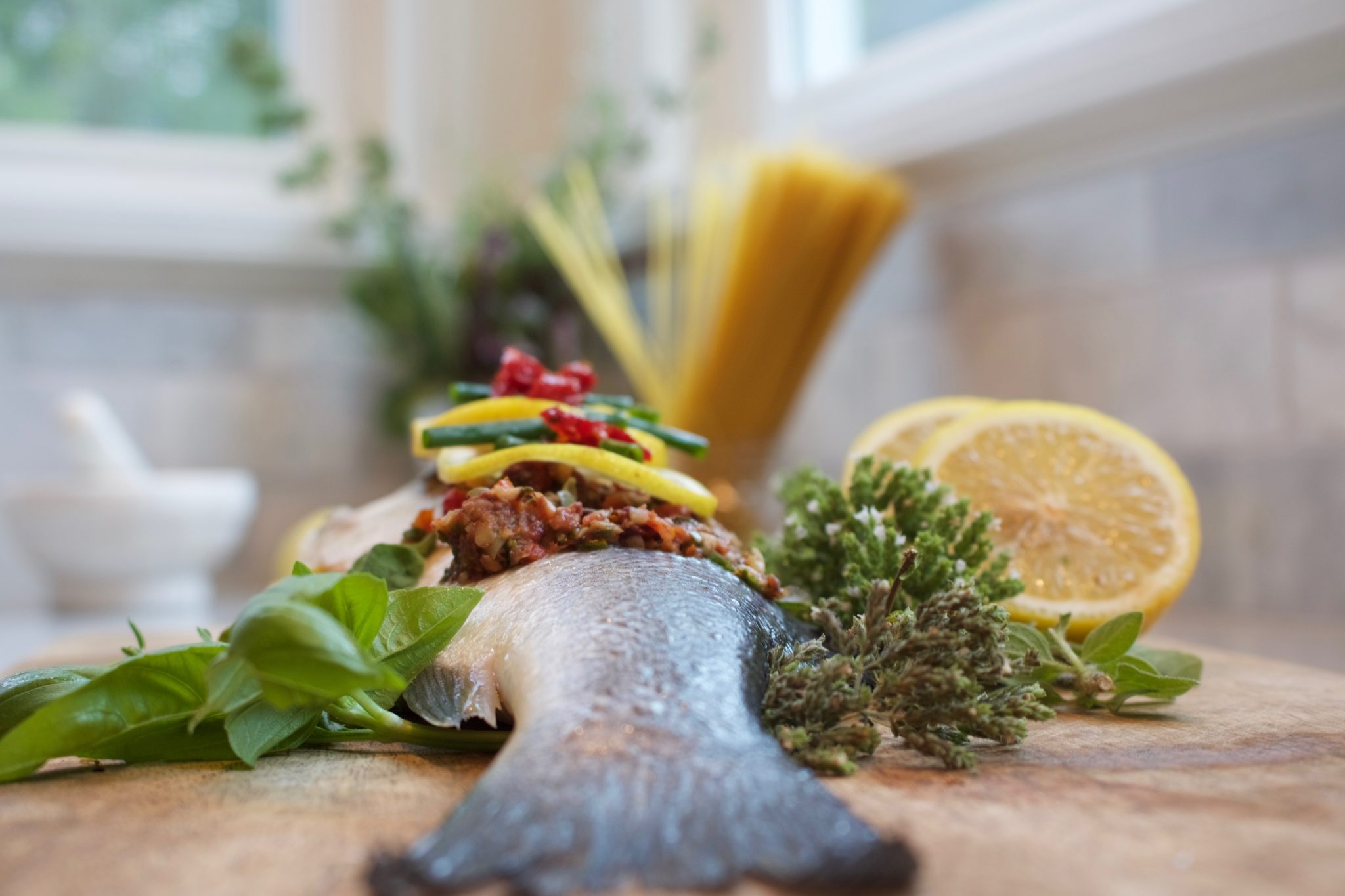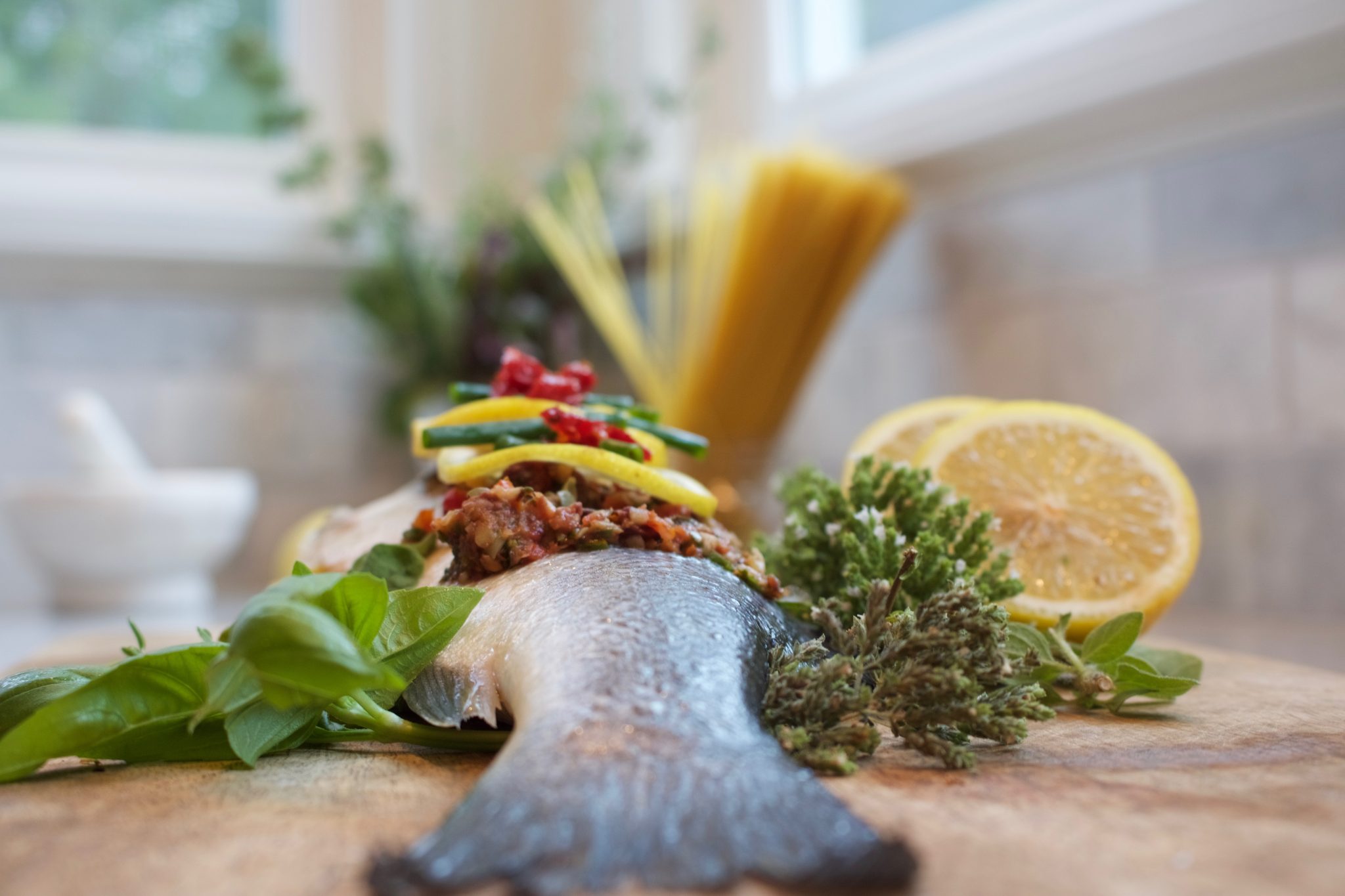 Fishsticks should be the oddity – not a whole fish.
Let me assure you: you already know how to do this. It's the same as roasting a chicken or turkey. Salt and pepper it inside and out, stuff the cavity with good things and put it in the oven at 350 till it's done. Any animal protein that cooks with the bones and skin intact tastes better. It's why chicken breasts have a well-earned reputation for being flavorless and it's why you can't make decent chicken stock with just chicken breasts. Using animal protein in its natural packaging preserves both nutrition and flavor.
In your heart of hearts, do you think the USDA, Gorton's, or SeaPak knows more about food than Mother Nature?
Using the whole fish connects you to your food in an important and soulful way.
Picking around your food sloooooooows you down … which forces you to be in the moment, which nudges you to be grateful, which leads to being joyful … You get to practice all those important life skills simply by choosing the entire fish instead of the fillet! Some of the best bites are behind the eyes and around the collar. Think of eating this like you do shrimp or crab: it's a little bit of a hassle, but worth it.
Maybe not so creepy now?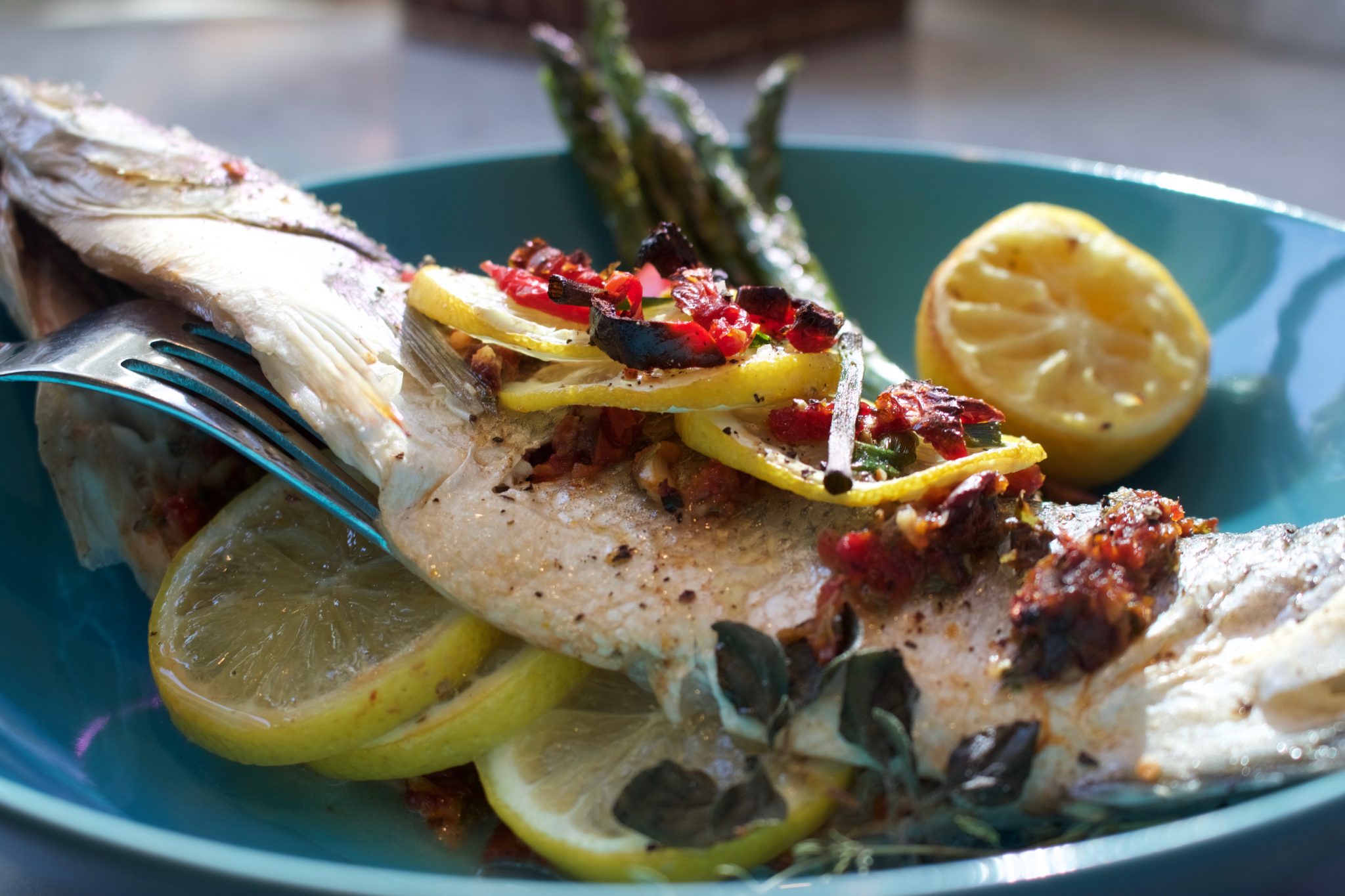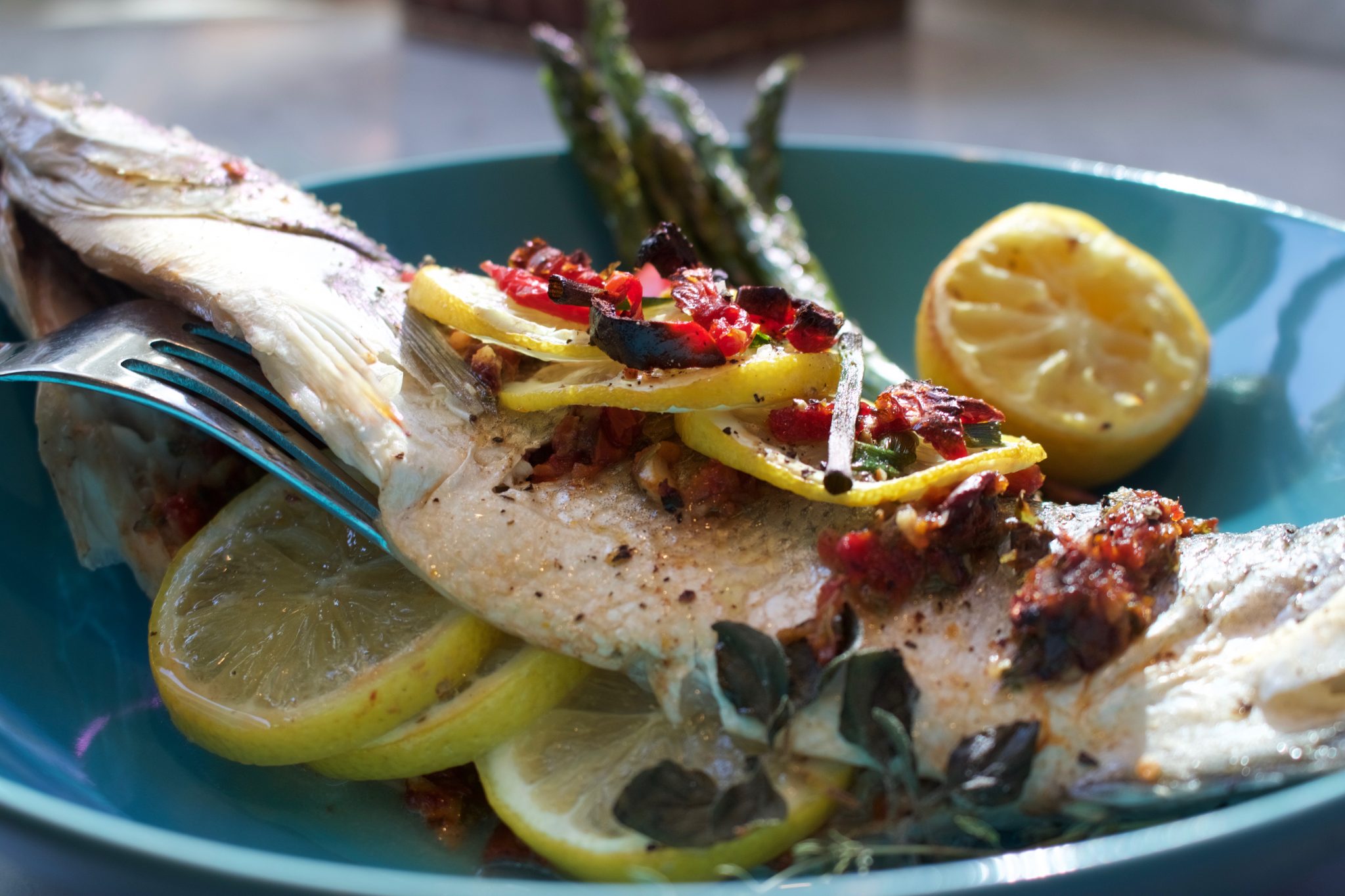 It doesn't matter what fish you use: choose whatever is in season and looks fresh. Buy wild caught if you can.
When serving, gently tease the flesh off the tiny rib bones, find the backbone and lift it off. This is a good time to marvel at the elegant artistry of the spine. In fact, it's all a work of art: the gills, fins, regular segments of meat … the craftsmanship is breathtaking.
There will be some little bones here and there. The best way to manage them is to avoid them. If you do get one caught in your throat, don't freak out. Swallow some water and wait a minute. If it doesn't go down, eat something soft and thick like a banana, bread, or peanut butter. Follow with more water.
You probably are not going to end up in the Emergency Department – and, for what it's worth … My Girl, Kendra, GI nurse extraordinaire, says that when she's called in after hours to help fish (pun intended) something out of an esophagus, "It's always pork!"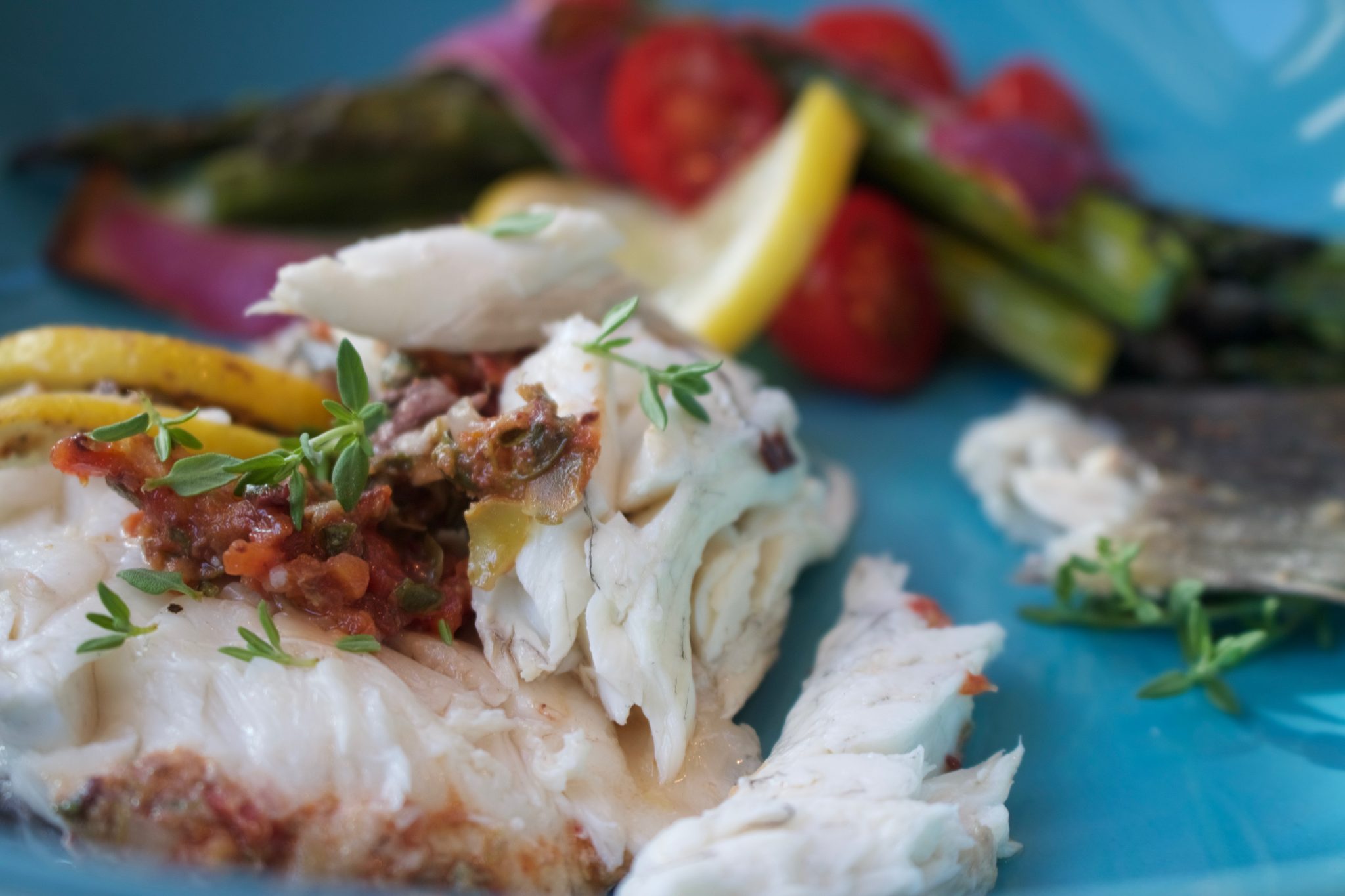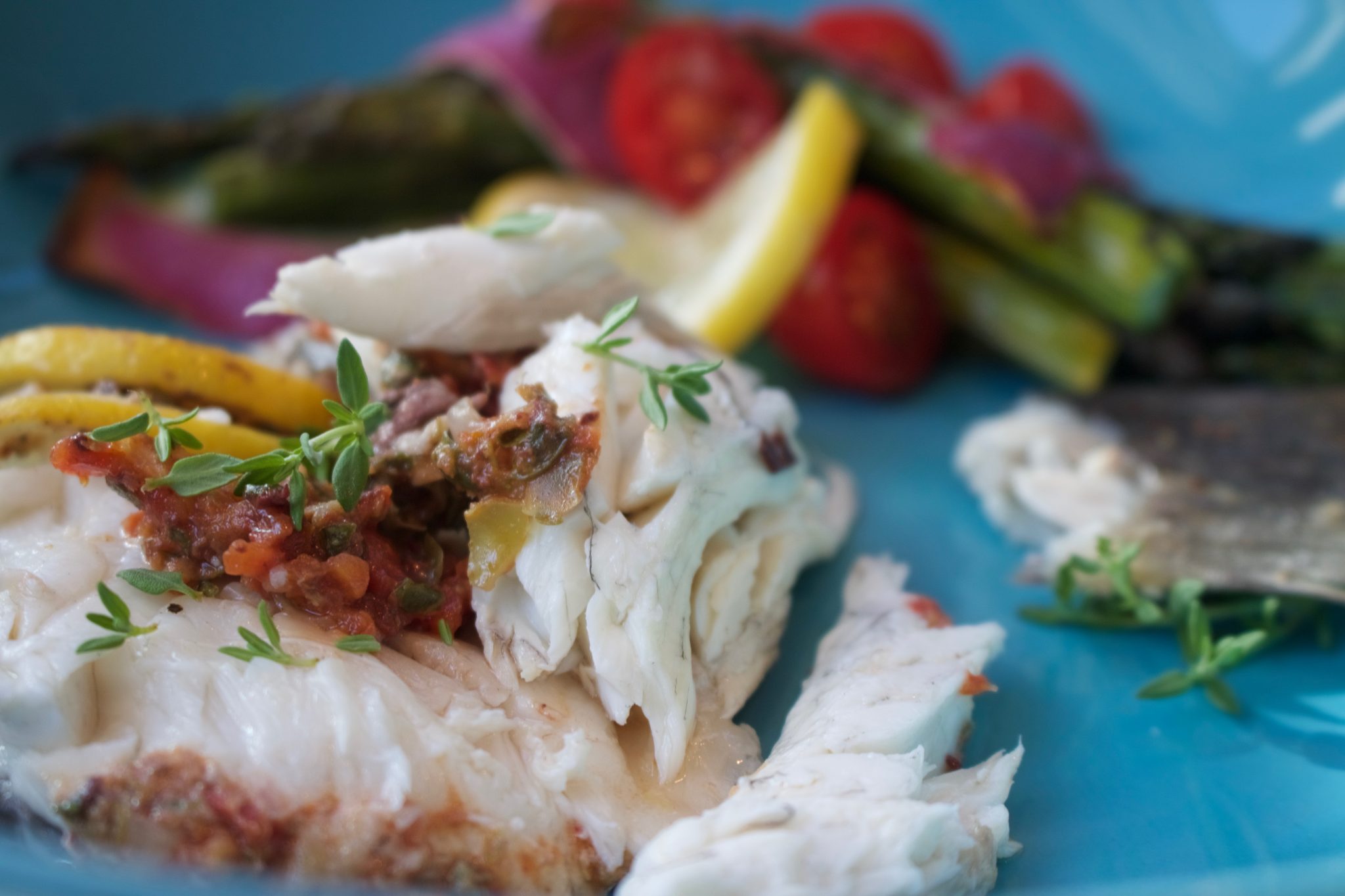 Serve it with roasted veggies and fresh bread.  This cooks quickly but eats slowly. Don't try it on a busy evening – let this meal be your evening.
If I've motivated you to step out of the fish fillet comfort zone, let me know your thoughts.
For information on the health benefits of eating fish, start here.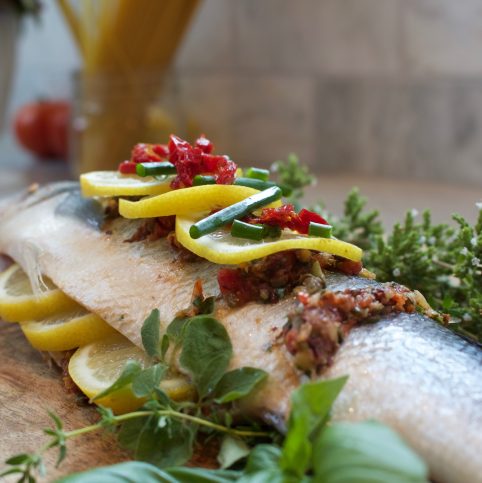 Mediterranean Inspired Roasted Whole Fish
Preheat oven to 350, line a rimmed cookie sheet with parchment paper, season the fish, make the paste, put the paste into the cavity and a few slits cut into the top of the fish. Add lemon slices and fresh herbs as desired. Cook until just done, about 12 - 18 minutes depending on oven temp and size of the fish. Let it rest.
Ingredients
1

pound

whole medium sized fish

cleaned. (Pick something that will fit on a rimmed cookie sheet. If the fish are small, buy two - the fish pictured was about one pound and served 2. I could have fit 2 of them on a cookie sheet. Double the filling if you buy 2 fish)

1

T

Olive oil for rubbing on the fish skin

2

cloves

garlic

1 - 2

Whole

lemons

save one for lemon /wedges for garnish and serving

1/2

tsp

capers

4

T

black olives

2

T

medium sun-dried tomatoes

minced

1

T

medium sun-dried tomato

chopped for garnish

5 - 6

T

greek pepper rings

minced

1

T

juice and zest of 1 lemon

2 - 3

T

fresh herbs of choice

(I used 1 tsp minced fresh oregano 1 tsp minced fresh chives, 2 tsp minced fresh basil, 2 tsp minced fresh lemon-thyme)

More fresh herbs for garnish and stuffing the fish cavity

salt and pepper to taste
Instructions
Preheat the oven to 350 and line a cookie sheet with parchment paper.

If the fish has rough scales instead of soft skin, run the sharp edge of a knife backward along the scales to remove them.

Rinse the fish and pat it dry.

Rub a thin layer of olive oil on the fish.

Liberally sprinkle the cavity and both sides of the fish with salt and pepper.

Put the garlic, capers, black olives, minced sun-dried tomatoes, Greek pepper rings, lemon juice and lemon zest in a mortar and pestle bowl and mash into a paste. Or, finely mince it all and combine to form a paste.

Cut a few slits in the fish and stuff with the paste.

Put the rest of the paste in the center of the fish.

Stuff lemon slices and a few fresh herbs in the fish.

Top the fish with a few lemon slices and chopped sun-dried tomatoes.

Cook at 350 for 12 - 18 minutes.

Cover with foil or an upside down plate and let it rest at least 5 minutes.
Notes
Fresh fish is delicate. The window between undercooked and overcooked is narrow. Check the thickest part of the fish at the 10-minute mark and proceed in 3 - 5-minute increments. You want the fish to separate easily into segments when you poke it with a fork. I served this with oven roasted asparagus/red onions and fresh bread. Since the oven was already on, I threw the veggies in ahead of the fish. Put parchment paper on a cookie sheet, put the veggies on, douse with olive oil (a little or a lot), season with kosher salt and pepper. Roast at 350 about 30 minutes.