You might think this recipe is crazy … I certainly did. The first time I made it, I was just being polite – obliging a treasured friend who clearly wanted to ruin dinner. Honestly, Cindy, I thought you were crazy. I was mentally preparing to gag down straight mustard with a hint of salmon on the backend. And, I was rehearsing something to say when my husband either refused to taste it or involuntarily spit it out. (He is not a fish fan … Well, he likes shellfish, especially if someone else peels it. Anyway …)
I Was Wrong, This Salmon Is Crazy Good
The mustard does something to tone down the fish and the fish does something to tone down the mustard. The result is a surprisingly tasty dish that even dedicated salmon haters admit is good. Or, at least the best tasting salmon they've ever had …
This dish has an upscale feel to it and it makes a gorgeous presentation – like something you'd get from a restaurant.
Crazy Good & Crazy Simple
All you do is slather the fillet with Old Style Dijon Mustard and bake it. And by slather, I mean coat the entire fillet with the mustard. I used a whole jar of mustard for a Costco sized fillet.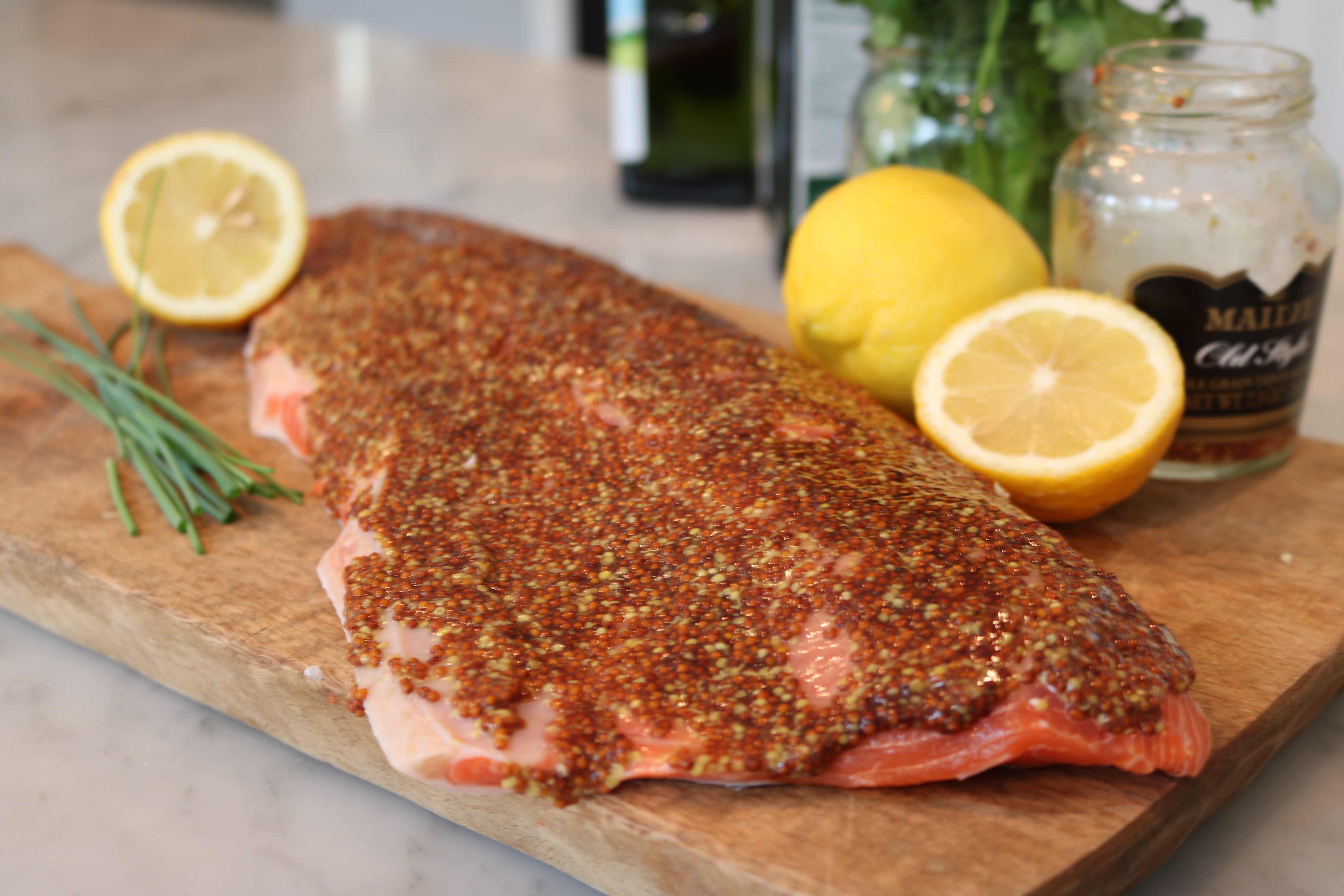 Once cooked, the mustard marinade turns into a crust that's both sweet and tangy. And, the little balls of whole mustard seed add a lovely textural component.
So Easy – Slather and Bake
Easy Baked Salmon with Dijon Mustard
Slather a large salmon fillet with an entire jar of Old Style Dijon Mustard. Let it sit for about 30 minutes. Then Bake at 350 till done
Ingredients
1

large

salmon fillet

1

jar

Old Style Dijon Mustard

2

lemons

for garnish and juicing over the cooked fish
Instructions
Preheat oven to 350. Put your salmon fillet on a foil-lined cookie sheet. Coat the salmon fillet with a thick layer of Old Style Dijon Mustard. Use the whole jar for a Costco sized fillet.

Let it sit for 20 - 30 minutes to absorb the flavor.
Notes
Before you coat the fish with mustard, inspect it for small bones and pull them out. Perfectly cooked fish flakes easily when poked with a fork. Let the salmon rest for a few minutes after it comes out of the oven.