This lovely margarita chicken recipe has its roots in a Cinco de Mayo Post that just never got published in time … I wanted something fresh, summery, and limey – and this marinade certainly delivers.  I used an incredibly old bottle of
I used an incredibly old bottle of mezcal because, surprisingly, I couldn't find any tequila in the house. Tequila is a type of mezcal – and this is just a marinade so either one will work. My mezcal was quite old, dark, and robustly flavored … it was a good marinade. 😀
Adjust the amounts and proportions of triple sec, tequila, and lime according to how much chicken you have. Marinades are a great way to get creative and use up leftover wine/booze. There are a few simple guidelines to a decent marinade.
Use an oil
Use an acid
Use a flavor (herbs, salt, pepper)
Use a little sweetener
Keep in mind the thing that makes Asian food so complex and flavorful is the successful melding of the 5 tastes: sweet, sour, salty/umami, bitter, and spicy/hot. You certainly don't need every taste represented for a marinade to be successful but knowing what balance you are looking for is helpful.
For serving ideas, try grilled pineapple, (don't overcomplicate the grilled pineapple, just slice it and grill it), mango salsa, and cilantro lime rice.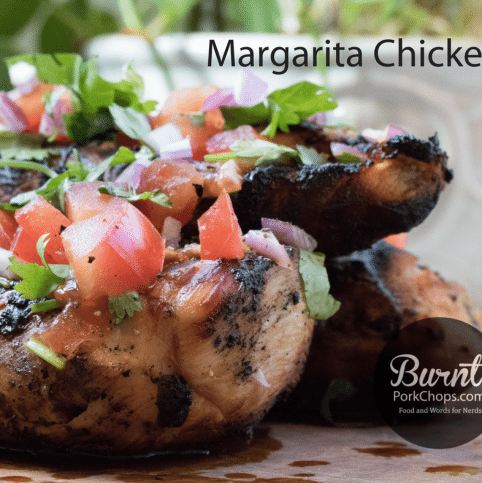 Margarita Chicken
Marinate the chicken and grill it.
Ingredients
For The Marinade
3/4

c

Triple Sec

3/4

c

Tequila

3/4

c

fresh lime juice

about 4 limes

zest

of 1 1/2 limes

optional, more or less as you wish

1

T

Kosher salt

1 1/2

T

Honey

scant handful

roughly chopped cilantro

optional, whatever fresh herbs you have on hand

scant handful

roughly chopped parsley

optional, whatever fresh herbs you have on hand

2

tsp

pepper

6

whole garlic cloves, smashed

6

boneless, skinless chicken breasts

put them in a plastic bag and pound them out flat for more even cooking
Instructions
Combine all marinade ingredients in a glass dish, including the "shells" of the squeezed out limes, add 6 chicken breasts, and marinate at least 30 minutes, up to all day or overnight. Glass is non-reactive and has a long history of safe use. (I know everyone else marinates in plastic bags ... but do you really know what's happening to the plastic on a molecular level? Are any of those 6 plastic bag ingredients leaching into your food?)

Grill (or cook however you want) the chicken breasts. Let them rest a couple minutes after cooking before cutting.
Notes
Have some fresh cilantro, tomato, and red onion on hand to chop and sprinkle on top of the chicken. It's a small touch with a big visual and flavor payoff.