This post contains affiliate links. Purchasing through them helps support this website.
Love in a Bowl of Comforting Beef Stew
One of my favorite things about fall/winter is the cozy feeling of being tucked in for the night. You've worked all day, it's chilly outside, maybe even dark … Your people are home or on their way … maybe snow is coming tomorrow. The soulful aroma permeating your home from this beef stew tells you everything is right with the world. It makes you think someone has been tending to, caring for, preparing for and anticipating your homecoming. This simple slow cooker recipe is, quite frankly, that feeling of "I'm safe and sound and surrounded by love" in a bowl.
Turn on your slow cooker and come home to the best bowl of stew you've had in a very long time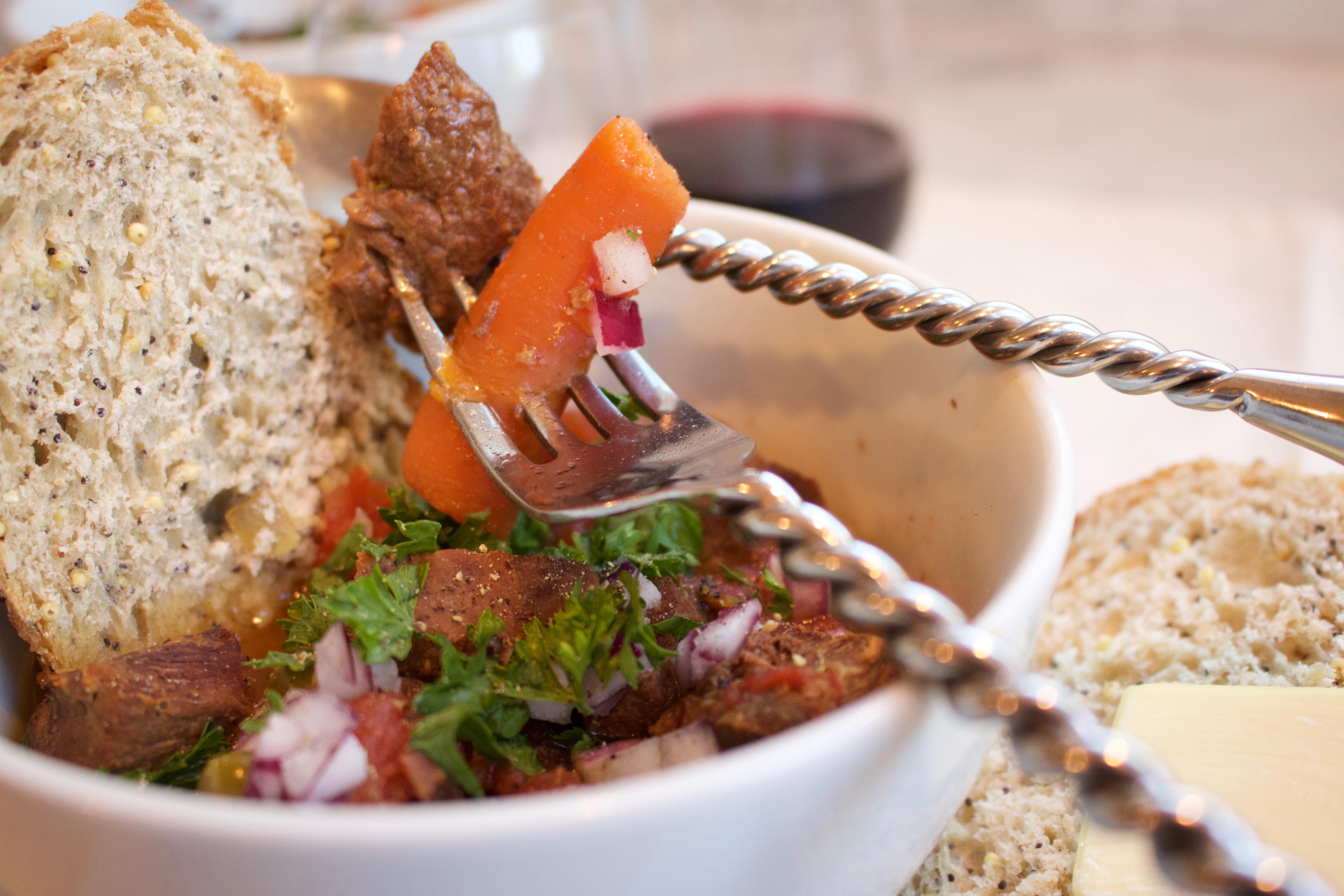 Will you make that beef stew tonight?
My kids ask this every time it even thinks about getting cold. It's one of our standard cold weather recipes. We love being snuggled in slurping away. When I make this and homemade bread … Oh my – We are happy, happy people.
It just doesn't seem right that a meal so satisfying takes so little effort …
And yet, it is.
However, there are a few things that make this stew work. Otherwise, tweak it and make it your own.
The vinegar, the bay leaves, the beef consomme' and maybe the brown sugar are must-haves. I've made it with every manner of substitutions, so I know that without those key ingredients it's a perfectly serviceable beef stew, it's just not this beef stew. And this beef stew will likely ruin you for other beef stews. You have been warned.
Red wine isn't sturdy enough to replace the vinegar.  It works, but it yields a milder end result.
Bay leaves impart a robust, earthy, deep flavor of the broth. You will miss them if you know what it tastes like with them. I made it once without them – now I check to make sure I have some.
Beef consomme' comes in a can and you find it in the soup aisle. It has a smoother, silkier, richer flavor than beef broth. It's worth hunting down. Unless you have homemade beef bone broth. (Recipe for bone broth will be forthcoming.)
I usually throw everything (even if it's frozen which the beef and peas usually are) in the slow cooker before I go to work. Sometimes I'll "build" it in the ceramic insert of my slow cooker the night before and refrigerate it. The temperature change from refrigerator to slow-cooking has never damaged the crock pot.
The only thing this meal needs is good bread.
The broth is so flavorful, so earthy, so slurpable, it literally begs to be sopped up by rustic bread. Buy some or make your own. Find a no-knead recipe here –  to make the rolls, just form it into large golf balls or small tennis balls instead of loaves and plop into a greased dish.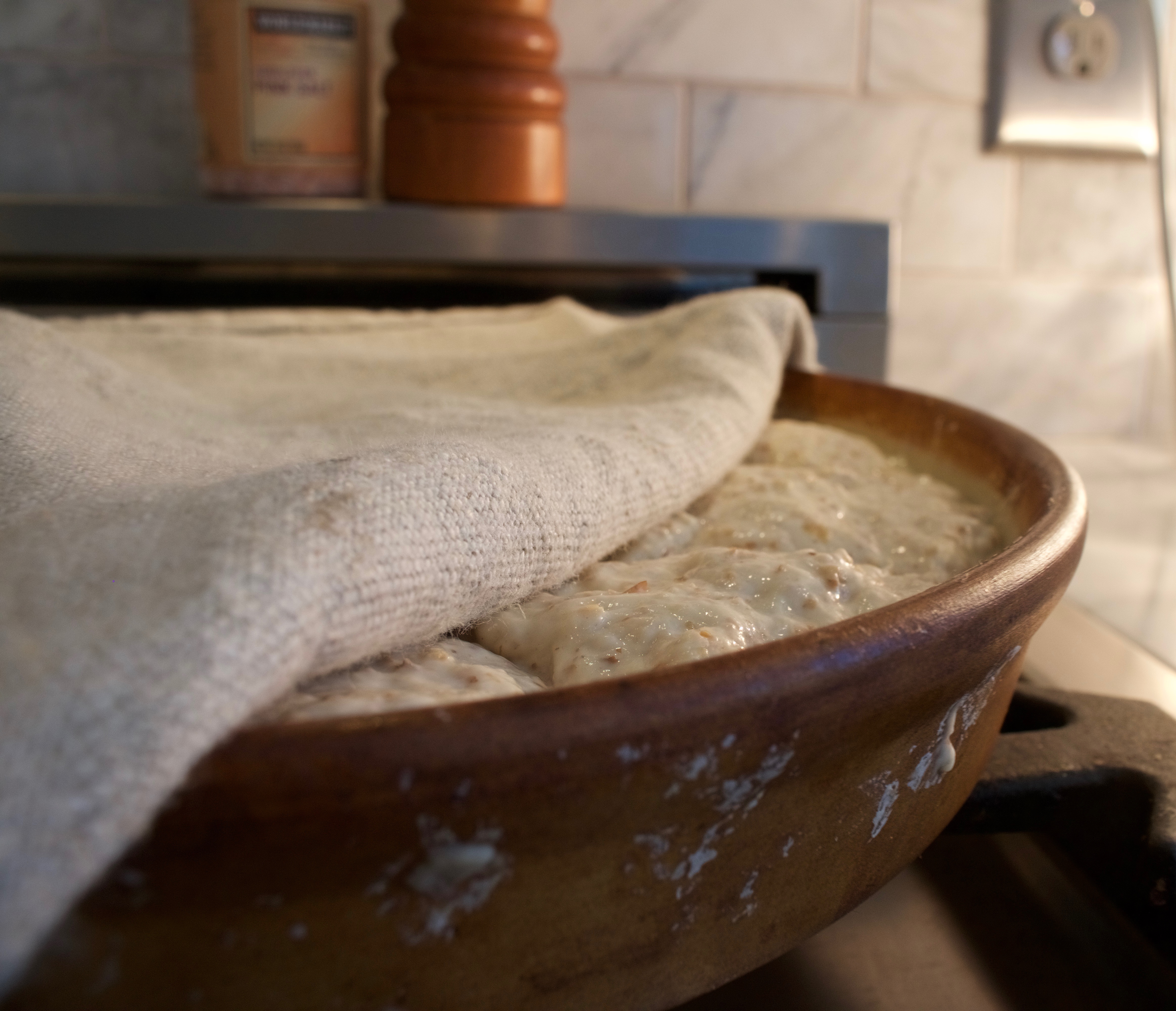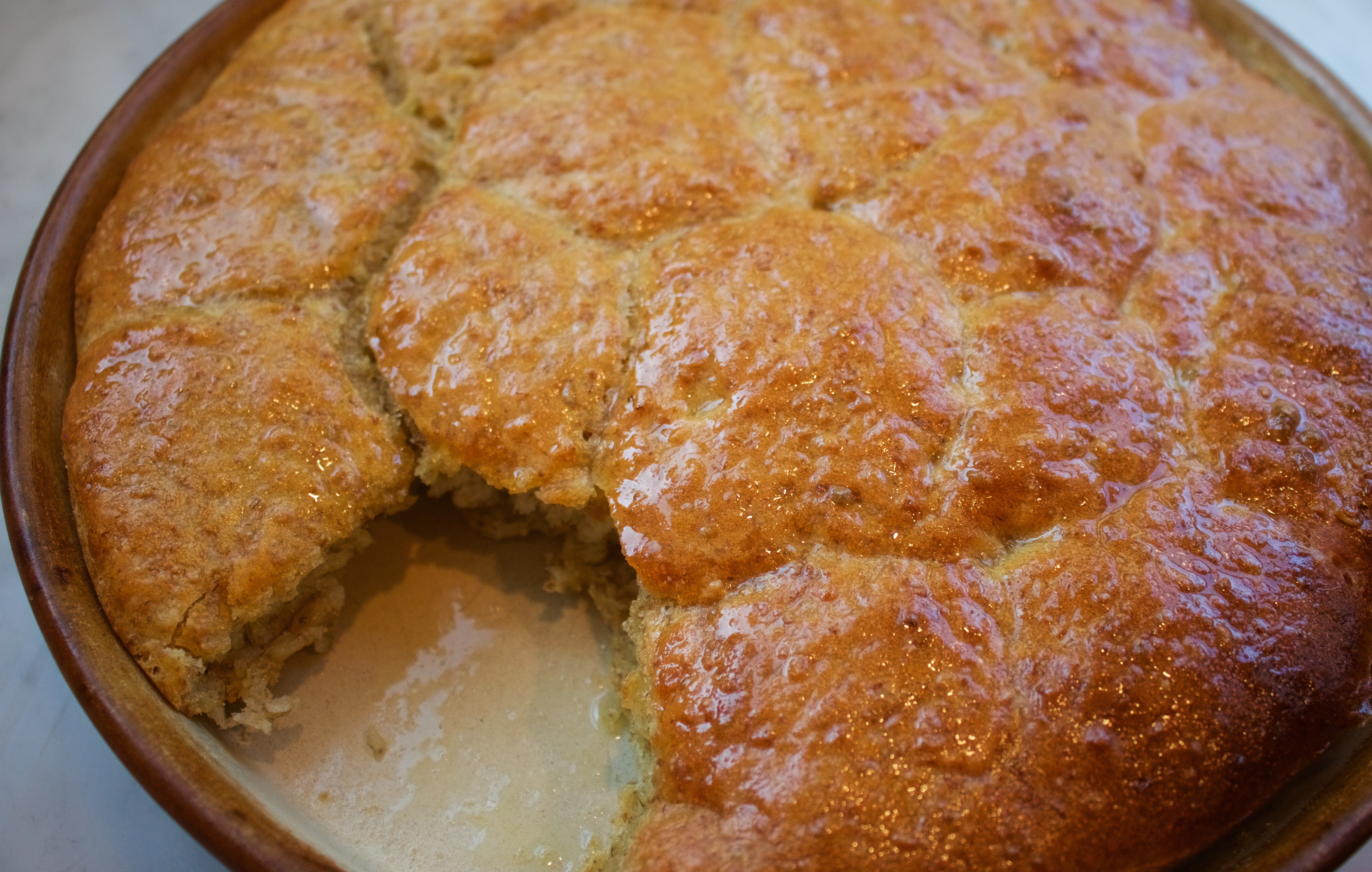 Beef Stew
Put everything in your crockpot and let it cook 8 - 10 hours.
Ingredients
3

pounds

beef stew meat

1

can beef consommé

1

cup

water

or use 2 cups homemade bone broth

1

can of stewed tomatoes

with their liquid

6

medium carrots

roughly chopped, or one small bag of baby carrots

1 12 - 16

oz

bag of frozen peas

1/2

cup

Italian bread crumbs

1/3

cup

red wine vinegar

balsamic vinegar, apple cider vinegar or some combination thereof

1

T

brown sugar

2

leaves

bay

1

Tbs

Kosher salt

1

tsp

onion powder

1

tsp

garlic powder

1/4

tsp

pepper

Fresh parsley and minced red onion for garnish
Instructions
Put everything in your slow cooker and stir to combine. Analyze ratios and see if you want more carrots, peas, tomatoes, etc. (It is hard to have too many peas.)

Set your slow cooker for 8 - 10 hours on low.

Garnish with fresh parsley and minced red onions.

Serve with a sturdy, rustic bread suitable for dipping in the broth.
Notes
You can use canned peas. Consider other vegetables such as green beans. If you add potatoes, add them near the end of cooking. They will turn into mush if they start with everything else. Chopped fresh onion and chopped fresh garlic are nice touches. I've decided the powdered stuff tastes great and leaves nothing to clean up, so powdered garlic and onion it is. Some people like to use a bag of frozen pearl onions. I intend to one day use a larger cut of beef and sear it before dumping everything in the slow cooker. 
There are so many ways to make this stew your own - here are a few from my readers/friends. Add mushrooms. Use fire-roasted tomatoes instead of stewed tomatoes. Get your stew meat in large chunks and sear it. Serve it over barley, rice, egg noodles, or tortellini.