This post contains affiliate links. Purchasing through them helps support this website.
Pressure Cooker Chicken Noodle Soup
Nothing beats a bowl of homemade chicken noodle soup when you need to rest, recharge, and refuel. It might be exactly what you need to cure a hangover or lessen your cold.
"This is way better than that lonely pizza I got from QuickTrip this morning …"
Said my son, as he sat slurping …
H and his dog spontaneously showed up around 3PM on a cold, rainy, gray, Sunday afternoon in November. He was clearly "trying to get sick" based on his cough and nasal congestion. I accused him of too much partying over the weekend and he came back with "I've had 2 people self-extubate and cough all over me. It's droplet contamination."
Anyway, when your murse shows up looking for homemade soup, and he has a cold, and he brought the dog … well, it's hard to know what's more satisfying: cooking for the people and dogs you love, or eating the stuff!
Because looka that dog's pretty face …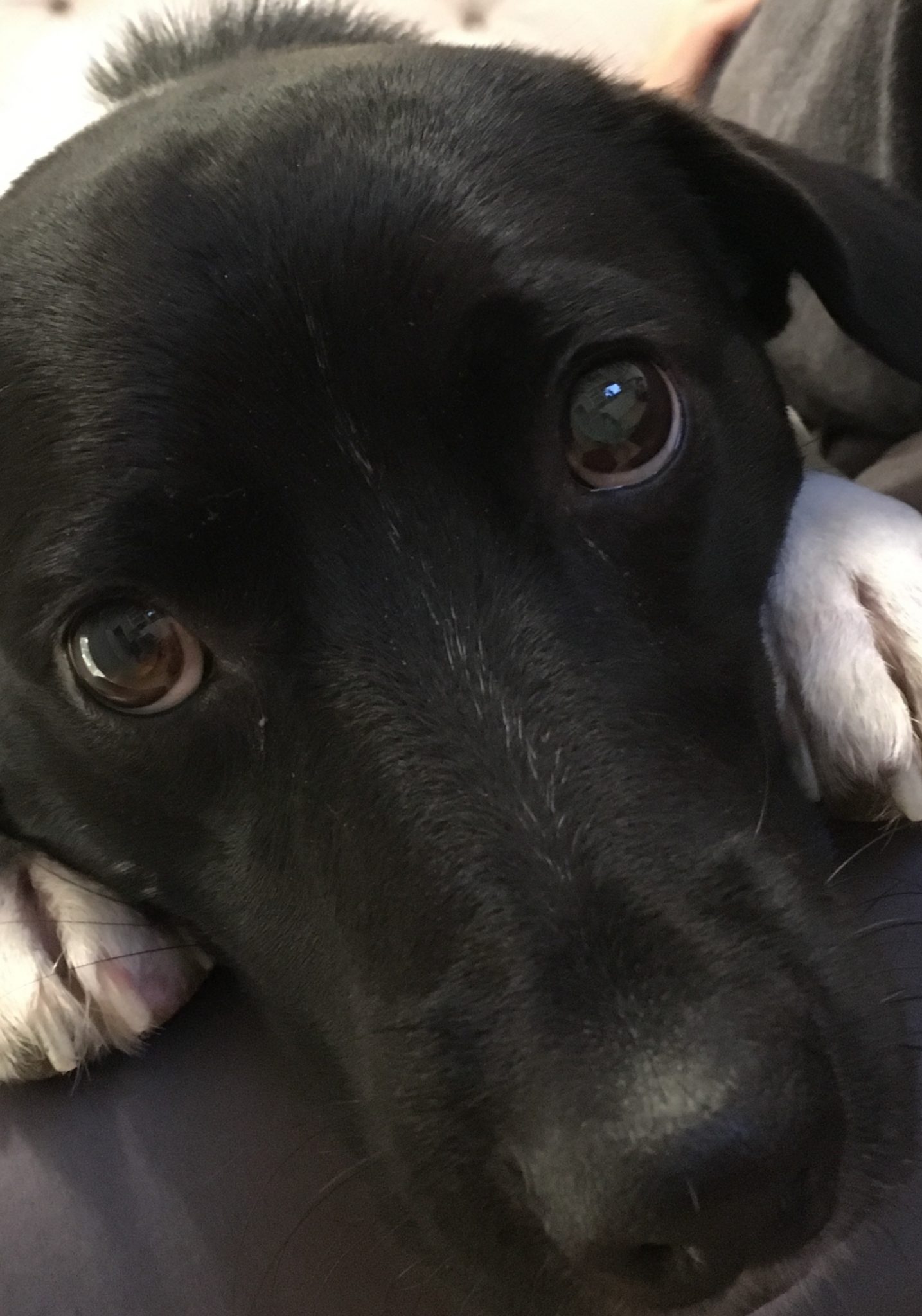 Emergency Chicken Noodle Soup In A Pressure Cooker
Using a pressure cooker
  allows you to make soups, stews, stock, beans, (or anything that usually takes a long time) whenever the mood strikes (or your kid and the dog show up.) Besides the quickness and convenience, the flavors are deeper and richer.
If you don't have a one, make the soup in a big stock pot on the stove top and skim off the foamy stuff that rises to the top. (Eventually, it will stop forming. The more organic the chicken, the less foam.) Don't cook the chicken at a rolling boil, simmer it slowly. I made this soup on the stove top for years. It just takes the better part of an afternoon. Using a pressure cooker means you can knock out simmered-all-day-flavor in a few hours, start to finish.
Chicken Noodle Soup Needs A Whole Chicken
Use a whole chicken. Trust me on this one: we don't know what we don't know about the nutritional profile of soups/stews made from simmering things. Soup making goes back way longer than scientists thought. Meaning: I can't prove it, but there are good things inside the whole chicken besides flavor and you want those good things to end up in your broth. I have tried making this soup with just chicken breasts – once. It's beyond bland.
Let's Tuck Into A Bowl Of Chicken Noodle Soup
Pressure Cooker Chicken Noodle Soup
Cut up a whole chicken into large pieces. Put a little butter in a the bottom of the pressure cooker or a large stock pot and brown a few of the fatty, dark meat pieces, skin side down. Remove the chicken and deglaze the pot with 1/2 cup white wine. Return all the chicken to the pot, add aromatics and enough water (8 - 10) cups to cover. Simmer till chicken is done, skimming foam off the top ~ 1 - 1.5 hours or select 20 minutes on the pressure cooker. Remove cooked chicken and the aromatics. Strain broth if desired. Add new carrots, celery, frozen peas to the broth and cook. While the veggies are cooking, remove chicken meat from the bones. Return chicken meat to the broth. Salt and pepper to taste. Add a few handfuls of fresh spinach to the hot broth. Serve as is, with bread, over noodle, or over rice.
Ingredients
For the chicken broth/meat
3 - 4

pounds

whole Chicken

roughly cut up into large pieces

1

T

butter

1/2

c

white wine

or water

8 - 10

c

water
For the Aromatics/Herbs that will be removed
3

whole

carrots

6 - 8

cloves

garlic

3 - 4

stalks

celery

use the ones with the most leaves

1

bay leaf

1

sprig thyme

2

egg shells, roughly crushed

optional - clarifies broth
For the Veggies that stay in the Soup
2

large carrots

cut into coins

2

cups

frozen peas

2

large celery stalks

sliced as thick as the carrot coins

2

handfuls fresh spinach optional

add when broth is hot, just so it wilts and retains bright green color

1

tsp

Kosher salt

1/2

tsp

ground black pepper
Instructions
For the Broth
Rough chop ingredients for the aromatic/herb pack and tie in a flat cheesecloth bundle if you have cheesecloth. (The cheesecloth bundle simply makes it easier to remove these ingredients from the hot broth.) Some sources say egg shells help clarify the broth and/or add extra calcium ... it's entirely optional.

Select "brown" and heat 1 T butter in the bottom of the stainless steel insert or stock pot. Briefly brown the chicken, skin side down. There probably won't be enough surface area to brown all the pieces at once so choose the fattiest cuts of chicken that have skin. (Thighs, legs, back.) If one batch gets the bottom of your pan covered with brown bits, that's enough.

Remove chicken pieces and set aside. Deglaze with 1/2 cup dry white wine or water. (Have a sturdy spatula ready to scrape all the brown bits off the bottom of the pan after you pour in the white wine and it starts to steam/boil.)

Return all the chicken to the pot.

Layer on the cheesecloth with the veggies/herbs.

Add 7 - 10 cups water - enough liquid to cover the contents of the pot. If you are using a pressure cooker don't fill it more than 2/3rds full.

Select "Stew" repeatedly until it scrolls through to "20 minutes." In a stove top pot, simmer for 1 - 1.5 hours. Skim the foam that floats to the top if you are using the stove top method.

When the pressure cooker comes back to normal pressure, remove the cheesecloth and place it in a wire mesh strainer over a large bowl. Using a spoon or tongs, push the contents of the cheesecloth against the sides of a wire mesh strainer to get out all the juice. Return the juice to the broth and discard the cheesecloth and contents

Remove the chicken from the broth with tongs or by scooping it out with a wire mesh strainer and place chicken into another large bowl. Pour any broth from the chicken pieces back into the pot.

Put the new carrots, celery, and peas into the pressure cooker and select the "steam/veggies" 3-minute cycle. For the stove top, simmer them in the broth until just cooked ~ about 15 minutes.

Pluck the chicken meat off the bones while the veggies are cooking.

When the veggies are cooked, and pressure is reduced, return the chicken meat to the broth and add 2 handfuls of spinach. Let it wilt in the hot broth a few minutes.

Taste the broth and add salt and pepper to your liking. Start with 1/2 tsp ground black pepper and 1 tsp Kosher salt.

Garnish with ground black pepper and whatever fresh herbs you have on hand.

Serve over noodles, bread, rice, or enjoy as is.
Notes
It will take about 2.5 hours total in a pressure cooker because there will be downtime waiting for the pressure to release and there's chopping/browning time. Cook noodles or rice in another pot to serve with the soup.
Does Chicken Noodle Soup Cure a Cold or a Hangover?
In my house, it falls into the "probably helpful, definitely not harmful" category. There's some scientific evidence to support our belief. Chicken noodle soup as an  old wives tale for colds gets dissected in this article. The medical journal Chest has this to say about it. And this data analysis of doctor's visits and soup ordering habits confirms that indeed, people do want chicken noodle soup when they are sick. E-news lists it first in its Top Ten List of Hangover Foods.
*Electric multi-cooker pots combine a pressure cooker, crock pot, rice cooker etc into one programmable device. Mine is this one
. You manipulate time/temperature/pressure by scrolling through presets until you get the combination you want. If you don't seal it correctly, or something scorches the bottom (tomatoes are prone to that) the cooker simply shuts itself off. I am comfortable enough to set it and leave the house now. I would buy it again in a heartbeat.
Leave a comment, share, let me know how it turned out for you!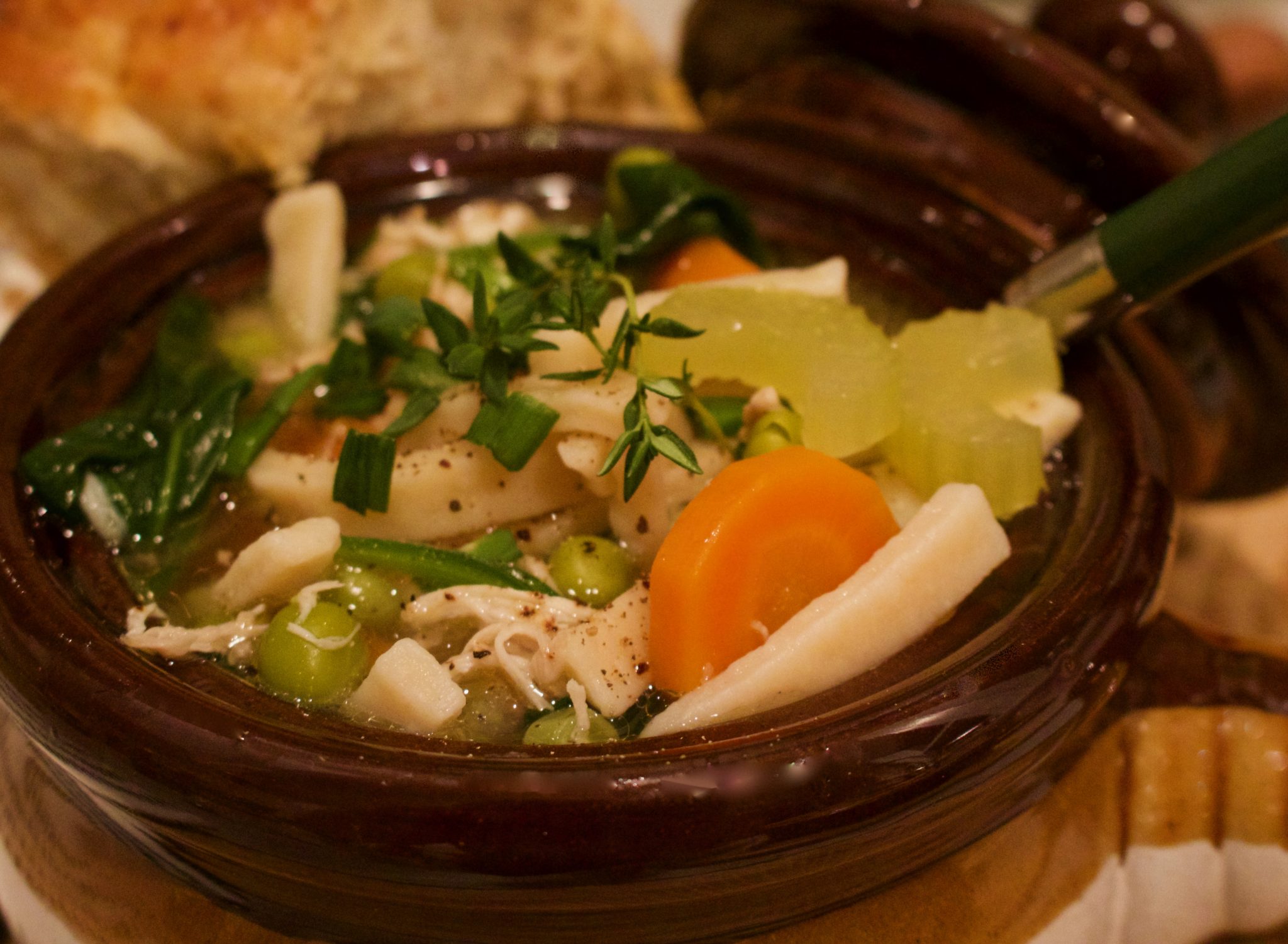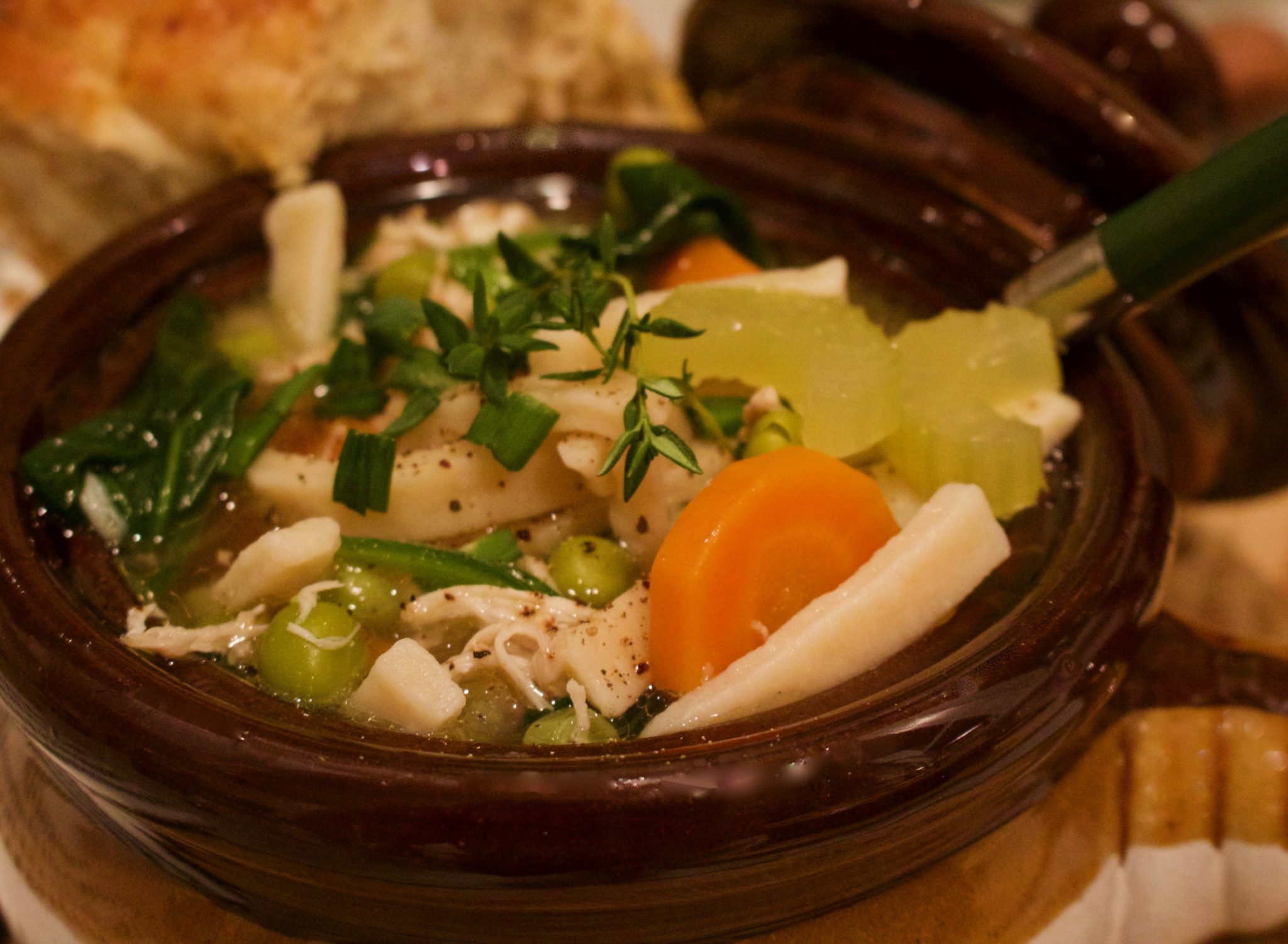 This content uses affiliate links.