Gribiche, (Hard-boiled egg) sauce is robust, tangy, and creamy. This is not a delicate dressing.
This stuff is fer – real.
I discovered the recipe at Bon Appétit, but "Sauce Gribiche" predates the renowned Bon Appétit by quite a few years or centuries … depends on what page Google takes you to.
Is it a sauce or a mayonnaise?
Chez Madelaine has an authoritative history and a recipe for sauce Gribiche. She writes "Mayonnaise is one of those 'mother' type sauces that invites improvisation.  My favorite variation, sauce gribiche, combines sieved hard boiled egg yolks, chopped capers, diced cornichon pickles and fresh herbs with the basic formula of raw yolk, mustard and vinegar.  'Gribiche' is a Dutch word used to describe a foul-tempered wife (biche in French is a female deer). Sound like a slur in English doesn't it?  Perhaps that's why Julia Child chose to call it tartar sauce in volume I of Mastering the Art…"
Taste has a charming story about Sauce Gribiche's history, required culinary know-how, and its particular brand of deliciousness. But instead of making a mayonnaise, their recipe uses mayonnaise instead of olive oil. Hmm. Bottom line: I'm taking BA's word for it that this is Gribiche sauce, and having made it about 8 times in 6 months, I know it's good.
Bon Appetite's recipe is not mayonnaise. There's no attempt to combine things that normally don't combine and we are not sieving egg yolks. It's just olive oil with chopped eggs and flavorings stirred in. Easy peasy.
Treat yourself to this multipurpose flavor bomb. And don't be worried about "it has too much much fat". It's good fat. Your brain is 60% fat. You need fat. You don't need bottled salad dressing with that weird chemical taste.
Low-fat raspberry vinegarette, I'm looking at you …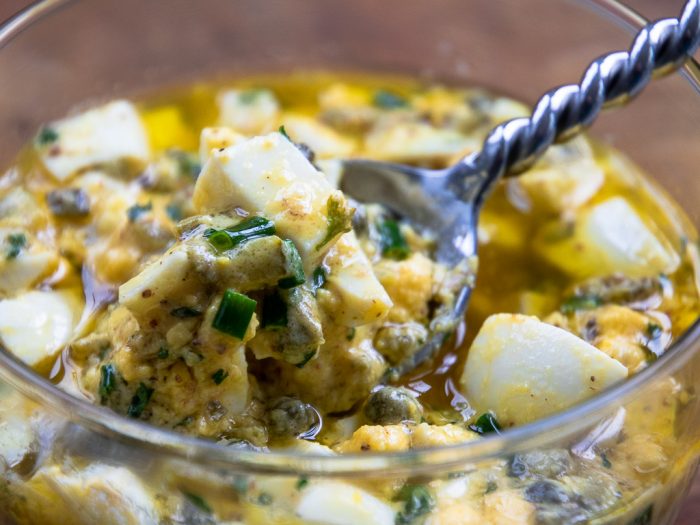 Sauce Gribiche has been around for a while because it tastes great, uses standard ingredients, and is incredibly versatile.
What to know.
The eggs matter. Someone you know is on the chicken bandwagon and is looking to offload some eggs. I encourage you to find that friend, or hey, become that friend. Use eggs from chickens that have normal outside chicken lives where they forage for bugs and worms.
Free Range just means the chickens have a door to access to the outside. There could be hundreds of thousands of chickens stuffed in a giant warehouse with one teeny-tiny door that only a few chickens can get to. And the term only applies to the birds – not the eggs. Yes. It's misleading and it's gross. Write your congresswoman.
The olive oil matters, too. Use something fresh and light that hasn't been sitting in your pantry 5 years.
There is no good substitute for cornichons. I learned this the hard way and have added cornichons to my never-run-out list.
How to use Gribiche Sauce.
Gribiche sauce is particularly tasty with anything that has enough substance to stand up to the robust flavor of the sauce. It pairs well with arugula, steamed or roasted veggies, especially asparagus, and it is at home with most proteins. There is not a wrong way to use it.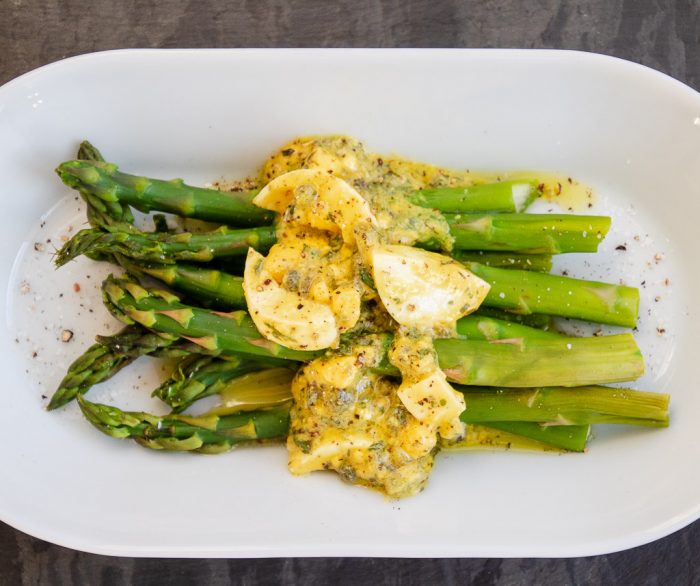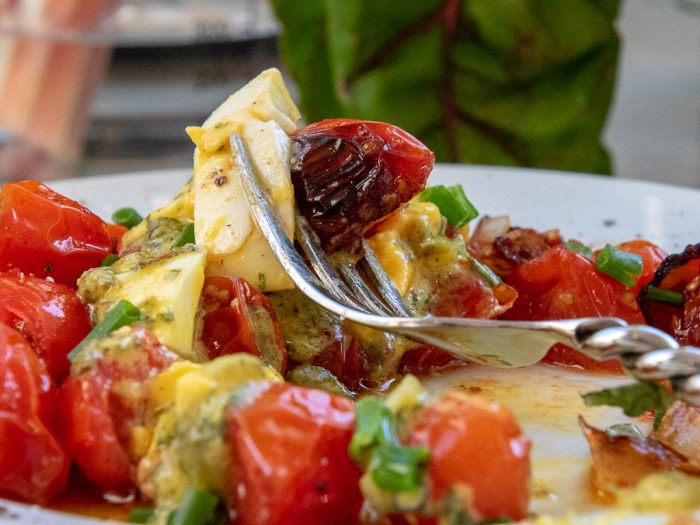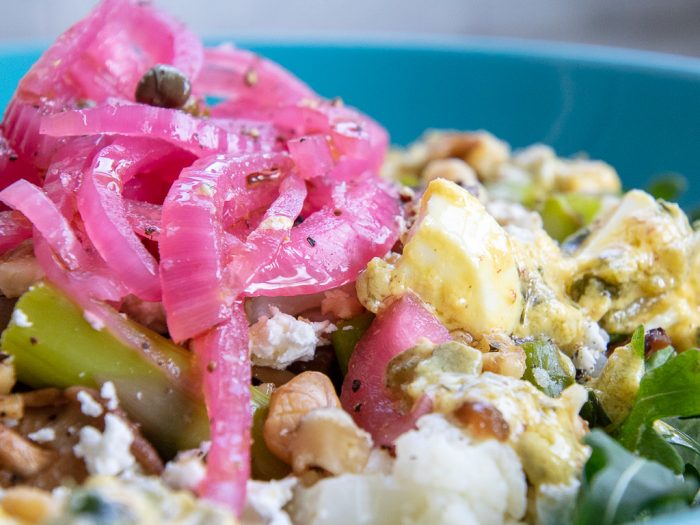 Find the pickled red onion recipe here. And let me tell you: it's a 5-minute recipe that brings your salad to the next level.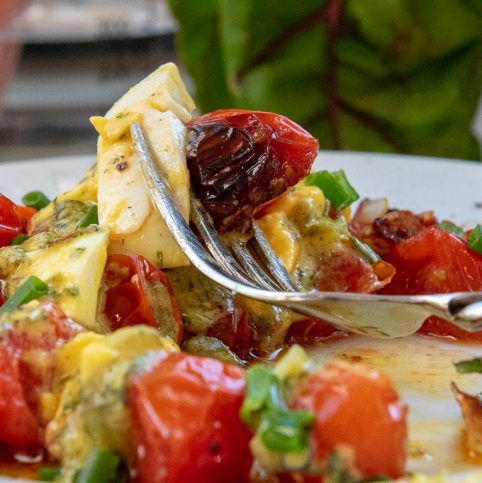 Gribiche Sauce
Make some hard-boiled eggs. Combine the rest of the ingredients, then chop the eggs and gently stir them in. Use the sauce on everything.
Ingredients
6

cornichons, chopped

2

T

white wine vinegar

1

T

capers, drained

chopped if you prefer

1

T

whole grain mustard

which is the brown kind, I've used the smooth yellow kind before

2

T

fresh herbs, chopped

parsley and tarragon are the traditional herbs

Kosher salt to taste

freshly ground pepper to taste

1/3

c

olive oil

3

hard-boiled eggs, roughly chopped
Instructions
In a glass or ceramic bowl, combine everything in order down to the olive oil. Mix well. Then stir in the olive oil.

Gently stir in the fresh herbs. Roughly chop the eggs and gently stir them in. Some of the yolks will crumble and thicken the sauce. That's a good thing. Try to keep the whites chunky.

Cover and chill about 20 minutes. Bring to room temperature before using for maximum flavor. Olive oil will harden in the refrigerator.

Use with steamed asparagus, cauliflower, broccoli, salads, and just about any protein.
Notes
Use 1/2 tsp dried tarragon and 1 tsp dried parsley if you don't have fresh. Dried tarragon is powerful. A little goes a long way.
For more ways to use Gribiche Dressing, check out this link to Bon Appétit and this one to Serious Eats.