This is a delightful and simple chocolate bark dessert. It takes about 15 minutes to make and has an I-know-what-I'm-doing-with-chocolate look about it.
You can use any chocolate and toppings (add-ins) you like. Sweet/tart dried fruit and crunchy nuts are a stellar combination. But really, anything goes.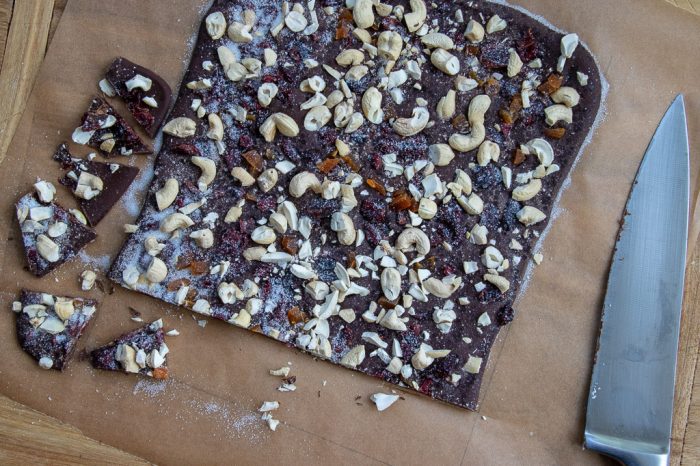 Chocolate Bark is just melting chocolate and sprinkling on the add-ins.
I use semi-sweet chocolate as the "base" mostly because I always have it on hand. It has the right chocolate to sweet ratio, is easy to find in stores and is the go-to chocolate for many dessert recipes.
Plus, semi-sweet chocolate chips are responsible for showing me what a moment of profound gratitude looks and feels like.
The chocolate-chip-shit story.
Do you know the breathtaking horror of shitting yourself? In public? How about shitting yourself in public and not knowing you shit yourself?
Do you know the shame of walking through a parking lot, the lobby of your tennis club staffed with front desk people, up one flight of stairs, across 4 tennis courts, down another flight of stairs, into a locker room and then, only because the locker room has a wall of mirrors and you are alone, and every woman takes a good hard look at herself when no one else is looking and there is a wall of mirrors … you realize something is terribly, terribly wrong.
You aren't necessarily expecting the mirror to tell you "You're the fairest of them all," but you are expecting a tiny "Not bad for a middle-aged mom of two."
Instead, you are dumb-struck by the knee-weakening realization that you are no longer middle-aged. You are so old you have left your house unaware that you shit yourself. The evidence, that you neither felt nor smelled, is dribbled on the back of your legs, a skosh on your right calf, and flung willy-nilly cross the back hem of your tennis skirt.
The world as you know it has ended. Welcome to a new dimension.
For one thing, it's the first time you've felt a kinship with the evil stepmother …
I damn near passed out.
My "let me check myself out gait" turned into a reckless "I gotta get in the bathroom now trot!" I prayed no one would enter the locker room until I figured out:
A) Whether or not this was really happening and,
B) If it was, how should I proceed? It was a conundrum. Could I be trusted with        a problem of this magnitude? I had, after all, left my house unaware of a                      problem of precisely this magnitude.
First, I removed a smear of shit from my calf. I was expecting the consistency and the unmistakable smell of melena – the dark tarry stool characteristic of poop with old blood in it. It has its own special smell, and every healthcare worker recongizes it. This stuff certainly looked like melena but didn't smell like it.
Then I figured it out.
My horror turned to an equal measure of relieved embarrassment when I realized the odorless shit all over me was melted semi-sweet chocolate chips.
And again, I damn near passed out. This time from overwhelming gratitude.
Thank you, Jeeh – Sus! It all made sense.
Before I left home, I had used the bathroom and found myself doing the bare-butt bended knee waddle to the cabinet for toilet paper. I had also draped myself sideways across a giant puffy chair. It was the same chair and the same position I had been in the night before … when I was eating semi-sweet chocolate chips straight out of the bag.
I have deeply loved semi-sweet chocolate chips ever since.
I chuckle at the terror they brought me and enjoy the peace they bring via reminding me of my own superficial frivolousness. It doesn't matter whether or not you look OK for a middle-aged mom of 2. It matters whether or not you are heathly enough to play tennis. And it matters that you know what matters.
But the kitchen-point of this whole story? It takes more patience than heat to melt chocolate.
Here's what else you need to know.
To understand why chocolate gets the grey/white/streaks/powder on it, click these video links. Sugar bloom. Fat bloom. How and why to temper chocolate. If you follow the rule that you are going to eat the chocolate bark on the same day you make it, you can skip the video links above.
The 2 ounces of bittersweet chocolate I used in this recipe did have the grey/dusty bloom on it before I melted it down. I made the bark at night and by the next morning, the "bloom" was back. It does not affect the taste, but it's quite offputting in appearance. If you look closely at the first image, you can see the dark spots surrounded by lighter colored chocolate. I am purposefully not including a close up of the next-day-full-bloom because it's pretty dang unsightly. And this is my blog. No unsightly pics allowed.
Poop stories are fine, though.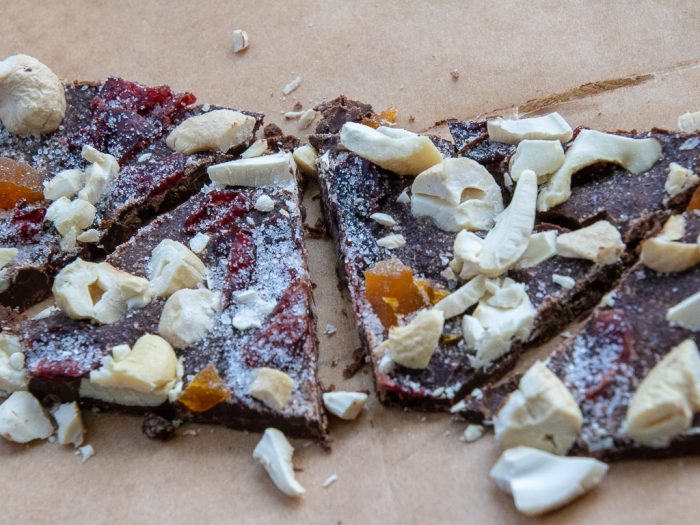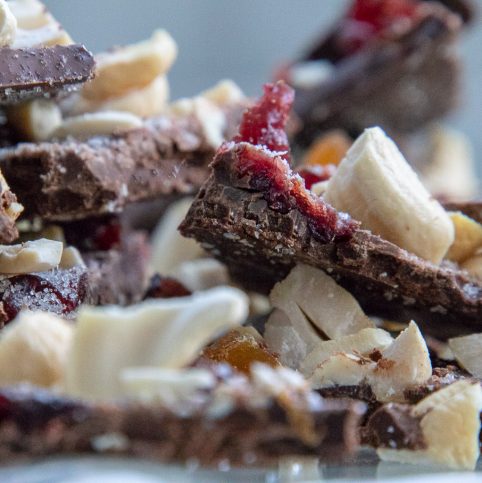 Chocolate Bark - The 15 Minute Make-Ahead Wonder
Prepare your add-ins. Melt the chocolate. Spread the melted chocolate on parchment paper and spirnkle on the add-ins.
Ingredients
16

oz

semi-sweet chocolate

2

oz

bittersweet chocolate

3/4

cup

roasted chopped cashews

1/2

c

chopped dried cranberries

2

T

chopped dried apricots

1

T

sugar

to sprinkle on top

Kosher salt to taste

to sprinkle on top
Instructions
Roast the cashews at 250 for about 10 minutes. While they are roasting prepare the other ingredients.

Chop the dried apricots, dried cranberries, and chocolate.

Melt the chocolate. To use a double boiler, simmer water in a medium saucepan and place a heat resistant bowl on top.

Put the chopped chocolate in the bowl and stir constantly. Don't let the chocolate get too hot, and don't let any water touch the chocolate. Take the chocolate off the heat before all the chunks are melted. Use the heat of the melted chocolate and the heat in the bottom of the bowl to melt the remaining chunks. Remember, chocolate melts at body temperature. You can not recover burned chocolate so go slowly.

Draw a 9 x 10-inch box on a piece of parchment paper and flip the paper over so the pencil is touching the baking sheet and not the chocolate.

When the chocolate is melted, pour it in the center of the pencil square and use a spatula to spread it out to the lines. Don't worry if it is not perfectly flat.

Sprinkle the cashews, apricots, and cranberries on top.

Dust with 1 T sugar and sprinkle with Kosher salt to taste.

Let it sit at room temperature for at least 2 hours. Break or cut into whatever size you want and serve.
Notes
The Kosher salt is listed as optional, but it makes a huge difference and I always use it. But then, chocolate covered pretzels are one of my favorite sweet treats. 
For more chocolate recipes try these brownies with a shiny, crackly top and fudgy inside, this chocolate cake with chocolate icing, or these brownie-cookies. The brownie-cookies are surprisingly easy and a real crowd pleaser, by the way.