OMG! This is the best chocolate chip cookie I've ever had …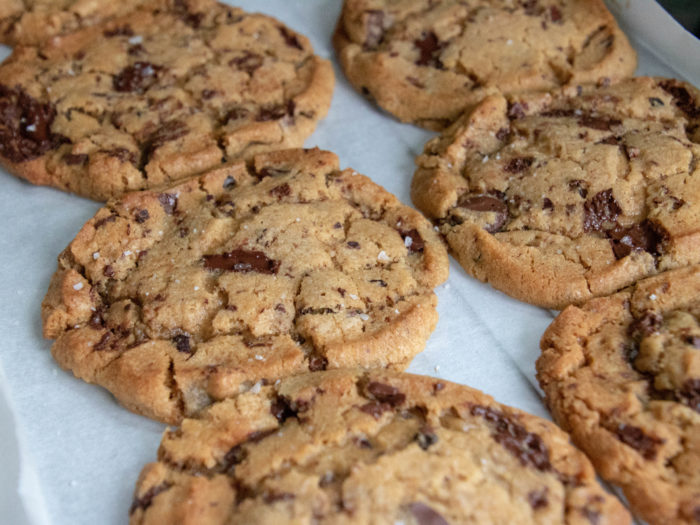 I have to give credit where credit is due. This recipe is an adaptation of Callie Marie's from her book, Callie Marie Bakes. She gets all the credit.
To be clear: Callie makes a perfect cookie. Get her book and make them as she instructs the first time.
All I did is what I always do, which is look at a recipe and say "I'm gonna add this and not use this … because I can, or because it's what I have on hand." I have never had single origin chocolate on hand when making these cookies.
Remember to print off a few copies of the recipe or take a picture of it, because when you bring these cookies to work or your next family gathering, people are going to ask for the recipe.
You will need a big-ass mixer. It might be time to buy a KitchenAid. If the universe has aligned itself and this is the tiny little push you needed to finally get your KitchenAid, BPCs will get a tiny little payout from Amazon. Do it! You need that mixer! LOL.
Cocoa Nibs, Lots of Brown Sugar, and Kosher Salt = Next level, Signature Chocolate Chip Cookie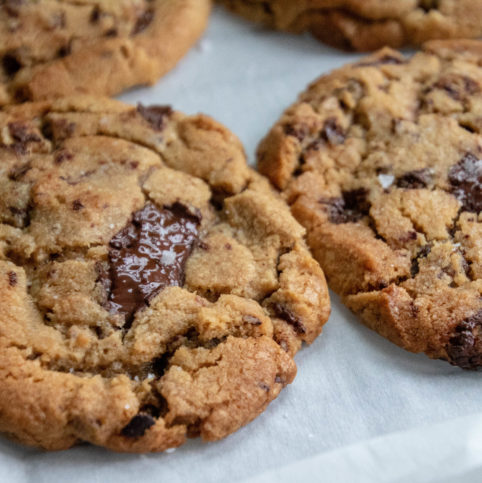 Signature Chocolate Chip Cookies
Gather ingredients and prepare to make a ton of dough. Let the dough chill before you bake it.
Ingredients
2 1/2

cups

cold, unsalted, organic butter, cubed

(5 sticks)

1

cup

granulated sugar

original recipe calls for 2 cups

3 3/4

cups

brown sugar

original recipe calls for 2 3/4 cups

1

T

vanilla extract

2

vanilla beans

not in the original recipe

4

whole

eggs

7

cups

all-purpose flour

1

T

baking powder

1/2

tsp

salt

1/4 – 1/2

tsp

cardamom

not in the original recipe

4 1/2

cups

dark chocolate chips

*see notes

1/2

cup

cocoa nibs

*see notes
Instructions
In the bowl of a stand mixer, cream the cold butter and sugars together until they are pale brown and fluffy. It takes a while, at least 4 minutes, and your mixer will work hard.

Add the vanilla extract and vanilla bean if you are using it. (I almost always increase the amount of vanilla in recipes that have chocolate.)

Add the eggs, one at a time and mix well before adding the next egg.

Mix the salt, baking powder, baking soda, and cardamom (if using) with the flour, then add the flour to the bowl of the mixer.

With the mixer on low speed, mix in the flour until it is barely incorporated. The mixer bowl will be almost overflowing. You won't think it will all fit the first time you make these cookies

Add the chocolate chips/chunks/nibs all at once and mix until they are incorporated. Stop as soon as there are no white flour spots, and the chocolate looks evenly distributed.

Dump the dough onto your counter and divide it into 6 equal balls. You can eyeball this. If you have the perfectionist thing, weigh the balls.

Form each ball into a fat log 8 inches long. Wrap in plastic wrap and chill for at least 30 minutes (overnight is better) before baking. Preheat the oven to 350 now. Freeze the logs you don't intend to bake now.

Line a baking sheet with parchment paper.

Unwrap the chilled log and slice into 8, one-inch slices. Place the discs on a cookie sheet and ever so slightly, sprinkle with Kosher salt.

Bake for 10 – 12 minutes, the edges will be brown, but the center will still be gooey. Sprinkle them again with Kosher salt when they come out of the oven.

If It's winter, put them outside to cool rapidly. Otherwise, drag the parchment paper off the cookie tray and let them cool.
Notes
Callie's recipe calls for 5 cups chocolate chunks. Use any variation of chocolate you have on hand, or you like. Semi-sweet is my default baking chocolate. I reduce the amount of chocolate by 1/2 cup and add 1/2 cup cocoa nibs because I want the hard bite of the nibs. If you use chocolate bars, leave some of the chunks big so, the cookies have large spots of warm chocolate.
Brown sugar has a higher moisture content than granulated sugar, and it makes cookies chewier and puffier. The cookies get better over time. (I think because the brown sugar draws moisture from the environment. I just know the texture and flavor of these cookies get better on day two and day three. They have never lasted until day four.)
My sister, Heidi gave me Calli Marie Bakes last summer, and everything I've made from it is fantastic. Treat yourself and pick up a copy.