Big, fat, soft, sweet, with a warm gooey heart …  these cinnamon rolls are everything you expect in a homemade-with-love calorie bomb/nutritional fail.
But … they are sooooo worth it.
They are inspired by the cinnamon roll recipe in the 1986 edition of the "Betty Crocker Cookbook". Thank you, Betty, you're the best.
Way back in the early 1990's – when people still had bake sales my Betty's cinnamon rolls were best sellers. I made a practice run at home and realized that while Betty had the dough down, she had nowhere near enough cinnamon, sugar, and butter for the innards. Cinnabon was very popular way back then and I knew my buns had to at least come close to their zenith product. Here it is.
You will not be disappointed.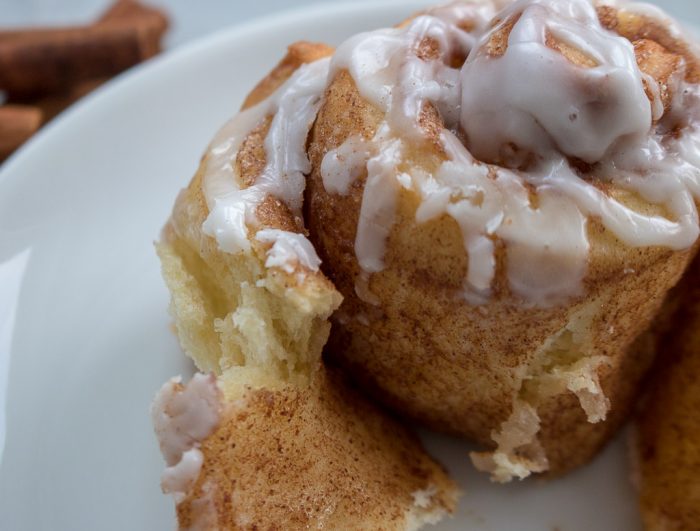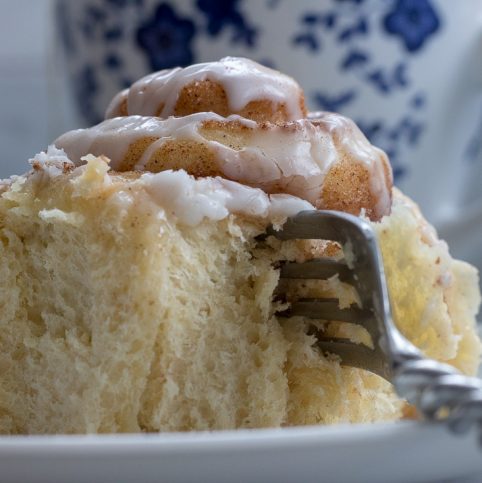 Big Fat Cinnamon Rolls
Accept the challenge of making a sweet dough that needs time to rise, then jump in and do it. Just make that dough. Roll it out, butter it, put massive amounts of sugar and cinnamon on it, roll it into a cylinder, cut the buns and bake them. Drizzle icing on them. Dang. Perfection.
Ingredients
Cinnamon Roll Dough
1

package

active dry yeast

or 1 1/4 tsp

1/2

c

warm water

(105 - 115 degrees)

1/2

c

warm milk

(105 - 115 degrees)

1/3

c

sugar

(67 grams)

1/3

c

room temperature unsalted butter

1

room temperature egg

1

tsp

salt

3 1/2 - 4

c

all-purpose flour

(437 - 500 grams)
Cinnamon and Sugar Filling
1

c

sugar

(200 grams)

2 1/2

T

cinnamon

(combine with 1 cup sugar to sprinkle over the dough.)

1/2

c

melted butter
Glaze
1

c

powdered sugar

1

T

milk

1/2

tsp

vanilla extract
Instructions
Cinnamon Roll Dough
Bring the egg and butter to room temperature.

If you have a stand mixer with the dough attachment, use it. Dissolve the yeast in the warm water in the bowl of the stand mixer. Add the warm milk, sugar, butter, egg, salt, and half the flour.

Mix until smooth. Add almost the rest of the flour and mix gently until you get a big, soft dough ball.

Turn the dough onto a lightly floured surface and knead about 5 minutes. The dough will not be sticky. It will be springy, smooth, and elastic.

Butter a 2 1/2 quart bowl and place the dough in the bowl, turn it buttered side up.

Cover and let rise until doubled in size, about 1 1/2 hours. The dough is ready when an indentation remains.

Punch dough down, divide it in half. Butter a 9 x 13 baking dish.

Sprinkle just a little flour on your counter. Roll each half into a 15 x 9 rectangle. Don't roll off the edge of the dough and don't stretch it. Press/roll with the rolling pin until you get a rectangle.

Brush with half the melted butter and sprinkle with half the cinnamon/sugar mixture.

Roll it up tightly. If it's rolled loosely, the rolls will spring open. (Some people don't mind the opening because it allows the icing to dribble down inside.) Cut into 1 1/2 inch pieces and place them in the buttered baking dish.

Repeat procedure with the other half of the dough.

Let rise until double, about 40 minutes. (You can see that the one in the second row, upper left corner, is going to open up as it bakes.)

Bake until the tops are just golden brown. (Works better in my oven without the fan on.) If you are really going for it, brush them with some additional melted butter while they are still in the oven.
Glaze
Mix powdered sugar, milk, and vanilla in a bowl until a thick, but dripping consistency. Dribble over slightly warm cinnamon rolls.
Notes
Use warm water for the yeast - not hot. No need to measure the temperature. If the water feels comfortably warm - like what is good for a baby bottle or toddler's sippy cup, it's fine.