This recipe was designed to meet the following criteria.
Portable
Filling
Nutritious
Adaptable to what's on hand
Easy
Vegan
Gluten-free
Why vegan and gluten-free if I'm neither one? It's all in the name of scientific experimentation. Turns out you can make something quite tasty and nutritious without using anything from an animal or a powder masquerading as something Mother Nature came up with.
Here's what I've learned.
Dates, figs, black or golden raisins are interchangeable. Their job is to add sweetness and stickiness. Craisins work, but add a distinctive sweet/sour flavor.
Oats are better if there is some liquid in the recipe and baking  gives them a deeper, more "finished" flavor.
Pumpkin seeds work really well in recipes like this. They are the perfect size and have a unique nutty sweetness.
If you mix the ingredients by hand, it might be more of a granola/trail mix than an actual bar. No worries. Call it what it is, serve it in a dish, sprinkle it on yogurt, or bring a baggie full of it to share on your next hike.
If you overmix the ingredients in a food processor in an effort to get the final product to stick together better, you end up with a very unattractive spongy bread-like thing with an off-putting texture but good flavor.
If you are a believer in protein powders, add some and let me know how it turns it.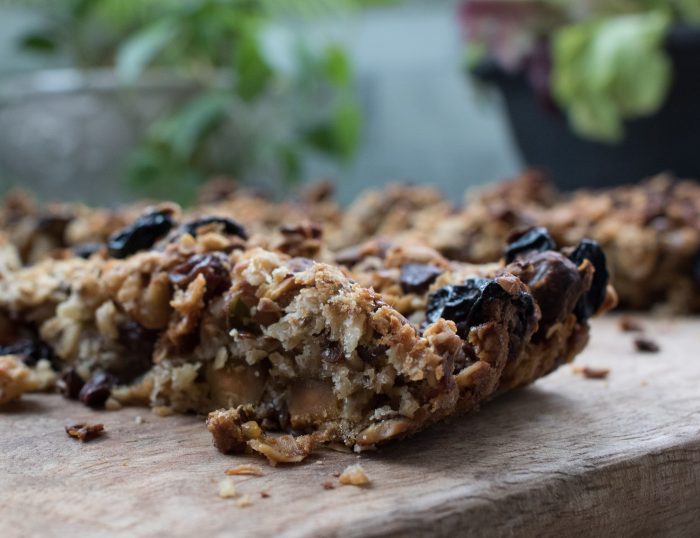 Breakfast Bars
Ingredients
1 1/2

c

quick cooking oats

1/2

c

raisins

I used a combination of golden and brown

1/2

c

chopped nuts

I used a combination of pistachios and walnuts (that's what I had on hand)

1/2

c

applesauce

1/4

c

almond milk

1/4

c

maple syrup

1/4

c

pumpkin seeds

3

T

liquid coconut oil

1

T

chia seeds

soaked in the almond milk and maple syrup for about 10 minutes

1

T

flax seeds

optional

1

T + 1 tsp

cacao nibs

optional

1/4

tsp

Kosher salt

optional

2

tsp

lemon juice

optional
Instructions
Preheat the oven to 375 and prepare an 8 x 8 baking dish by lining it with parchment paper. (If you crumble the parchment paper before putting it in the dish, it holds its shape better. Secure it to the sides of the dish with office clips designed to hold thick document stacks together. Thank you, Martha Stewart, for that idea.)

If you are using the 1 T chia seeds, combine the 1/4 c maple syrup and 1/4 c almond milk and let the chia seeds soak while you measure the rest of the ingredients. (Let them soak about 10 minutes.)

Combine everything in a bowl then press the mixture into the prepared 8 x 8 baking dish.

Bake at 375 for 35 minutes. Let cool completely before cutting. Store in the refrigerator. It sticks together in bars the longer it rests in the refrigerator.
Notes
This smells really good while it's cooking. I wish I had added cinnamon and/or nutmeg to it. Shredded coconut would be good, too. And, I think the amount of cocoa nibs could be increased substantially.