Jump to Recipe
Print Recipe
A Healthy Muffin – One That Even Goes Bad
I have a confession. I'm suspicious of muffins. But it's not the muffin's fault. It's that so many agencies (bakeries, restaurants, airports, Pillsbury, Costco ….) have used muffins as a vehicle for nutritional and calorie sabotage. My Fitness Pal says the Kirkland brand of Costco blueberry muffin has 612 calories. Wait, what? 612?
Authority Nutrition tells me if I want to maintain my weight I should eat 1720 calories a day and if I want to "lose weight fast" I should go down to about 1100.
Either way, I need 612 calories from a muffin like I need to pursue a competitive eating career.
And about the "going bad" thing –
Real food spoils.
My homemade bread lasts 3 days, max when it sits on the counter. Wonder bread? I've found half loaves 3 weeks later and they look and smell fine. This is not a good thing. It's creepy.
It's been a long time since Costco muffins have graced my house, but even so: I've never seen one grow mold. I've seen them get sticky, mushy, and somehow greasier, but no mold. If fungus won't eat the Costco muffin neither should you. Eat your own muffins.
My work peeps taste-tested these: they were gone in about 20 minutes. There's no packaged muffin mix, no trans fats – nothing but real food from Mother Earth.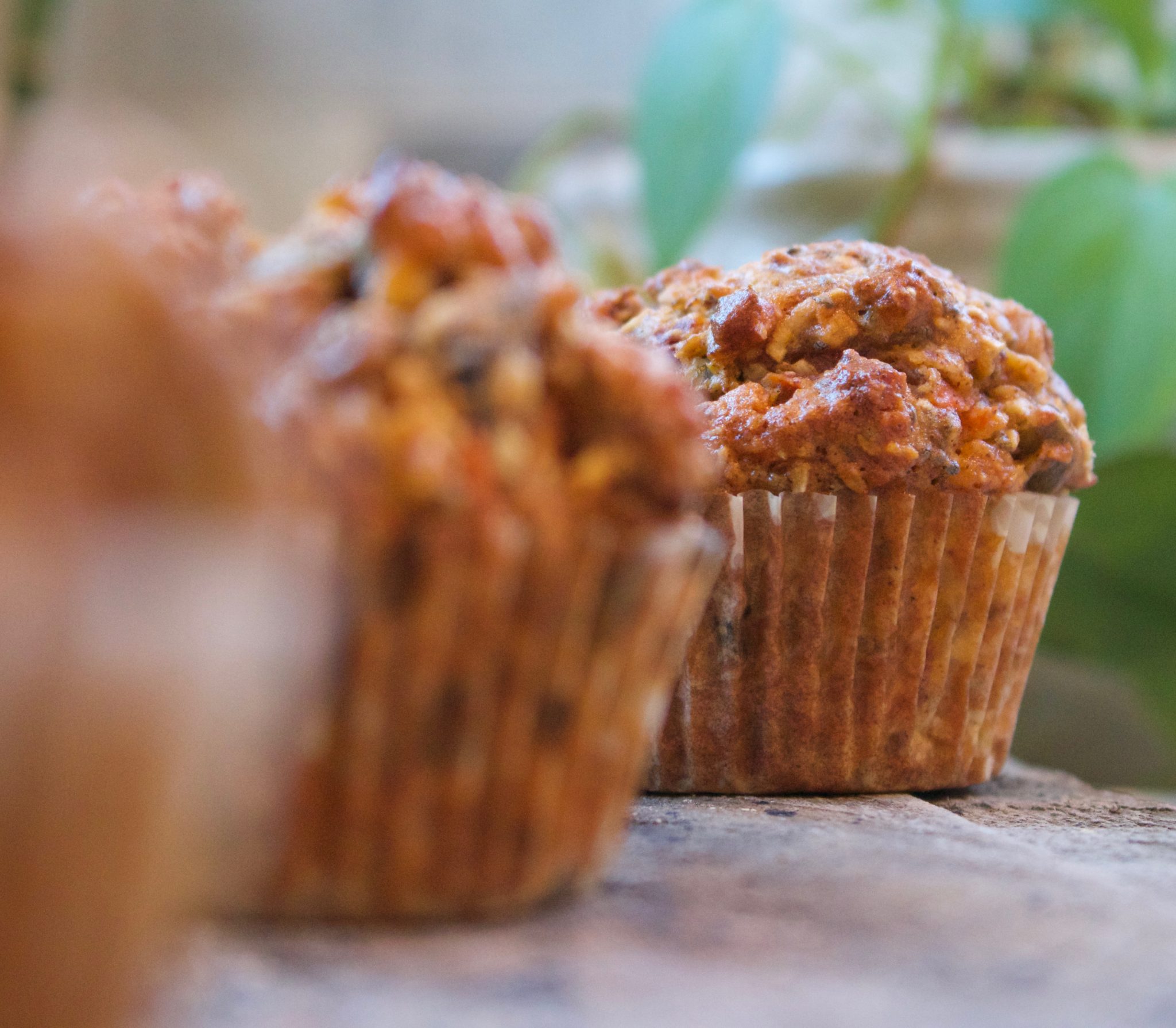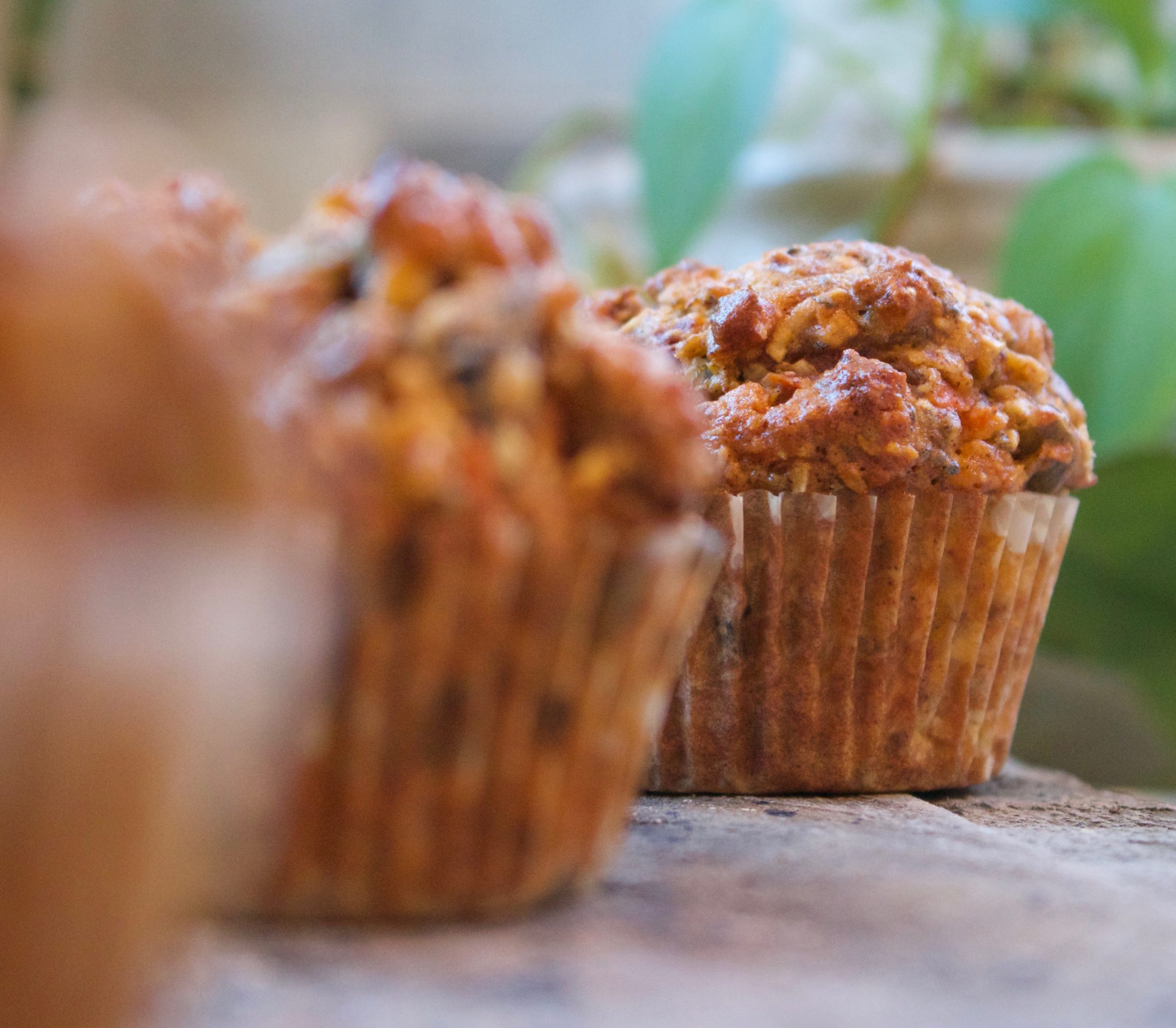 These Muffins Are Portable Energy Bars
Muffins are really unit-dose quick-breads which mean baking powder and baking soda make them rise instead of yeast. You have to get them in the oven quickly after you mix the wet and the dry ingredients because the chemicals start doing their thing right away. With this particular muffin recipe, not much rising will happen in the oven. How full you fill the muffin tin is about how they will come out of the oven. The flour, oats, and bran cereal provide more of a support system to hold all the healthy add-ins. These darling bundles of goodness are soft and moist and predictably chewier than a muffin made with tons of white flour, butter, and oil. Do not expect a cake-like interior.
But nutritious, delicious, filling, portable, full of heart-healthy fats, and no sugar crash? Yes. These muffins are all that.
They'll Go Bad, So Store Them Correctly
To store them in the freezer, wrap each one in plastic then put them in a ziplock bag or an airtight container. Defrost overnight in the fridge or nuke gently the next day. To store them on the counter or refrigerator, layer a paper towel under and over them in the container. The moisture in muffins is what makes them sticky after a few days; the paper towel gives the moisture somewhere to go.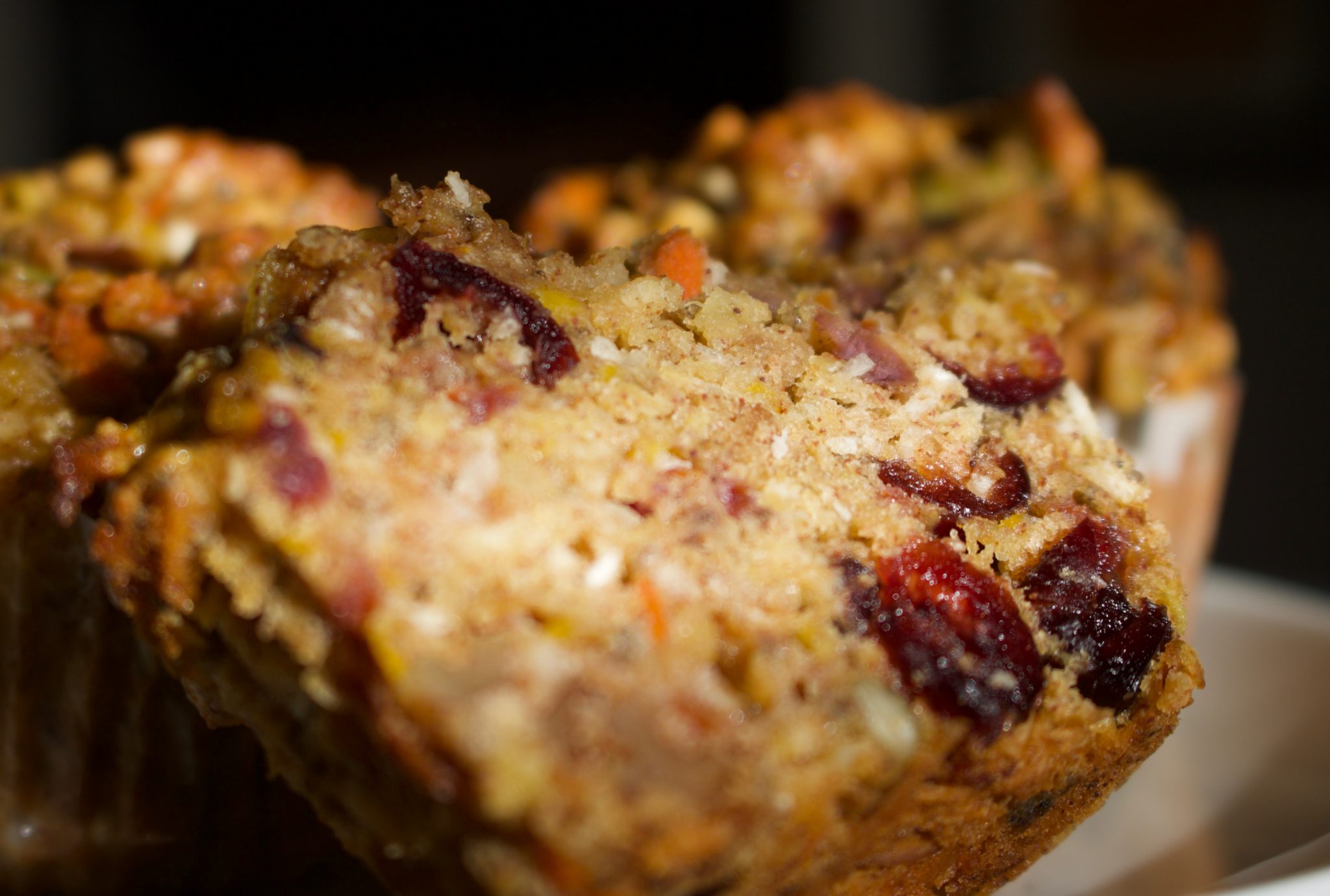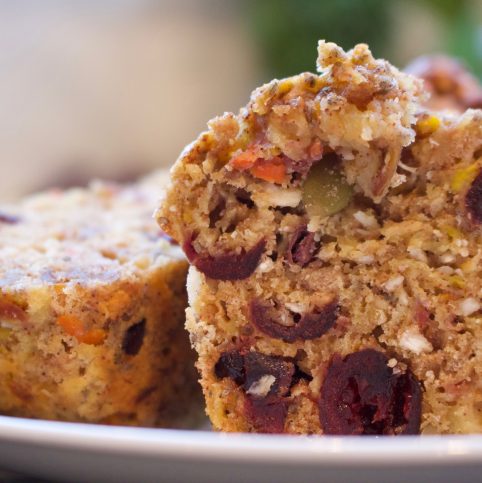 Grab and Go Muffins
Combine the dry ingredients, stir in the "add-in" ingredients to the dry mixture, combine the wet ingredients in a separate bowl. Stir the wet ingredients into the dry. Fill muffin tins and bake at 350 for 30 - 40 minutes.
Ingredients
1 1/2

c

all-purpose or multi-grain flour*

See notes

1

c

sugar

1/2

c

quick-cooking oats

totally optional, see notes

1/2

c

grape-nuts cereal

totally optional, see notes

2 1/4

tsp

baking powder

1/2

tsp

salt

1.3

T

cinnamon

(1 T plus 1 tsp)
Add-ins
1/2

c

shredded coconut

1/2

c

dried cranberries

1/2

c

chopped dried figs (about 6)

1/2

c

chopped walnuts

or chopped pecans

1/2

c

pumpkin seeds

1/4

c

chia seeds
The Wet Ingredients
3

whole

eggs

2

c

grated carrots

about 3 medium, don't use store-bought grated ones, they never get soft

1

apple, grated

2/3

c

applesauce

1

8 oz

can pineapple chunks, drained

chopped smaller if you want

1

tsp

vanilla extract or scrapings of one vanilla bean

optional
Instructions
Preheat oven to 350 and prepare muffin tins with liners. Spray with cooking spray.

Combine the flour, sugar, quick-cooking oats, baking powder, salt, and cinnamon in a large bowl.

Put the add-ins into the dry ingredients and combine well. It's going to be frighteningly thick.

Thoroughly combine the wet ingredients.

Stir the wet stuff into the dry stuff. It will be even more frighteningly thick and sturdy. Keep going until everything is combined and there are no hidden "pockets" of dry ingredients at the bottom of the bowl.

Spoon into about 15 prepared muffin tins. Fill them to the brim or even a little more.

Bake at 350 for 30 - 40 minutes. Until a toothpick inserted deep into the middle of a muffin comes out clean.
Notes
The original recipe called for 2 cups multi-grain flour. I decreased the flour by 1/2 cup and used 1/2 cup quick cooking oats simply because I am always looking for a way to decrease the gluten load and increase fiber. (I'm not afraid of gluten. I am afraid of a lifetime of exposure to processed foods/ingredients - and the other crap that "travels" with gluten.) I threw in the grape-nuts cereal to increase the fiber, too. It's an extra. Don't buy a box just to make these muffins.
You can change these muffins around for what you have on hand. Use 1/2 cup dried raisins instead of cranberries, 2/3 cup oil instead of 2/3 cup applesauce. Add 1/4 cup hemp seeds and/or use flax seeds. Increase or decrease the cinnamon.
Wrap them individually in plastic, put them in a ziplock baggie and freeze. 15 healthy homemade breakfasts for one cooking event is a good trade in terms of time and mental energy. 
(The nutritional data counts flax seeds instead of chia seeds because the app didn't know what chia seeds were.)
Shout out to my good friend, JU, who gave me the recipe to play with. Thanks, it's a winner!
For more on muffins/how to get big fat muffins at home, read this.