Matcha powder is ground up green tea leaves. It's earthy, fresh, a little grassy and just barely sweet. Since it's ground up tea leaves instead of the actual leaves, it's stronger, both flavor and caffeine-wise than the innocent powder appears to be.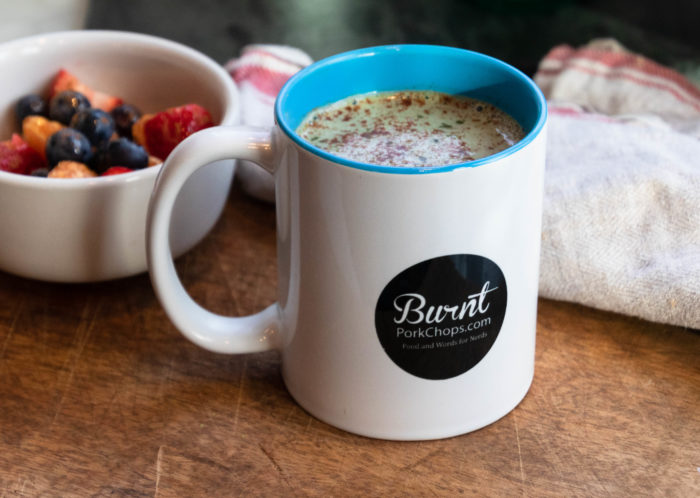 Trust me on this one: if you go overboard (say, a tablespoon instead of a tsp per serving, you will know it.) If you are caffeine sensitive, this is not an afternoon drink – this is a morning, clear-your-head-get-focused-and-create drink. Learned this the hard way. 😀
It's a nice break from coffee
Matcha has polyphenols, antioxidants, catechins, and of course, caffeine. Catechins are associated with lower blood pressure and perhaps lowering your cholesterol. Polyphenols and antioxidants have a reputation for helping to lower inflammation and perhaps fighting cancer cells. I'm not telling you matcha is going to fix a crummy diet and sedentary lifestyle (sitting is the new smoking), I'm telling you the powder isn't going to hurt you and it might be good for you.
Plus, it's such a pretty green … and it just smells like it's good for you.
Matcha Latte
Heat a few ounces of water and honey in the microwave, dissolve your "dose" of matcha powder in the water/honey mixture, then add hot milk of any source. Stir and enjoy.
Ingredients
2

oz

water

heated in the microwave to almost boiling

1 – 2

tsp

honey

use local honey if you have it

1 – 2

tsp

matcha powder

6 – 8

oz

hot milk

any source. Macadamia nut milk is particularly good for this
Instructions
Heat the water and honey, dissolve the matcha powder in the hot water.

Heat whatever milk you want and add it to the water/honey/matcha mixture.
Notes
Try adding some ground cinnamon or chai spice. Almond and vanilla go well with this, too. For a cool drink, don't heat the milk, and serve it over ice.
If you need matcha powder to try this recipe, click to Amazon through BurntPorkChops and they'll send a few pennies my way. Thanks!