According to some people I live with, nothing beats chocolate except chocolate with raspberries. If you have some of those people in your life, here's how to make them happy.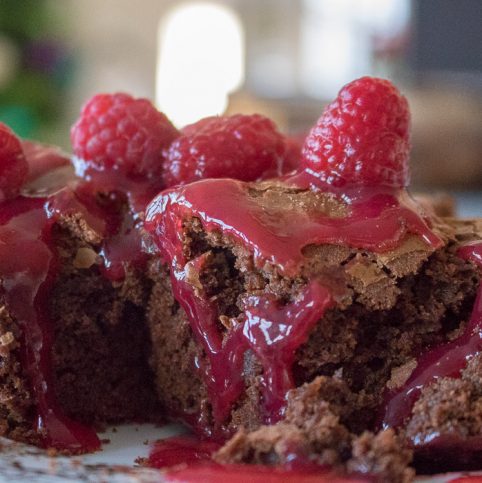 Raspberry Sauce
Boil raspberries in sugar water, blitz with an immersion blender, strain if you want. Done.
Ingredients
9

oz

fresh raspberries

2/3

c

sugar

2/3

c

water

1 1/2

tsp

cornstarch
Instructions
Add all sugar, water, and raspberries to a small saucepan. Bring to a boil, stir constantly and mash the berries with the back of your spoon.

Sustain a low-medium boil for 10 minutes. The mixture will turn dark red and thick.

Blitz with an immersion blender. Allow the mixture to cool a little.

Stir in the cornstarch and whisk briskly to dissolve completely. Return to heat and bring the sauce back to a boil, stirring constantly. It will thicken when it boils, cook another minute or so.

If desired, strain through a wire mesh strainer to remove raspberry seeds. Recipe yields about 1 cup sauce.

Store covered in the refrigerator.
Try it on this brownies, cheesecake or this chocolate cake. Some would say even this lemon tart could benefit from it.