My daughter is 5'9″ and still youthfully, effortlessly lean. It was deep in the Midwestern Winter and she was going out. She wore black booties, opaque black tights, a black mini, black cami, black sheer shirt, and a cropped, feminine, leather jacket with a bad-girl edge. Her wavy, chocolate brown hair, perfectly arched brows, neutral smokey eye and red lip made her look like New York City. She was headed to a small town on the Kansas/Missouri border, known for quaint antique stores and … wait for it … crafting.
For a mom thinking "Ohhhh …. S*%t." I played cool and casually said,  "T – you live in the Midwest. Everybody there will be in jeans and a flannel shirt."
"I know. I like a red lip. And I like black"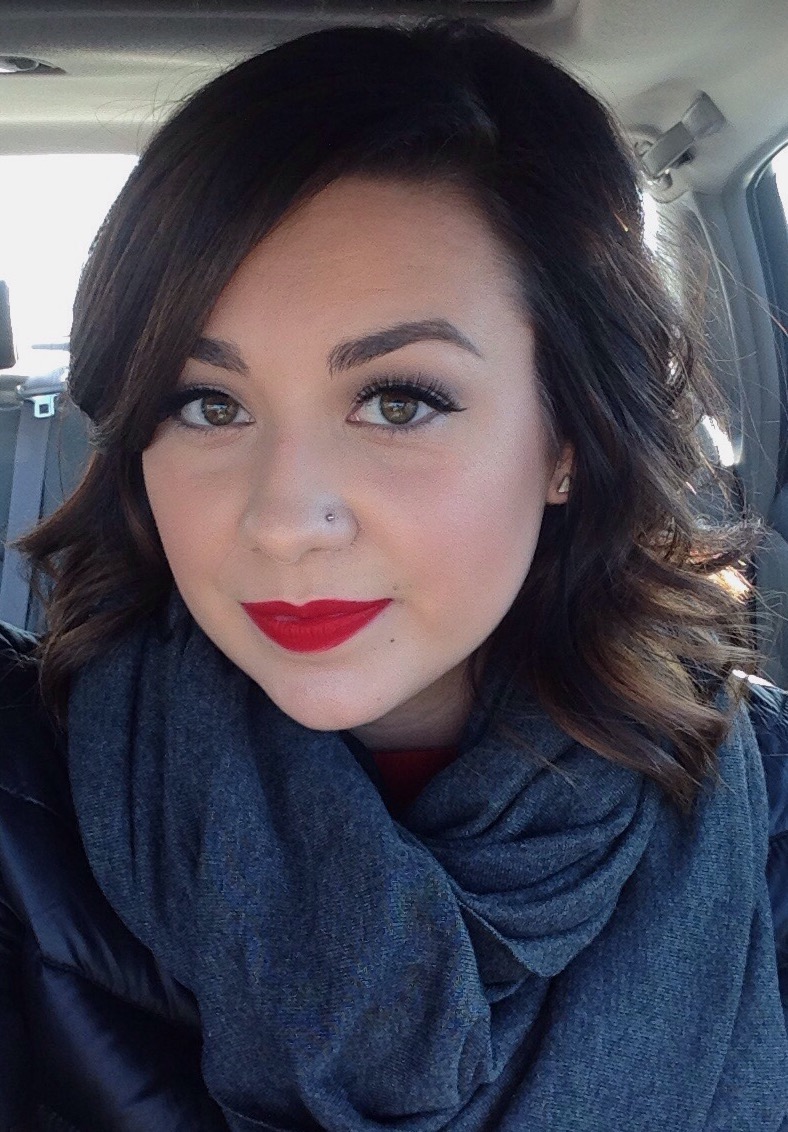 She said it with the same inflection you would say "the sky is blue."  Not much tone when stating the obvious.
Clearly, she didn't understand what devastation is wrought when beauty, booze, guys, mean girls and youth collide.
There was a lot going on for me at that moment … Give her advice, make her change clothes, tone down the red, was I squashing her, helping her, teaching her the world is scary, telling her I could only love her if she were different? Why was she doing something that was going to make me worry all night?
It also charmed, delighted and deeply satisfied me. I loved that she still surprised me.
So I faked peace and kissed her goodbye. I hoped for no drama or devastation. Just a quiet night at a bar in a small town.
The next day she broke into her cabbage patch grin and said, "Well, you were right, it was all jeans and flannel shirts on both the guys and the girls. I was the only one in all black." She got an embarrassed flush and with bemused wonderment said, "At one point I was standing on a landing where the steps turned and a guy actually kind of stumbled down a few right in front of me." I didn't understand. I was waiting for her to say she helped him, or he got hurt or something …
"Mom, he was just looking at me so hard he didn't realize the steps were curving."
I knew a lot could have gone wrong that night, but a guy falling down the steps for looking at her was not on my radar screen. Perhaps I had not worried enough.
No matter how old your children are, letting them do a thing you are personally afraid of, or makes you fear for them, is hard. As a parent, you will just have to get over that.
We have a rule in our house: everyone has to carry their own baggage. Even the parents.
My little toddler grown woman has a nose ring, several tattoos, and lives in a studio apartment in Seattle. In her mid-twenties, she still provides me the unexpected joys of learning who she is – beyond smart, brave, creative, innocent, kind. I still worry and I'm still afraid for her. So it's still hard.
When T moved 1,800 miles away to a city she barely had any contacts in, without a place to live and everything she needed in 2 suitcases, I played cool again. I wanted her happiness more than I wanted her at home. But I did point out, "T, I think Seattle is full of hiking outdoorsy people and you're a girl who likes a red lip." In the neutral tone of "the sky is blue" she said, "Yeah, I know. It'll be OK. And if it's not, I'll just come back here … well, not here, but you know, somewhere …"
Just so you know, I wrote this on a plane to Seattle. It's my third trip.