Jump to recipe!
If Caprese Salad and Panzanella (Tuscan Bread and Tomato Salad) had a baby, this bread salad recipe would be it. I was soaking up the tomato/olive oil juice from a simple Caprese salad with a piece of homemade bread when it dawned on me that the bread bite was a very good bite indeed.
The bread was doughy and absorbed the thin mixture of tomato juice and olive oil. I started cutting up the tomatoes and cheese and tearing off bread bits, mixing and stirring – like you do taco salad.  (Maybe here is where I admit my favorite way to eat a Subway sandwich is to cut it up into a bowl and toss extra vinegar on it?) Anyway, it was not a far leap to know that Basil Pesto Caprese Bread Salad was going to become an actual recipe.
Caprese salad is one of Summer's/Italy's most delightful gifts.
It's simple, filling, nutritious, and needs nothing but quality ingredients (fresh mozzarella, tomatoes, basil, olive oil, salt, and pepper). People add basil pesto or balsamic vinegar to Caprese salad all the time, but purists say that's a bad idea – that true Caprese salad hinges on the light, yet intense flavors of fresh ingredients. To each his own, I think.
Everyone agrees Caprese salad is not a thing you make any time of year except summer. It is summer flavors at their peak. 
Basil Pesto is also one of Summer's/Italy's most delightful gifts.
You can get away with making basil pesto in the winter, but basil is a summer herb … Ingredient-wise, we are still celebrating summer with this bread salad.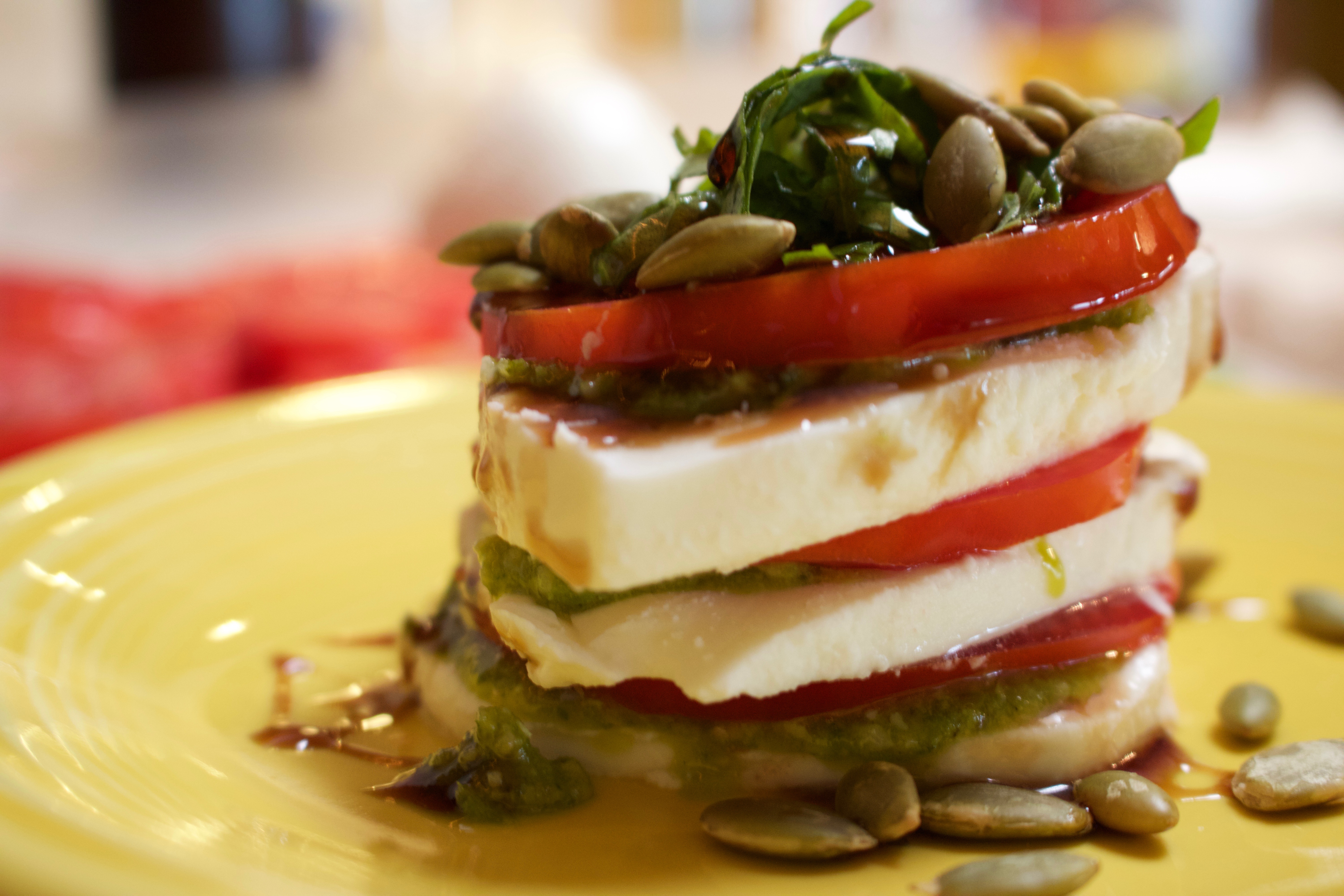 Basil Pesto Caprese Bread Salad: How to transition from Summer to Fall
If you have mentally moved on to fall and just can't muster for another fresh tomato dish, remember, bread is in the title. You will want your home smelling like fresh bread when fall comes. And since there's so little actual cooking involved in this salad, you can use it as an opportunity to step into the world of homemade bread!
Maybe you are worried about the carbs in this recipe. That's a legitimate concern. Bread plays a starring role. There're carbs here. If you are like my nephew, Christopher, who winsomely says
Aunt Joe, A meal without carbs is like a night without stars…
Then you are in the right place.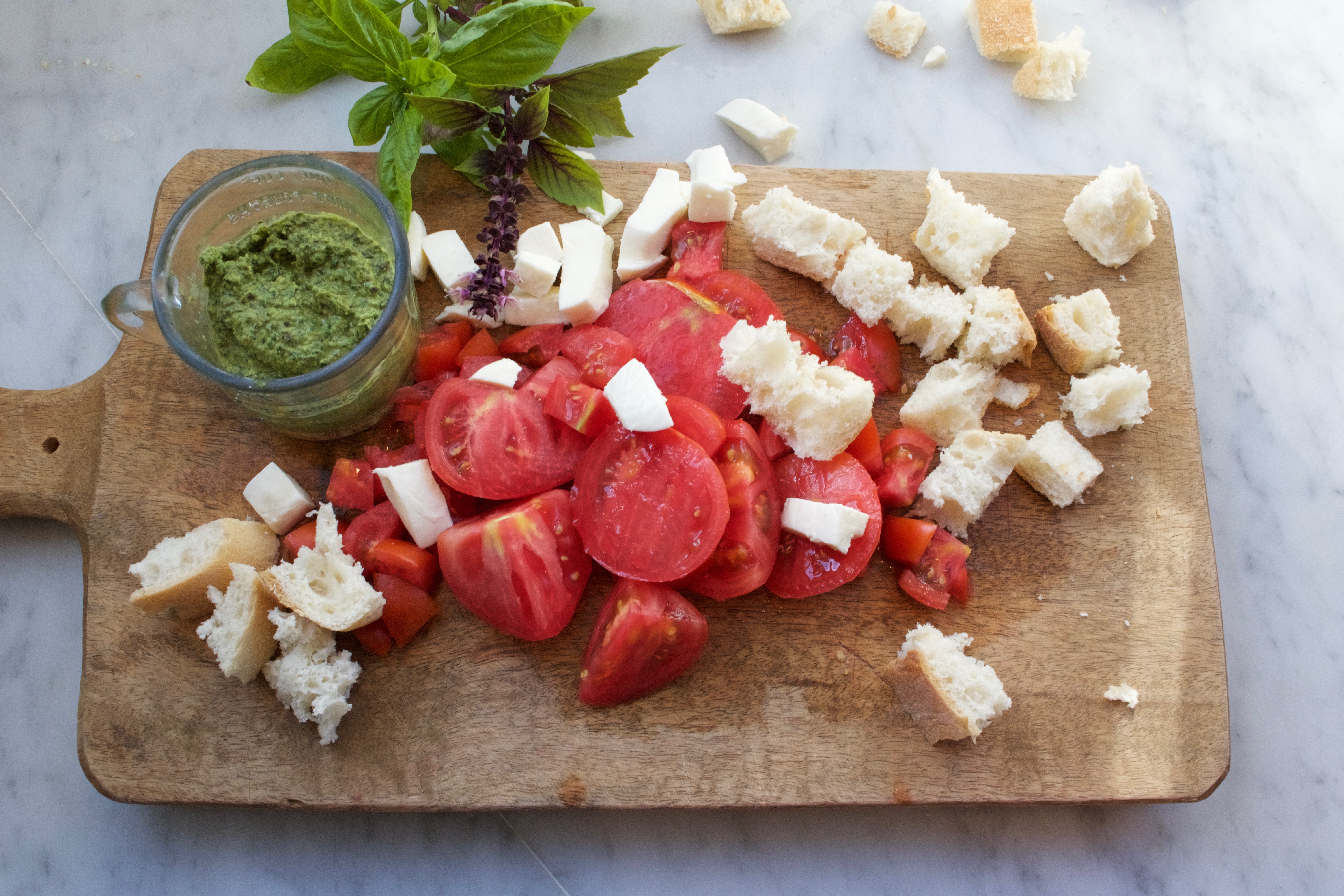 Honestly, use whatever bread works for you. Many people prefer day-old or almost stale bread when making Panzanella salad since the dressing is thinner – just olive oil and vinegar. Some recipes call for cutting the bread into cubes and dry toasting it in a skillet to make it crouton-like. If I were serving it to a group, I would probably toast the bread because toasted bread holds up longer. But personally, I like chewy, doughy bread – and one less step is one less step – a small but useful victory. No toasting for me.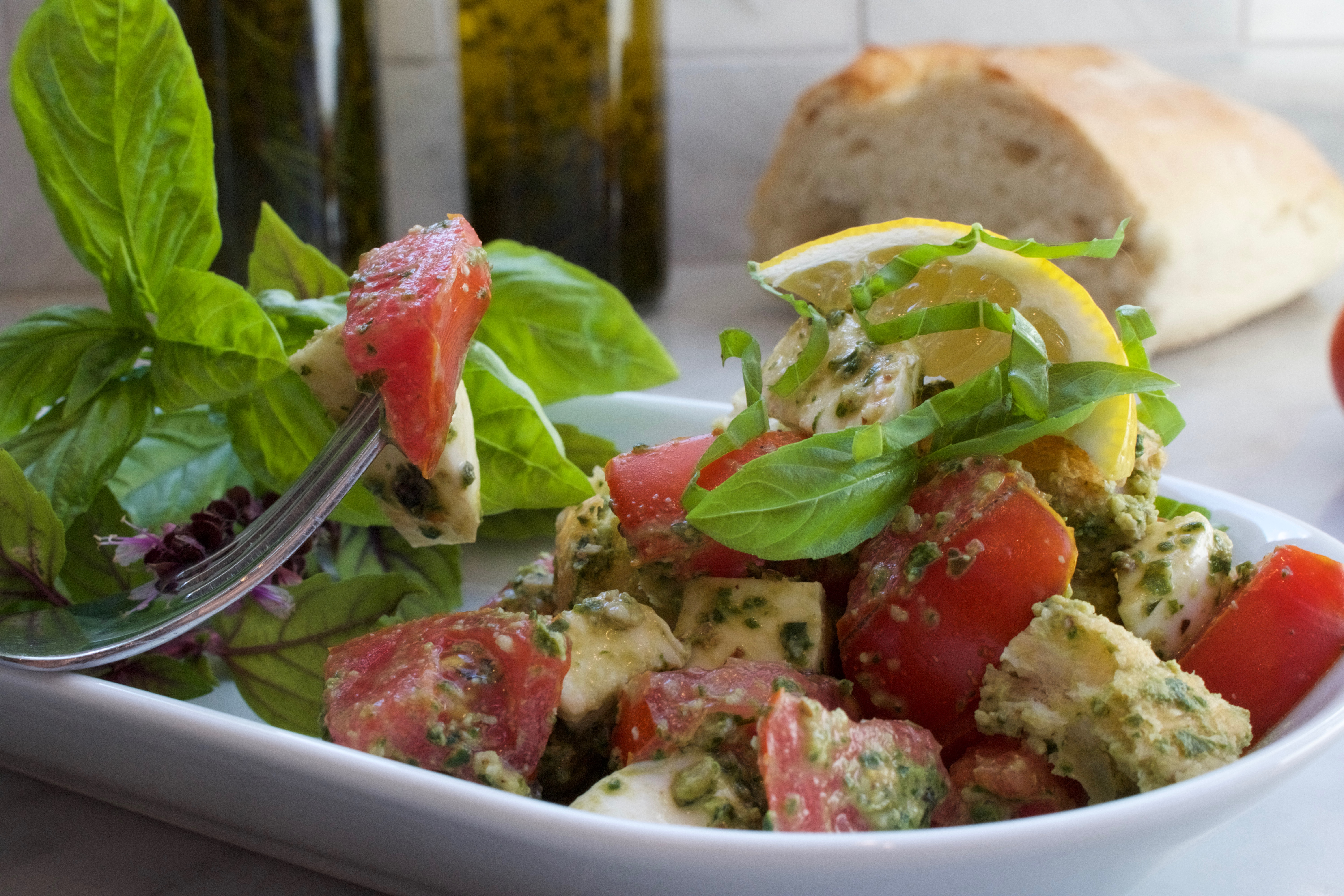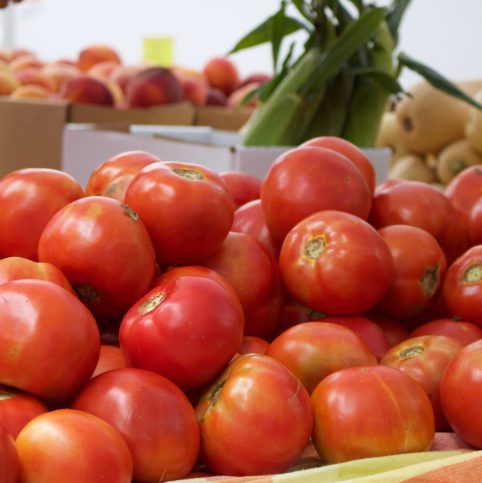 Basil Pesto Bread and Tomato Salad
Put everything for the pesto in a food processor or blender and turn it into a paste. Skip toasting the nuts if you want. The salad ratios are guidelines. Chop the salad ingredients and dress it with the pesto.
Ingredients
For the Pesto
2

cups

loosely packed fresh basil leaves

2

cups

loosely packed fresh baby spinach leaves

1/2 - 3/4

cup

toasted nuts

I used some whole pecan halves and walnut halves. Toasting yields a richer flavor. It is an optional step.

1/2

cup

olive oil

1/2 - 3/4

cup

freshly shredded Parmesan

2 - 3

cloves

garlic

~ 1 T minced garlic

1

whole

lemon, juiced

optional

2

tsp

lemon zest

optional

1/2

T

sugar

optional

1/2

tsp

kosher salt
For the Salad
2

cups

chopped tomatoes

2

cups

cubed bread

1/2

cup

chopped fresh mozzarella

1/4

cup

basil pesto

Kosher salt and freshly ground pepper to taste

Fresh basil for garnish
Instructions
For the Pesto
Toast the nuts in a dry skillet 2 - 3 minutes until you can smell them. Let cool while you prepare the other ingredients.

Put everything for the pesto in your food processor or blender and blast into a paste.

Let sit at least 30 minutes before using.
For the Bread and Tomato Salad
Chop and combine the tomatoes, bread, and fresh mozzarella. Dress with pesto. Add salt and pepper, garnish with fresh basil leaves cut into strips. Serve immediately.
Notes
The spinach in this recipe is added as a filler to increase the nutritional value and extend how much pesto you get. Theoretically, it will also reduce the calories per "unit dose." If you want to thin the pesto even more (which you can because it is so flavorful) add some water and blast. You will change the texture and turn it into a thinner sauce - and there is nothing wrong with that, especially if you are going to use it on spaghetti or zucchini noodles. Traditional pesto is made with pine nuts, but they are expensive, and sometimes have a bitter finish. I stopped using pine nuts because I could never figure out why or when they were going to taste bitter. Throw in whatever extra fresh veggies you have on hand - red onion or fresh mushrooms would be nice additions. A teaspoon or two of capers would add a nice zing.