Perfect for Parties, meal preppers, and anyone with kids coming and going at all hours: a big bowl of copycat Chick-fil-A chicken salad sitting in your frig is a thing of beauty.
A rotisserie chicken simplifies your life. But maybe your short-range planning skills are honed and your budget is big. So you would buy an amazingly expensive organic chicken, roast it using this recipe, and treat everyone to, quite frankly, better than Chick-fil-A chicken salad.
And if your inner Martha Stewart is scratching to get out, you would make your own bread, too.
Remember: food is love. And you love your people.
Using the French Chicken in a Pot Chicken recipe and making your own bread is probably not going to change your life, but you will taste a difference. And as Maya Angelou says,  " … when you know better, you do better." 😀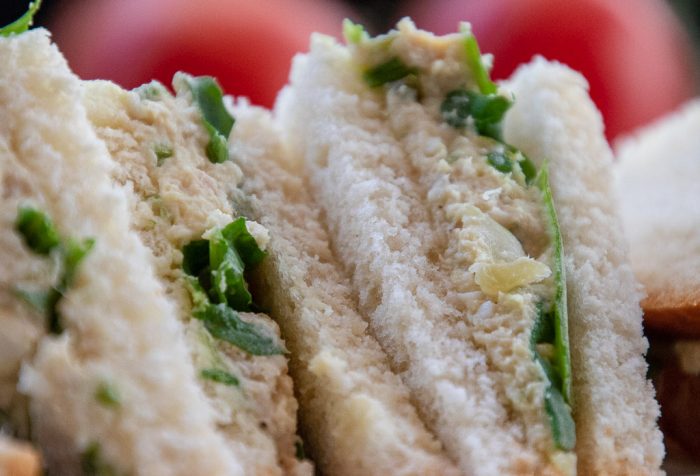 Why is this Chicken Salad so good?
It uses the whole chicken. (Southern chicken salad purists will judge you for this.) I think that's horseshit. Dark meat has more flavor than white meat. And,  everything cooked next to the bone (even the unfortunate white meat of a factory farmed chicken) has a richer, deeper flavor. I also think that next-to-the-bone-thing also means the food is more nutritious.
It has hard boiled eggs in it. Eggs add creaminess, nutritious fat, and umami.
It's made in a food processor. It's completely spreadable and each bite has chicken flavor. I'm not a mayonnaise fan and I hate those scary bites of chunky chicken salad that are missing a chunk of chicken. Being careful with the food processor means the celery is not pulverized to mush so there's still the contrasting textures of crunch and smooth.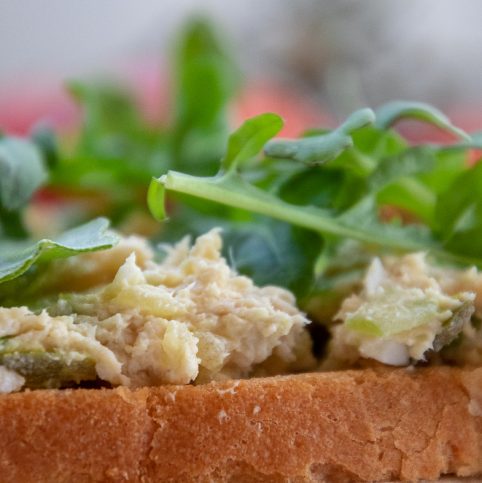 Best Chicken Salad
Cook a whole chicken or buy a rotisserie chicken. Make some hard-boiled eggs. Chop what needs chopping, put everything in a food processor. Let it sit in the frig an hour or two to develop flavor.
Ingredients
1

large, whole

roasted chicken

Pluck the meat off the bones.

2

whole

hard-boiled eggs

1/2 - 2/3

c

mayonnaise

Use whatever brand you like, increase or decrease amount depending on how creamy you want the chicken salad.

1/2 - 2/3

c

sweet relish

Increase or decrease according to your preference.

2

whole

green onions

Roughly chopped.

2

whole

celery sticks

Roughly chopped.

1/2 - 3/4

tsp

Kosher salt

Or to taste. Rotisserie chicken probably has enough salt in it already.

1/4 - 1/2

tsp

ground pepper

pinch or two

sugar

Optional
Instructions
Make the hard-boiled eggs. Let cool.

Make or buy a whole roasted chicken and pluck the meat off the bones. Either cut or hand-tear the meat into about 1-inch size chunks. If you can't stand the thought of dark meat in your chicken salad, use 2 - 3 cups of cooked, chopped chicken breast.

Roughly chop the green onions and the celery.

Put everything - the chicken, peeled hard boiled eggs, mayo, relish, salt, pepper, and roughly chopped green onions and celery in a food processor. Blitz to desired consistency.

If you are a perfectionist, mince the celery and green onion by hand, don't add it to the food processor. Hand stir them into the chicken salad after you have blitzed everything else in the food processor.
Notes
There are a ton of different add-ins for chicken salad - grapes, almonds, dried cranberries, chopped gherkins, diced water chestnuts*, pecans, cream cheese. It's limitless.
*The lovely crunch factor in prepared foil packets of tuna salad comes from water chestnuts. This is a great idea. Water chestnuts are little fiber-filled vitamin packs happily making you feel full without the pesky bother of too many calories.
Another beautiful thing about chicken salad is you don't have to measure anything. This is an eyeball recipe if ever there was one.
About the mayo: You do need it. At late midlife and an established adventurous eater, I'm still pediatrically afraid of mayonnaise and regularly try to reduce its presence in recipes. But surprisingly, in this recipe, I have found myself taste-testing and adjusting it up! (I also use a half and half combo of real mayonnaise and original vegenaise if I'm making it for my family. Party plates get all real mayo.)
Use any bread you want. But be forewarned: If you are making this for a party and intend to cut the sandwiches into triangles, be careful with Wonder white bread. It's really soft. It mushes when you spread the chicken salad and it "dents in" when you try to cut the sandwiches into triangles, so the edges of the bread have "seams." (If you are an OR person, it looks like stapled bowel. Ewwww.)
Sometimes stores do not have Rotisserie chickens available in the morning because they make them daily, thinking people are buying them for that night's dinner. So: plan your purchase time accordingly. I learned this the hard way, so you don't have to.
Thanks to all the Chick-fil-A copycat recipes I checked out for this post.