Be warned: this crumb topping is not nutritious. Frankly, it's mostly all the stuff the plant people and the anti-inflammatory people want you to avoid such as butter and carb-rich flour. Oh well.
But maybe you just wanna eat a good muffin without figuring out whether or not it will extend your life, reduce your cholesterol, or improve your recovery from the last grueling workout. Maybe you're tired of all the food noise nonsense and what you really want is to feel like your grandma is showing you some love.
Well then, this buttery, sugary, crumbly topping is just the thing.
You're welcome.
Try it on any of these muffins.
Blueberry Soft silky smooth sweet. Everything you want your blueberry muffin to be
Pumpkin Sturdy, nutritious, and not too pumpkiny.
Breakfast/Grab and Go All nutrition all the time, no sacrifice on flavor. According to my work peeps, it's such high fiber it could be an issue.
Throwback Refrigerator Muffins An old favorite. Just linking to them makes me want to get up and make some.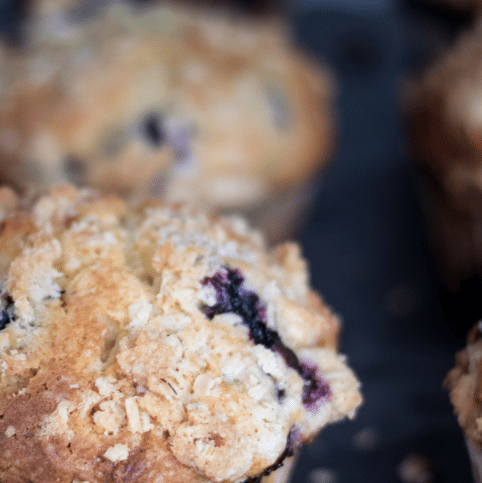 Crumb Topping for Muffins and Cakes
Melt the butter and stir in the rest of the ingredients. Sprinkle very liberally on top of muffin batter.
Ingredients
1

stick

organic, unsalted butter

melted

3/4

c

sugar

1/2

c

all-purpose flour

1

tsp

vanilla extract

or scrapings of one vanilla bean

1

tsp

cinnamon

pinch

salt

1/4- 1/2

tsp

ground cardamom

optional
Instructions
Melt the butter in a glass dish with a snap-on lid if you are only making 10 - 12 muffin. Use this container to store the topping.

Mix the rest of the ingredients into the butter until combined.

Heap the mixture on top of muffin batter if you really want a sweet, bakery style muffin. For a more restrained approach, use a tablespoon/muffin.

Store in the refrigerator and bring to room temperature to re-crumble it with a fork before using.