Jump to Recipe
This post may contain affiliate links. Purchasing through them helps support this website.
Can I finish that?
The sign of a good dessert is when your people literally pick the serving dish clean. It happens all the time with this crazy-easy cobbler.
I adapted it from allrecipes.com. It's something your grandma would have made which means that as far as desserts go … it's healthier than your standard cake mix, pudding mix, whipped topping creation.*
But that's not all …
You likely have all the ingredients
You don't dirty a ton of dishes or your mixer
There won't be much leftover
Takes about 5 minutes to throw together if you use frozen fruit
Eats hot right out of the oven
Turns into bread pudding the next day and microwaves beautifully
 The batter cooks up around the fruit, creating an entire dish of the best thing about cobbler: the tender underbelly layer where fruit syrup and crust co-mingle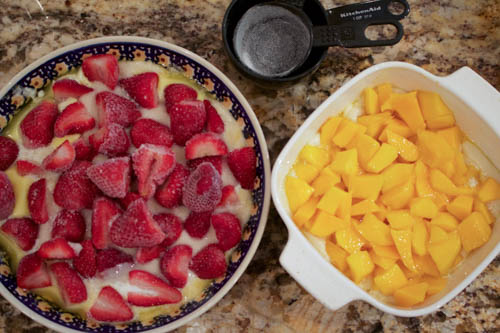 Dessert with Standard Pantry Ingredients
Well, maybe. I would have used milk if we had any. Turns out Half and Half works better than milk. As for cutting the flour in half with oatmeal? Less gluten, more fiber. Every bit helps … And use real butter – you don't need another artificial trans fat*.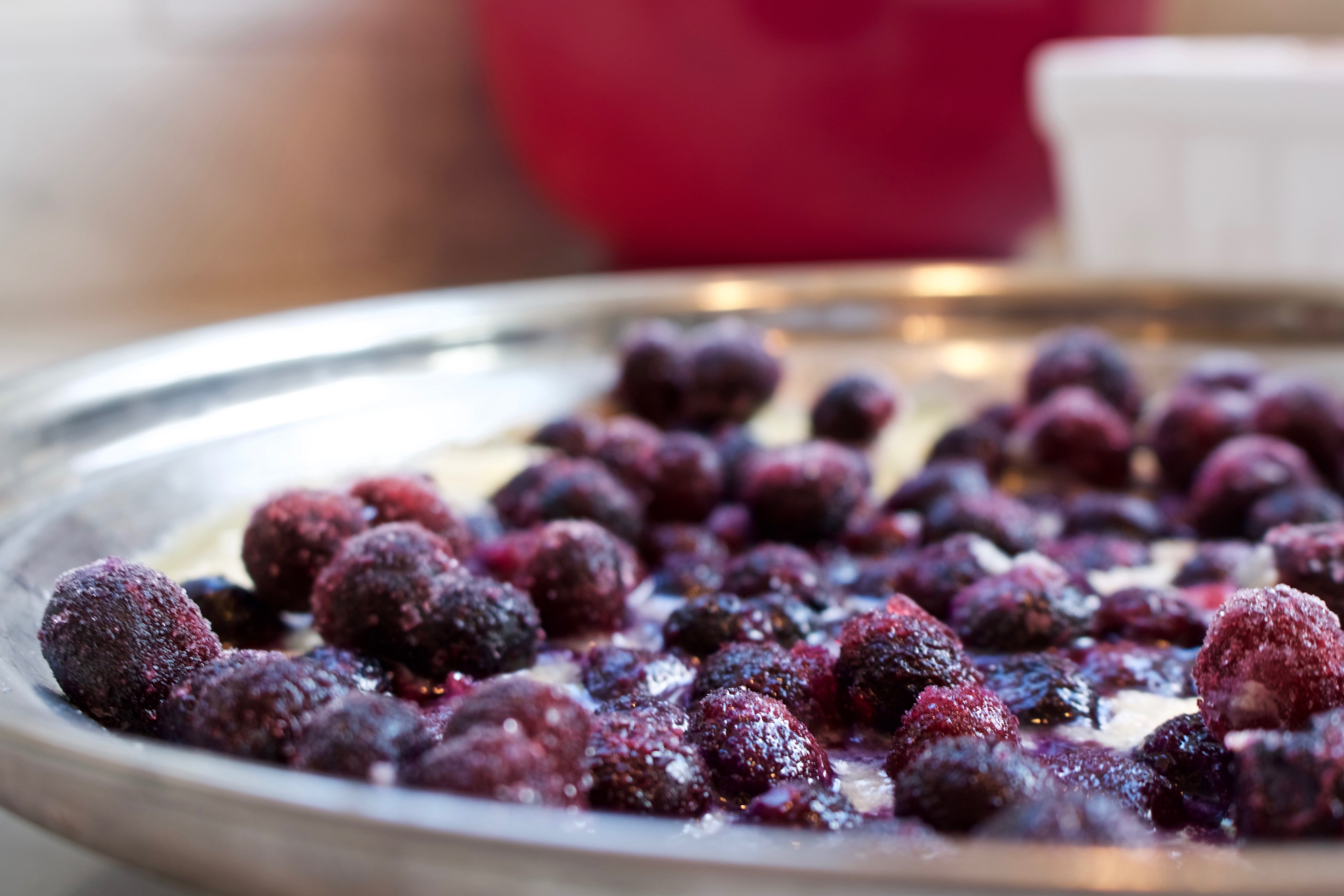 Visually, there could be some precautions to take …
Cooked fruit gets mushy and there's no pie crust to cover things up … Fix this by serving it with full-fat vanilla bean yogurt or ice cream on top. Peaches look fine. Strawberries are prettier than raspberries but both turn a lovely/disturbing shade of red, blueberries get very dark.
There's a Halloween idea in there somewhere …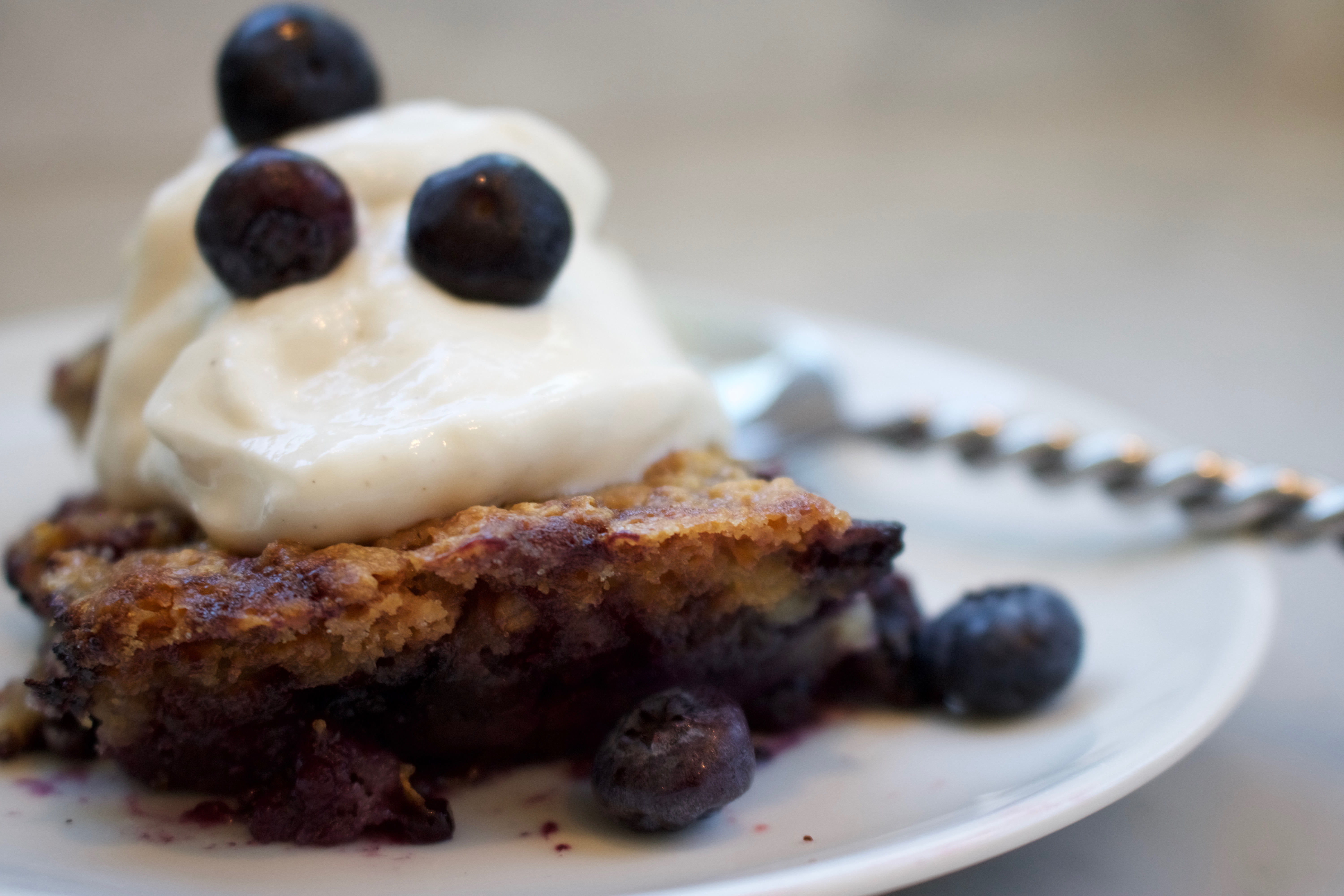 This dessert is one to add to your regulars – It takes about 50 minutes to cook but just 5 or 10 to prepare, so pop it into the oven before dinner. If there is any leftover, nuke it about 30 seconds.
In the morning, reverse your proportions: top your yogurt with the cobbler and garnish with some chopped nuts. The yogurt is good for your gut, the nuts and berries are good for your heart. 🙂
PANTRY COBBLER
Melt 4 Tbs. butter in the pie pan/baking dish. Combine flour, oats, sugar, baking powder. Stir in half and half or milk to make a batter. Pour the batter into the dish with the melted butter. Distribute the berries evenly on top of the batter. Bake at 350 for 45 - 50 minutes.
Ingredients
4

butter

3/4

cup

sugar

3/4

cup

flour

or use 1/2 cup flour and 1/4 cup quick cooking oats

1

tsp

baking powder

1/4

tsp

salt

1/2

cup

half and half + 1/4 cup water

or 3/4 cup milk

2 1/2

cups

fresh or frozen fruit

if you are using fresh blueberries or raspberries, you can increase the fruit up to 4 cups

1 - 2

T

sugar

To sprinkle on top of the cobbler
Instructions
Adjust oven rack to the middle position and preheat the oven to 350.

Melt 4 Tbs. butter in a pie pan.

Combine the sugar, flour, quick cooking oats (if using oats), and baking powder and salt in a medium bowl.

Stir the 3/4 cup half and half/water or 3/4 cup milk into the dry ingredients to make a batter.

Pour the batter into the pie pan. The butter will move to the rim. You can mix it up a little. There will be a crispiness to the outside rim where there is more butter. It's good.

Distribute your fruit on top of the batter.

Sprinkle sugar on top of the fruit.

Bake 45 - 50 minutes at 350. It does not bubble up and out of the dish like a fruit pie does.
Notes
I've made it with every combination of fresh or frozen blueberries, raspberries, blackberries, and peaches. It's always delicious.
*Have you ever wondered how vegetable oil is made? Because, if vegetables are carbs how do you get enough fat out of them to make oil? You build a factory, find a bunch of vegetable seeds, and process them to death. If you are going to incur the dietary cost of dessert, at least stick with minimally processed ingredients.
** The Wine-Trax wine/parfait glass has lines etched into it for 4, 6, and 8 oz servings. Looks like a design, but secretly keeps you on track calorie-wise. See photo at end of post.