These candied almonds rock. They are so easy, and your house smells unbelievably good while they are baking. For about 10 minutes of prep time and an hour of cook time, you get a sweet, crunchy, somewhat nutritious snack suitable for entertaining, gift-giving, or bingeing.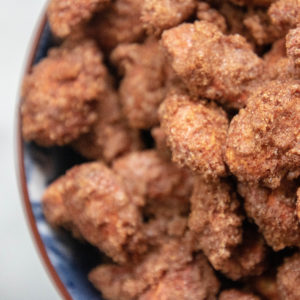 Candied Almonds
Coat the almonds with beaten egg white, then the sugar/cinnamon mixture then bake them low and slow.
Ingredients
2 - 3 1/2

cups

whole, raw, almonds

2 cups fit easily on a large baking sheet. Use 2 baking sheets if you are doing 3 1/2 cups.

1

egg white

Beaten until frothy.

1

T

vanilla extract

1/2

c

packed brown sugar

1/2

c

granulated sugar

1/2

tsp

salt

pinch

ground cardamom

optional. Vanilla and cardamom pair well together.
Instructions
Adjust oven rack to middle position and preheat oven to 250.

In a large bowl, beat the egg white until frothy. Stir in the vanilla. Add the almonds and stir well to make sure they are all coated with the egg white.

Combine the sugars, salt, cinnamon, and cardamom in a medium bowl.

Add the sugar mixture to the almonds and stir well to make sure each almond is well coated with the mixture. It will be thick.

Spread the almonds on a large, rimmed cookie sheet and bake at 250 for an hour. Set your phone timer and stir them every 15 minutes - it prevents them from clumping together.

Let cool before transferring to serving or storage vessel.
Notes
Low and slow is important in this recipe. I've tried various roasting techniques at 350 and feel like the almonds have a burnt aftertaste.
This recipe is perfect for parties, car trips, hostess or Christmas gifts.
The almonds also make a great addition to other recipes where nuts are called for such as coffee cakes or muffins.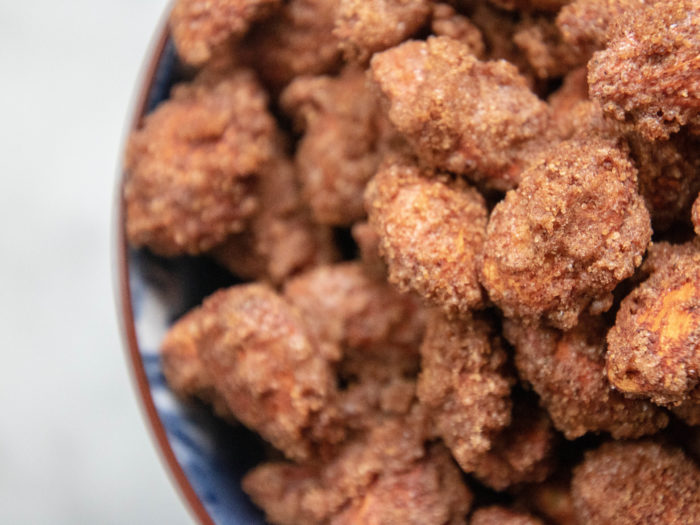 Wash this lovely treat down with homemade almond milk!