Homemade Granola
Before Whole Foods became Amazon, my hubby had a sort of working relationship with our local store. They let him buy cases of kombucha for me and giant bags of frozen blueberry granola for him. Jim has been known to eat the same thing for breakfast, literally, for a year or more. And for whatever reason, his current obsession has been yogurt topped with granola.
Whole Foods blueberry granola is delicious and when reheating smells like "Ohhhh who's baking me cookies?"
It's good stuff.
But during the Amazon switch, things went awry and the granola was hard to get. He kept asking me to reverse-engineer it, which I never got around to. Enter my good TV friend, Alton Brown. Alton had an entire episode devoted to oats, which I happened to watch during an oat-inspired baking binge. Maybe it was coincidence, maybe it was the universe conspiring to help me. Either way, I made Alton's granola while he was talking to me (a weird first) and recognized the smell … it was the "Who's baking me cookies?" of Whole Foods granola minus the blueberry.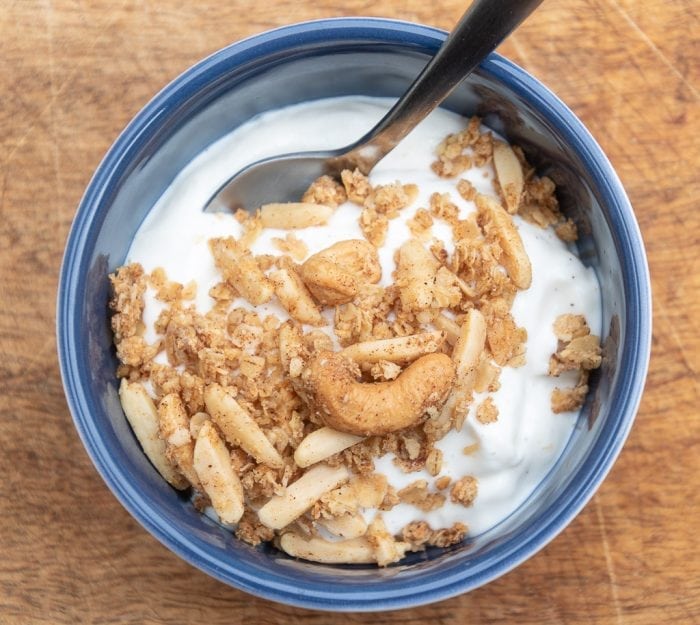 And it is more time than effort simply because it bakes for an hour and 15 minutes and he wants you to stir it every 15 minutes. This is a no-brainer of a recipe if ever there was one, and it's granola, which means substitutions and additions are the order of the day. Just keep the wet to dry ratios close.
Jim's quite happy with the granola. He used it again this morning. Hand to God.
As for the blueberry part: when I get some dried ones, I intend to toss a half cup or so in and see what happens.
Hope you enjoy it, and thank you, Alton.
Homemade Granola with Rolled Oats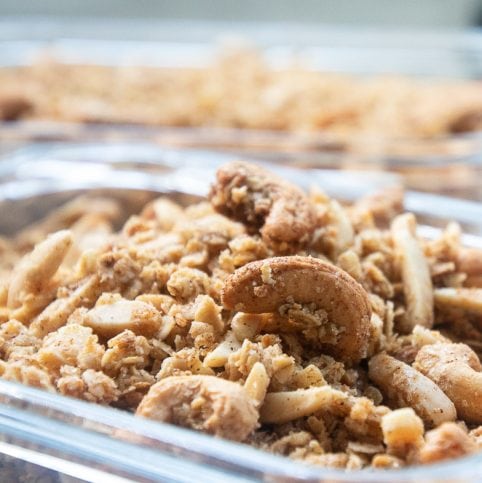 Alton Brown's Rolled Oats Granola
Mix everything well in a big bowl then bake it low and slow. Stick around because you have to stir it every 15 minutes.
Ingredients
3

c

rolled oats

(the kind with the Quaker and the words "old-fashioned" on the front)

1

c

slivered almonds

1

c

cashews

3/4

c

shredded sweetened coconut

1

T

ground cinnamon

(optional, not in Alton's original recipe)

3/4

tsp

Kosher salt

1/4

c

canola oil

(I never have canola oil so I used coconut oil)

6

T

maple syrup

(= 1/4 cup + 2 Tablespoons)
Instructions
Preheat oven to 250 and line a large, rimmed cookie sheet with parchment paper. No need to spray or grease the parchment paper.

Mix all the dry stuff in a big bowl. Mix the oil and maple syrup in a smaller bowl, then add the wet to the dry and stir well.

Pour the mixture onto the cookie sheet in a single layer and bake for one hour. Set your phone timer and stir every 15 minutes.

Let it cool and add dried fruit if you want.
Notes
Use this on yogurt, ice cream, on bananas cut lengthwise and spread with peanut butter, on salads, or eat it as is.
Try increasing the cinnamon, adding ground cardamom, nutmeg, or a pinch of ground cloves or even prepared apple pie seasoning.
Certainly, the nuts can be changed around to what's on hand and the maple syrup increased or decreased per your taste, or omitted/swapped out to whatever your favorite sweetener is.
Rolled oats have literally been rolled through a pressing machine that flattens them. This process decreases the cooking time. The kitchn explains the various oats nicely. Rolled oats are the ones in the familiar cardboard canister with a red background and a Quaker on the front. There is a yellow band on the container that says "Old-fashioned".