Jump to Recipe!
It's hard to pick a favorite summer fruit, but strawberries are near the top of my list. They're not just gorgeous, they deliver in terms of taste, texture, nutrition and simplicity. If they're red and juicy and fresh … just bite them from the pointy end and toss the green leafy elf hat. The truth is, a ripe strawberry doesn't need much dressing up. But we're going to.
Think of this recipe as the Strawberry's Prom Night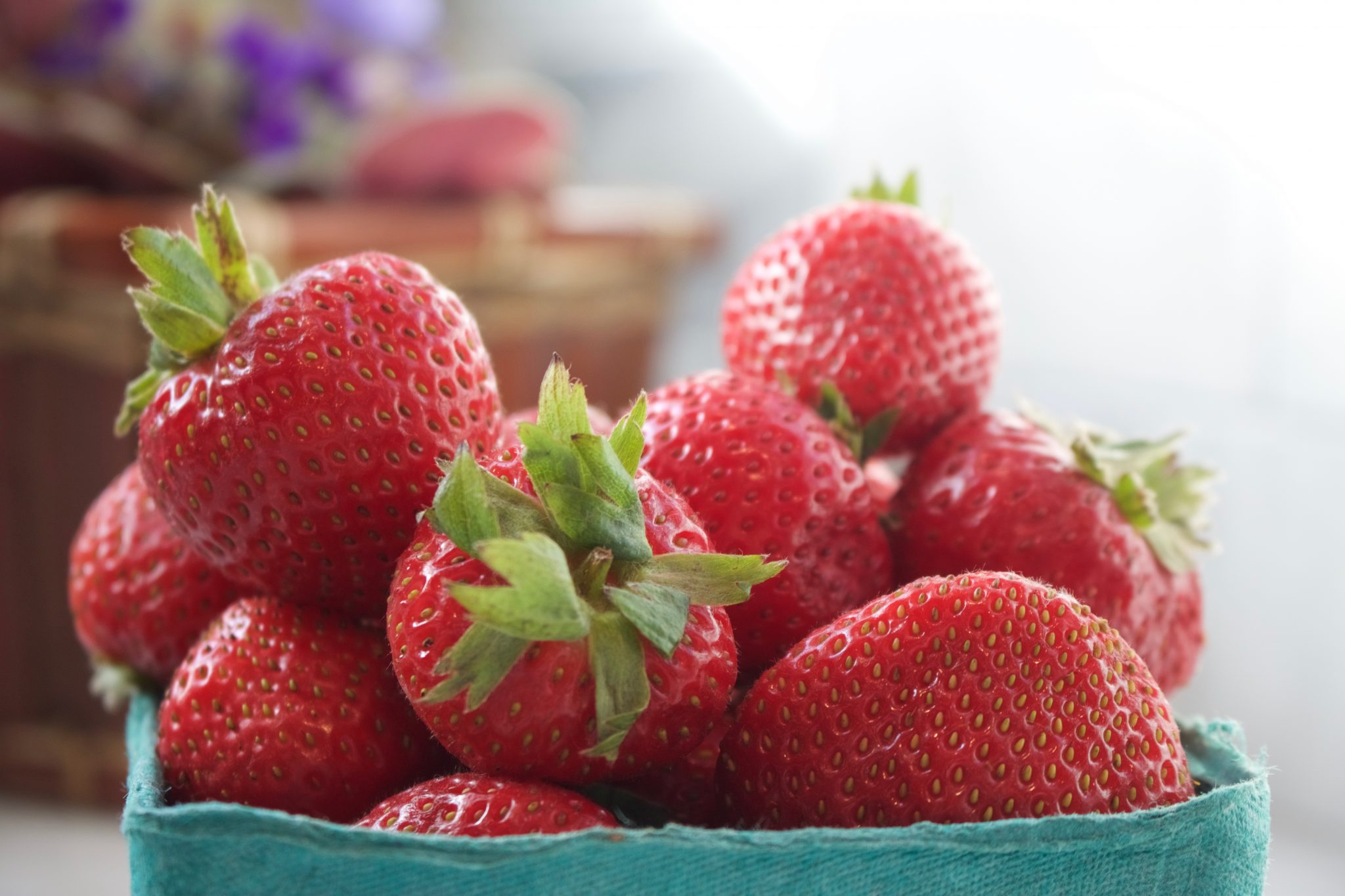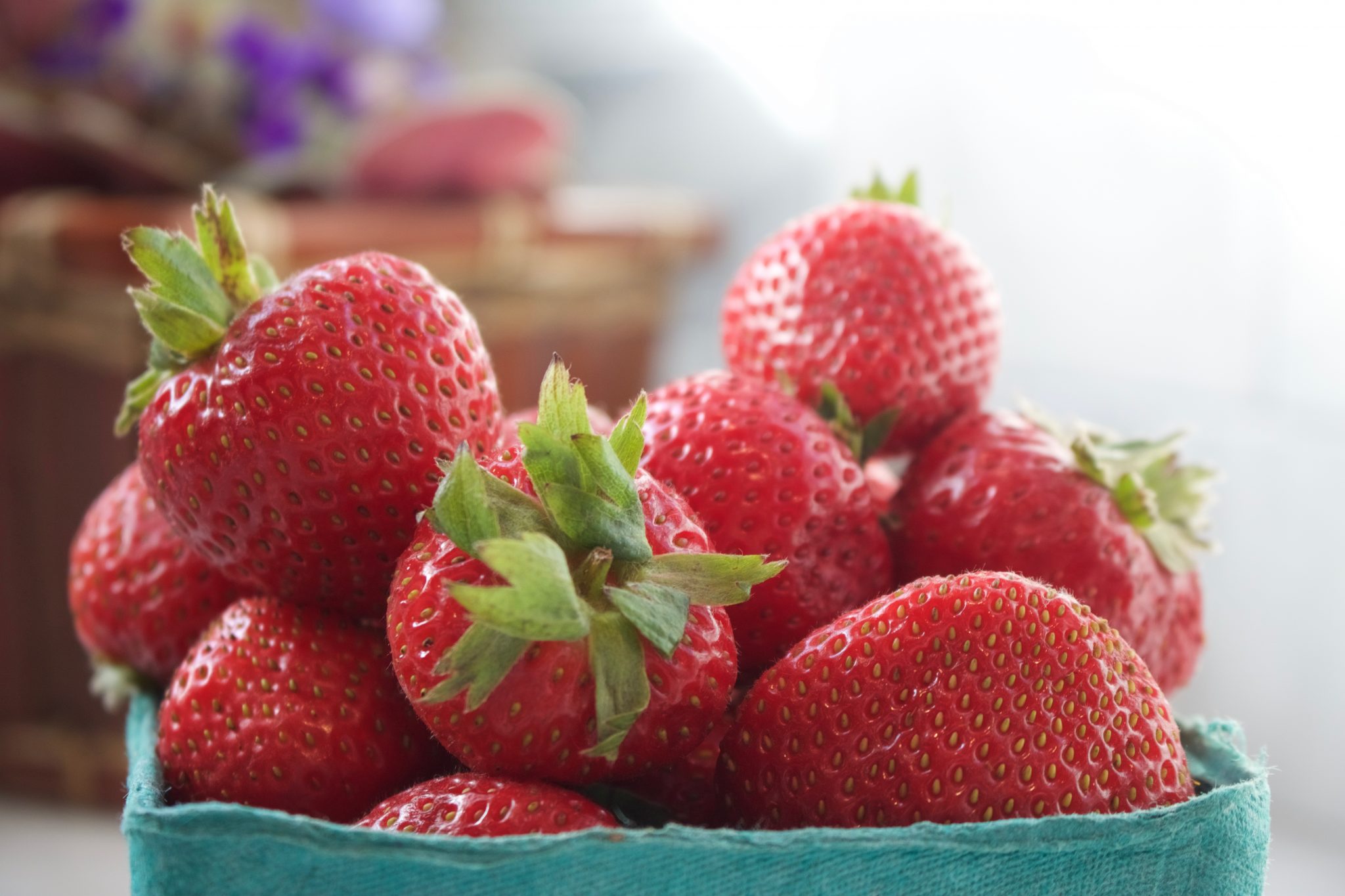 You are making strawberry pie filling and plopping chopped fresh berries in it, then plopping that into puff pastry cups. It's incredible how so few ingredients can make something so luscious. The individual puffs are charming and they offset the deep red of the berries perfectly.
Just like nude pumps highlight a red dress…
However, the puff pastry is no slacker. This hard-working neutral has serious game.
It's visually stunning. All those dainty layers – you just wanna ask it: How do you hold yourself up, let alone all those ripe berries? And then, there are the layers. Somehow, they are flaky/crispy outside and doughy/yielding inside. It's on my list to figure out how to make.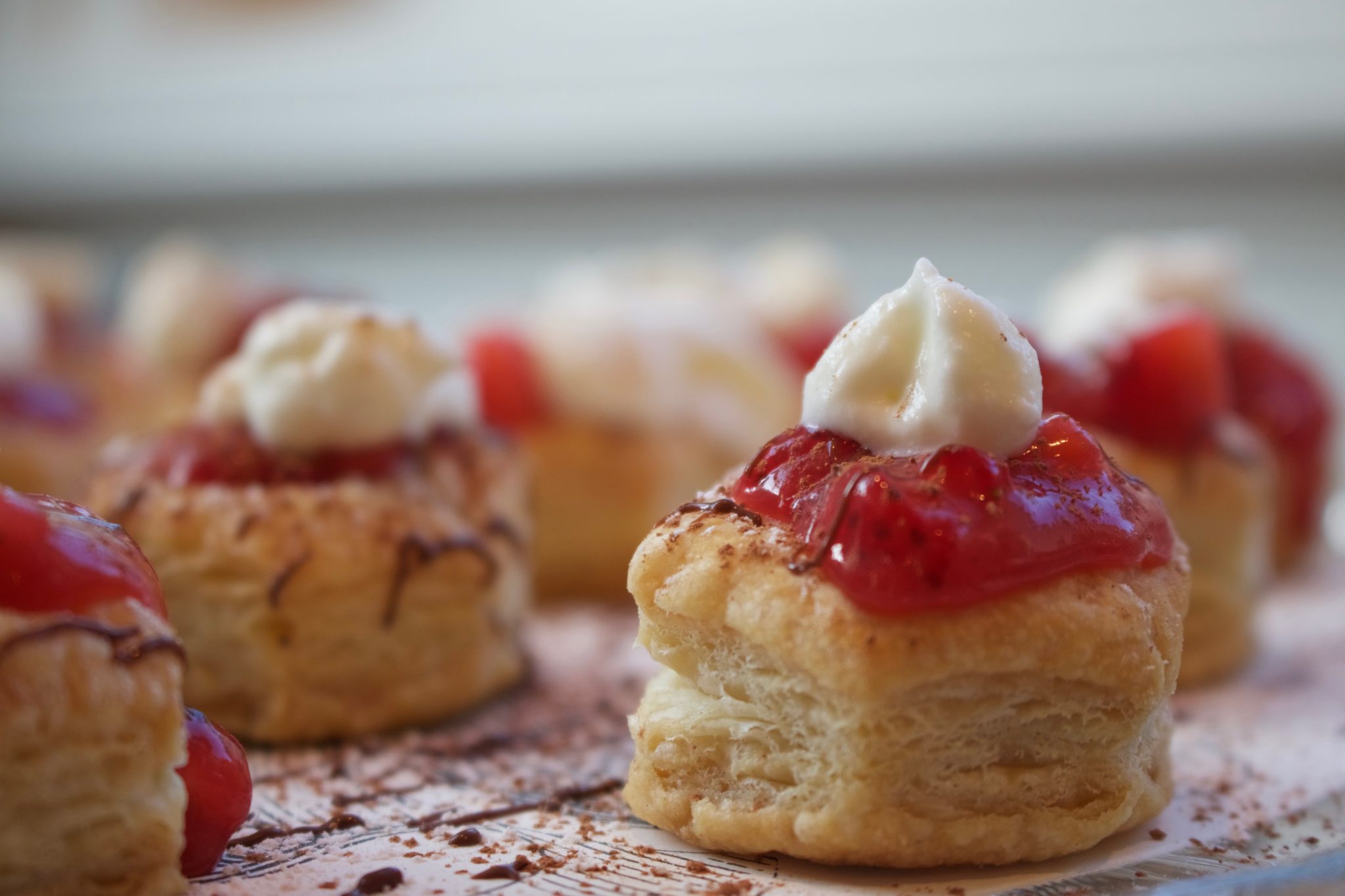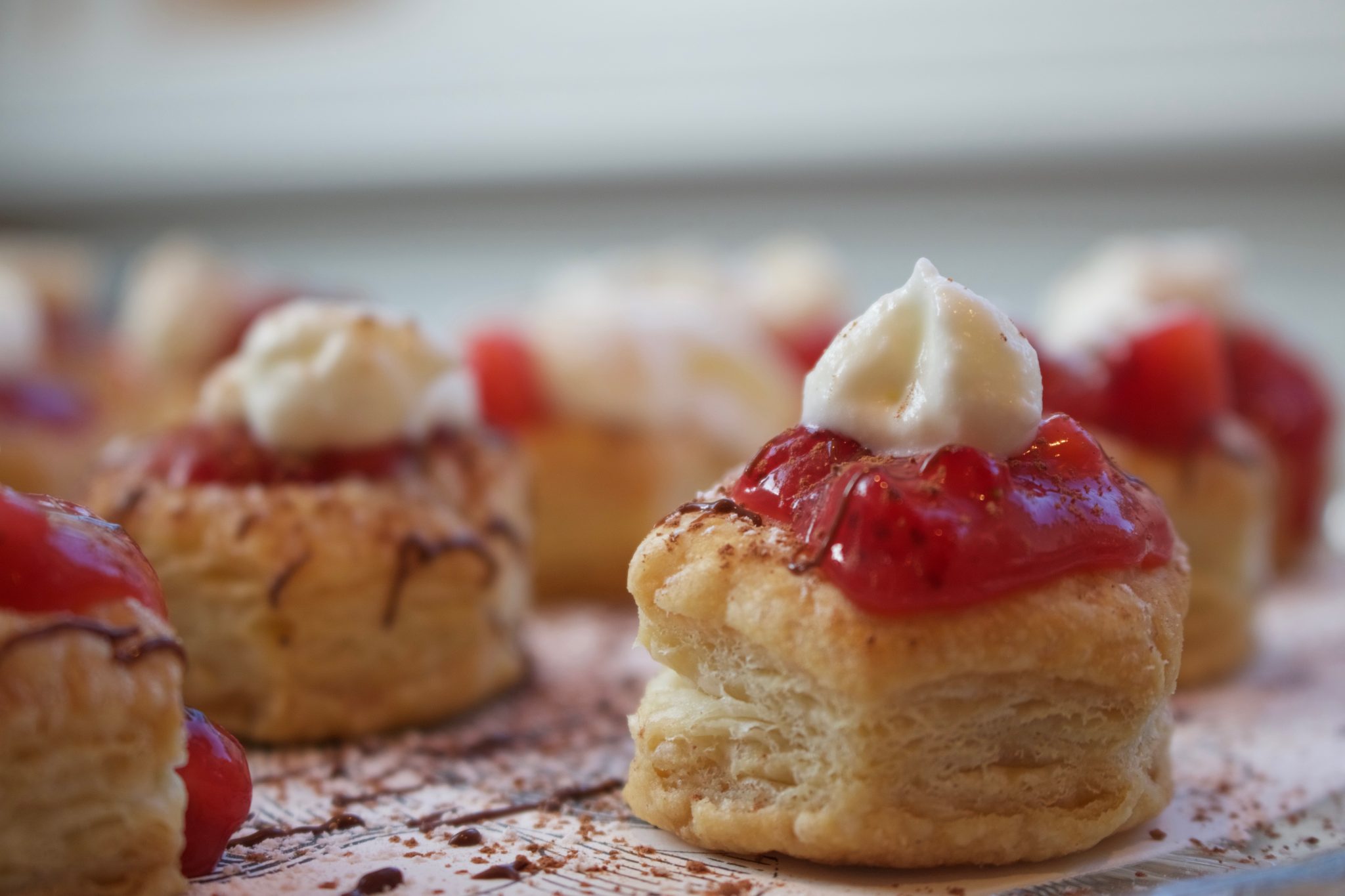 You can get creative with the toppings – whipped cream, chocolate anything, crushed pretzels, caramel and kosher salt, powdered sugar … These little gems, fully garnished are a showstopper.
Going back to the prom night analogy, it's hard to decide: are the berries the date, the dress, or the tiara?
Strawberry Puff Pastry Cups
Combine fresh strawberries, sugar, cornstarch and water in a blender. Blast. Heat the mixture and boil it for 2 minutes. Put it in the refrigerator to chill. Cook the puff pastry cups, and while they are cooking chop up strawberries into small pieces until you have a cup. Mix the chopped berries and 1 cup of the chilled strawberry "jam". Poke in the top of the puff pastry to form the cup. Fill the cups. Garnish as desired with whipped cream, chocolate, powdered sugar or sifted cocoa.
Ingredients
24

oz

fresh strawberries

1

cups

package of puff pastry

(In the freezer section by phyllo sheets)

3/4

cup

sugar

1/2

cup

water

3 1/2

T

cornstarch

1/4

tsp

salt

1

cups

package phyllo pastry

whipped topping

powdered sugar for garnish

optional

powdered cocoa for garnish

optional

1

T

melted chocolate or Nutella for garnish

optional
Instructions
Preheat oven to 400

Clear a space in your refrigerator large enough put the wire cooling rack if you are going to "store" the puff pastry cups for use later in the day.

Remove stems/leaves from 16 oz strawberries and combine them with 3/4 cup sugar, 1/2 cup water, 3 1/2 T cornstarch and 1/4 tsp salt in your blender. Blast until it becomes a liquid.

Transfer the mixture to a small saucepan and heat. Stir constantly. Boil for 2 minutes. It will turn dark red and thick. If you don't stir it, the bubbles will pop and splatter all over your stove and you risk burning both the sauce and yourself.

This yields about 1 - 1/2 cups thick strawberry goo. (Also suitable for a chilled pie filling.) Transfer it to the refrigerator to cool.

Cook the puff pastry cups at 400 for 20 minutes. Cook them with the circle and 2 dots side up. Check them at the 10-minute mark. Rotate 180 if your oven has a hot spot. The cups don't need to be thawed first, like phyllo pastry sheets.

Remove the cups from the oven, and while they are still on the cookie sheet, carefully depress the center. The end of a wooden spoon is perfect for this. You are making the "cup". You can also remove the "lid" of this center with the tip of a knife. This maneuver yields a bigger cup. And who doesn't like a bigger cup?

Transfer cups to a wire cooling rack and let them cool for 10 minutes.

While the puff pastry cups are cooking, chop the remaining strawberries into smallish pieces (think salsa size) until you have a cup of berries.

Combine these chopped berries with 1 cup of the strawberry goo.

Carefully fill the cups with about a teaspoon of the chopped strawberry/strawberry goo mixture.

Garnish with whipped topping, powdered sugar, powdered cocoa, melted chocolate or Nutella, crushed pretzels ...
Notes
You will have about a cup of the strawberry goo left over. Use on ice cream, bread, throw a few tablespoons into a smoothie, dip chocolate in it, put it on a biscuit or shortcake ...